February 19, 2023
Coconut Lime Rice
Coconut Lime Rice – Aka the easiest, most delicious side dish ever. Packed with flavor and comes together in under 30 minutes.
This coconut rice is like a mashup between risotto and rice. It's creamy like risotto. But it cooks in the same amount of time as rice. So I guess it's the best of both worlds?
Tips for cooking coconut rice…
It's important to stir the rice every 5 minutes while cooking so it doesn't stick to the bottom. Kind of like a risotto. Which is different from other rice recipes that tell you to leave it covered until finished cooking.
I would also highly recommend a non-stick pan. It will make sure the sugar + coconut milk don't stick to the bottom edges of the pan in between stirring.
The lime juice and lime zest are optional. But it does add a ton of incredible flavor.
What goes best with coconut lime rice?
Of course all types of Asian food. Like this stir fry. Or this Mongolian beef. It would also be great with sweet and sour chicken.
But it's great with so many other foods outside of Asian food.
Orange Cajun Salmon + this coconut rice is my brother's favorite meal of all time.
What to do with the leftovers…
If you make the coconut rice + orange cajun salmon… then you must make the Emily Mariko salmon bowl!
How to make the salmon bowl:
Flake the salmon into very small pieces in a shallow bowl. Add the leftover rice on top. Place an ice cube on top of the rice. Then parchment paper on top. Microwave for 2-3 minutes, until the salmon and rice are heated through. Top with some mayo and soy sauce (I often do Japanese BBQ sauce instead of soy sauce). Mix it all together and eat it with seaweed paper or with a spoon.
I love this method for leftover salmon. Microwaving a whole piece of salmon normally results in overcooked salmon because the outside heats up faster than the middle. Flaking the salmon ensures it all heats up evenly.
Watch how to make leftover salmon rice bowl here:
You can also freeze the coconut lime rice
To freeze, put the leftovers in a plastic container and freeze. When ready to eat, remove from the freezer. Drizzle a tablespoon or so of water over the rice. Then place a damp paper towel over the container. Microwave for 2-3 minutes. If your rice is still frozen after 3 minutes, fluff/stir it around with a fork and put back in the microwave until warmed through.
Coconut Lime Rice
Aka the easiest, most delicious side dish ever. Packed with flavor and comes together in under 30 minutes.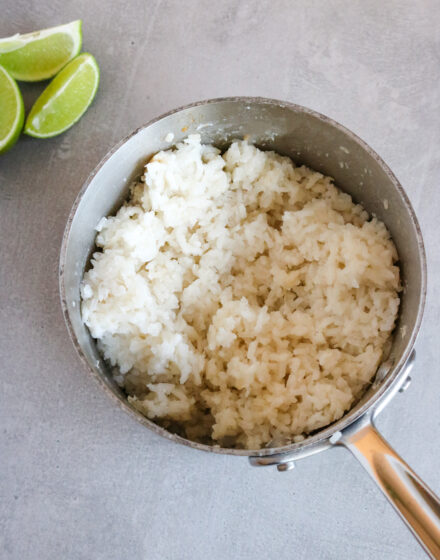 Ingredients:
1 1/2 cups jasmine rice (rinsed and drained)
1 (13.5 oz) can unsweetened full fat coconut milk
1 3/4 cups water (or 1 coconut milk can full of water)
1/3 cup sugar
1 1/2 teaspoons kosher salt
1 lime, zested + juiced (optional)
Directions:
In a medium non-stick pot over medium high heat, add the rinsed rice, coconut milk, water, sugar, and salt. Stir until combined.
Bring to a boil.
Once boiling, reduce the heat to low and cover. Cook for 20-30 minutes, stirring every 5 minutes, until the rice is cooked through.
Turn off the heat and stir in the lime zest and lime juice.
[this isn't a sponsored post, there are a few affiliate links above based on things I purchase on my own and love]