June 21, 2016
30 Minute Easy Mongolian Beef
30 Minute Easy Mongolian Beef- better than takeout, super easy, 30-min, weeknight knockout recipe at home!!

I love recreating takeout food at home. And making this better than take out. Like these P.F. Changs lettuce wraps. That recipe takes almost no time to make. And they are incredible. Perfect for a weeknight.
Growing up I would always get beef and broccoli or lettuce wraps from Chinese restaurants. I still love the chicken lettuce wraps. But I regret every time I ordered beef & broccoli and not Mongolian beef. Little did I know how much I was missing out.
And this recipe is even better than takeout from a restaurant. The flavor in this dish is insane. Like actually insane.
It was the kind of recipe that never made it to the table. We kept taking spoonful after spoonful from the skillet.
What to serve with this Easy Mongolian beef?
Keep it easy and heat up some basmati rice to serve over it. I love Trader Joe's frozen basmati rice.
But you could also serve it with roasted carrots. Or recently I have been roasting edamame with olive oil, salt, pepper, and parmesan. The edamame becomes so crispy. It would be an amazing pair with the sauce in this recipe. Basically this recipe!
30 Minute Easy Mongolian Beef
Better than takeout, super easy, 30-min, weeknight knockout recipe at home!!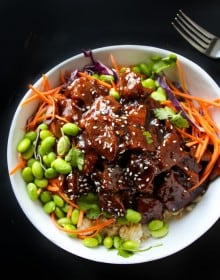 Ingredients:
For the sauce
1/2 cup soy sauce
1/2 cup pineapple juice
1/2 cup brown sugar
2 cloves garlic, minced
1 tablespoon fresh grated ginger
1 tbsp vegetable oil
1/2 cup water
For the stir fry:
2 lb flank steak, slice into thin small pieces against the grain
½ cup cornstarch
3 Tablespoons Peanut Or Olive Oil
8 ounces, weight Fresh Snow Peas, Ends Trimmed
For serving:
white rice, thinly sliced green onions, edamame, and shredded carrots, and toasted sesame seeds
Directions:
In a small bowl, whisk together soy sauce, pineapple juice, brown sugar, garlic, ginger, vegetable oil, and water. Set aside.
Heat oil in a heavy skillet or wok over high heat. Add snow peas and stir for 45 seconds. Remove to a separate plate. Set aside.
In a large bowl, toss together cornstarch and beef, until beef is completely coated and evenly distributed.
With tongs, add half the meat mixture and half the scallions to the skillet. Spread out meat as you add it to pan, but do not stir for a good minute. (You want the meat to get as brown as possible in as short amount a time as possible.) Turn meat to the other side and cook for another 30 seconds. Remove to a clean plate.
Repeat with other half of meat, allowing pan to get very hot again first. After turning it, add the first plateful of meat, and the snow peas back into the skillet.
Stir in sauce and cook until the sauce thickens and coats the beef and caramelize, about 3-5 minutes.
Place rice in a bowl and top with veggies. Sprinkle green onions, edamame, and shredded carrots, and toasted sesame seeds over top.
[this isn't a sponsored post, there are a few affiliate links above based on things I purchase on my own and love]