July 21, 2016
Almond Crusted Salmon with Cauliflower Mash
An easy weeknight meal… packed with flavor and all the nutrients. This salmon meal will be a hit with the whole family!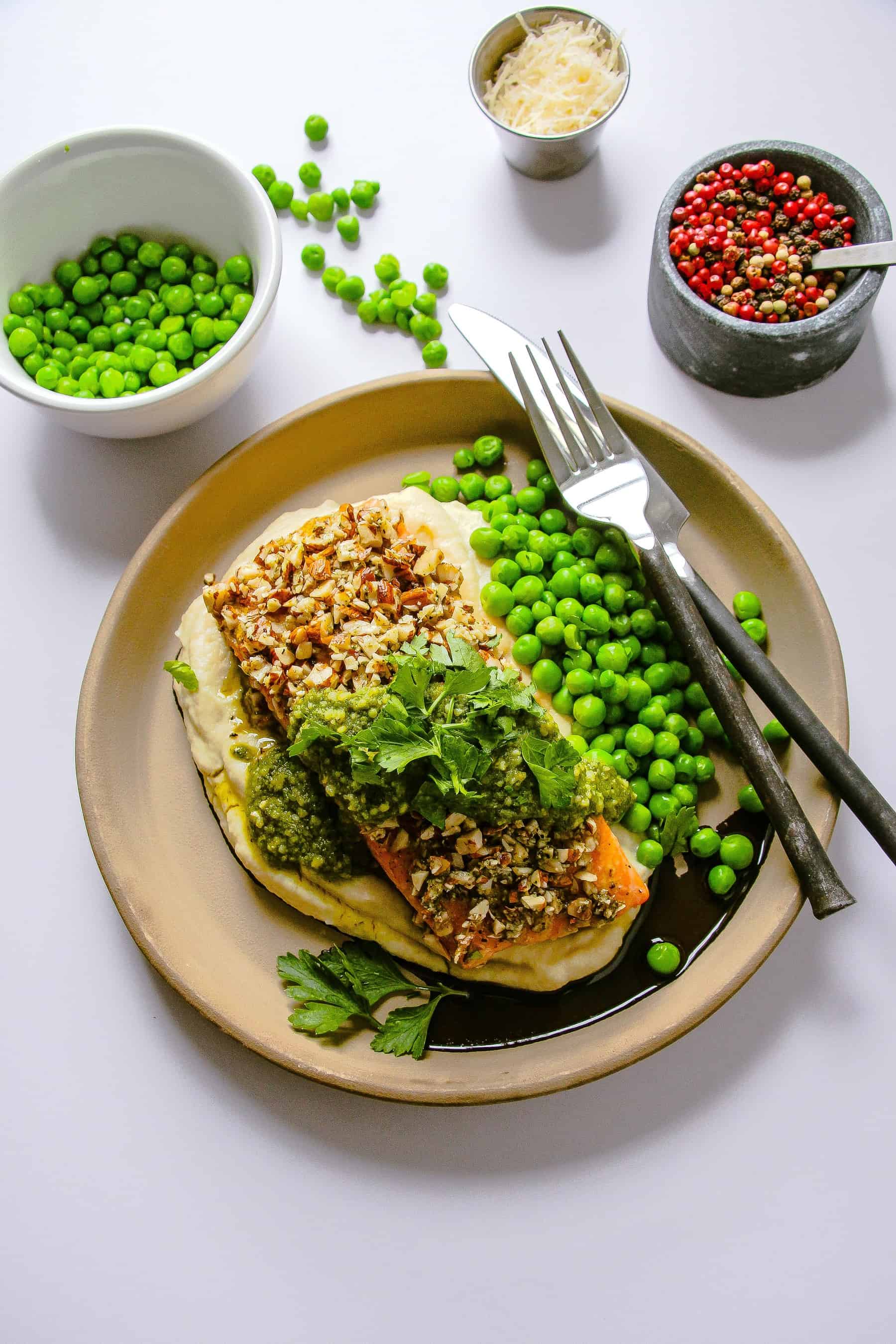 What is you favorite type of fish? If you can't tell by all the salmon recipes on here… mine is definitely salmon. In fact, I am pretty sure that is the only type of seafood on here beside tilapia. I just love how much flavor and nutrition it can pack into a dish!
I see lots of salmon and other fish breaded with panko and then either fried or baked. But a couple of years ago I made this almond crusted tilapia and fell IN LOVE. The almonds added so much flavor and texture – not to mention, much much healthier than a bunch of panko. So I decided to give my hand on doing this same technique with salmon. The verdict? Major win. So much flavor and texture… and then you add in the cauliflower mash and you have yourself a low carb meal made in heaven.
Trust me, you will definitely not feel like you are giving anything up with this meal. We even had both of the boys in the family gobbling it up – which means it is a win in our house.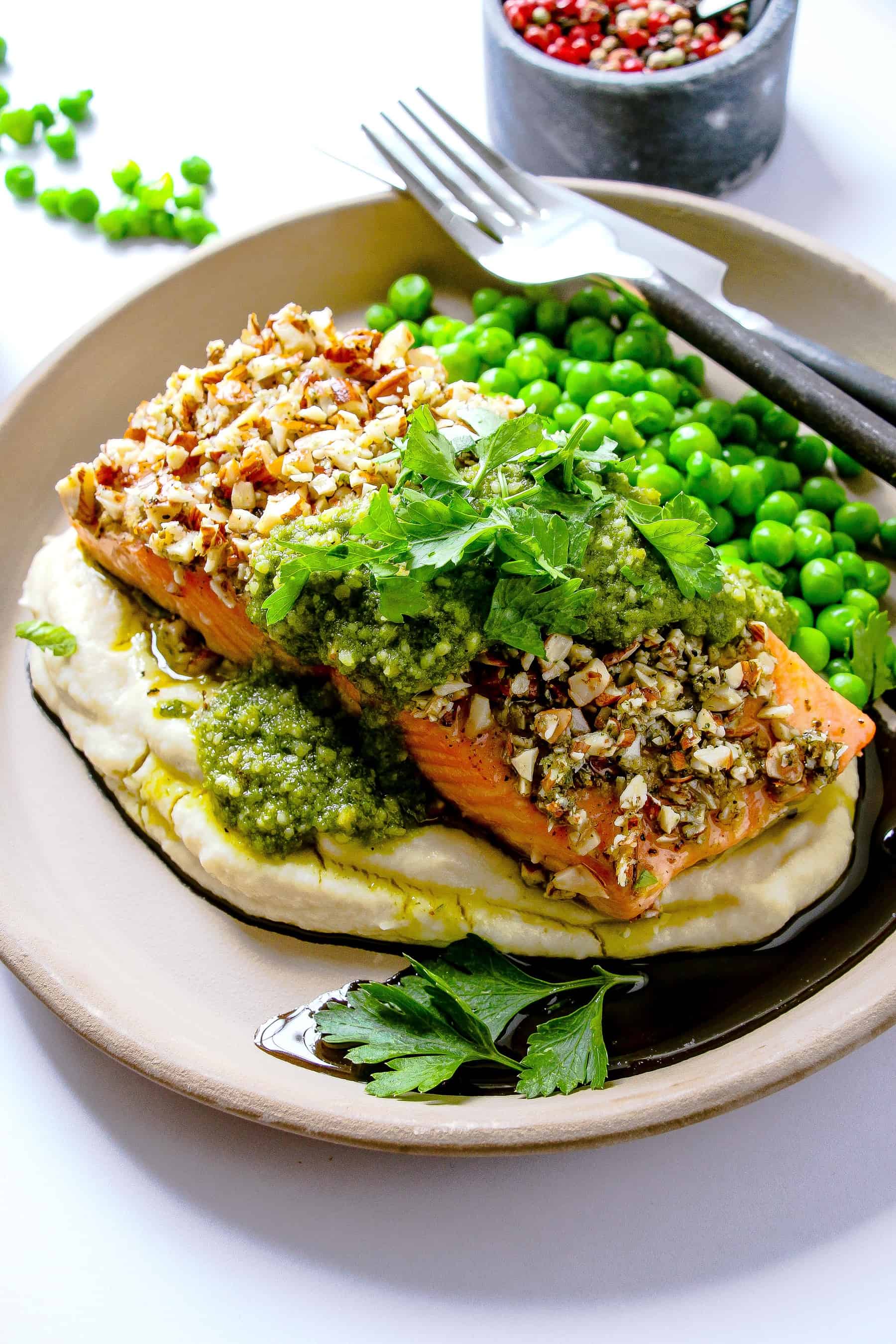 This was my first go at cauliflower mash, and I was pretty impressed with the results. When it is used as a side, you can hardly tell the difference between the cauliflower mashed potatoes and real mashed potatoes. However, if you aren't feeling adventurous, this would go great with some rice on the side or even real mashed potatoes.
Almond Crusted Salmon with Cauliflower Mash
An easy weeknight meal… packed with flavor and all the nutrients. This salmon meal will be a hit with the whole family!
Ingredients:
For the salmon:
2/3 cup whole almonds, chopped
2 tablespoons minced fresh parsley
1 teaspoon grated lemon zest
Kosher salt and freshly ground black pepper
2 tablespoons good olive oil
4 (6- to 8-ounce) salmon fillets, skin on
2 tablespoons Dijon mustard
2 tablespoons vegetable oil
Lemon wedges, for serving
For the cauliflower mash:
1 medium head cauliflower
1/3 cup chicken broth, warmed
2 tablespoons reduced fat sour cream
salt
pepper
(optional) fresh chives, thinly sliced, for garnish
(optional) basil pesto, for serving
Directions:
For the salmon:
Preheat the oven to 425 degrees. Line a baking sheet with parchment paper. Set aside.
In a small bowl, mix together the chopped almonds, parsley, lemon zest, 1/2 teaspoon salt, and 1/2 teaspoon pepper. Drizzle in the olive oil and stir until the crumbs are evenly coated. Set aside.
Place the salmon fillets, skin side down, on parchment paper lined baking sheet. Generously brush the top of the fillets with dijon mustard and then sprinkle generously with salt and pepper. Press the almond mixture thickly on top of the mustard on each salmon fillet. The mustard will help the almonds adhere.
Transfer the pan to the preheated oven for 12 to 15 minutes until the salmon is almost cooked and the almonds are golden. Remove from the oven, cover with aluminum foil, and allow to rest for 5 to 10 minutes. Serve the salmon hot or at room temperature with lemon wedges.
For the cauliflower mash:
Place the cauliflower florets in a microwave-safe bowl with 1/4 cup water, cover with plastic wrap or a paper towel and microwave for 3 to 5 minutes, or until completely tender.
Place the cooked cauliflower in a food processor or blender. Add chicken broth, sour cream, salt and pepper; puree until smooth.
Serve salmon with cauliflower mash and basil pesto, garnished with sliced chives.