July 19, 2016
Fuji Apple Salad (Panera Copycat)
Fuji Apple Salad (Panera Copycat recipe) – Easy and gluten free! Made with grilled chicken, red onions, apple chips, cherry tomatoes, gorgonzola cheese, and mixed greens. Dressed with a creamy cider vinaigrette.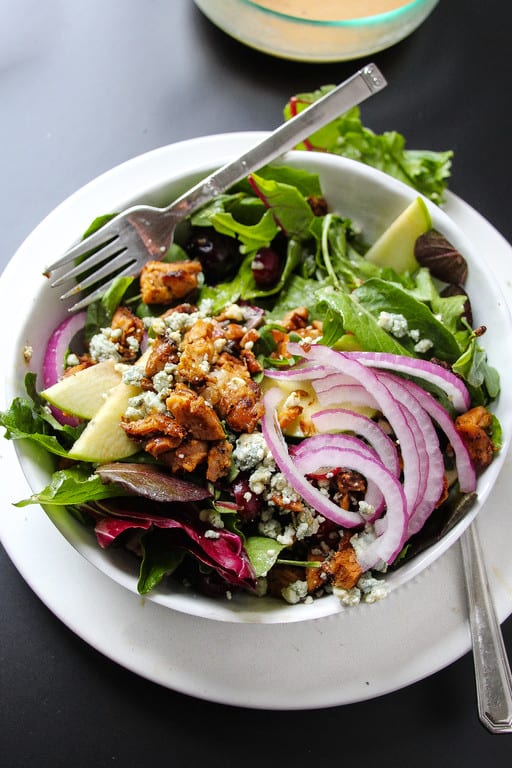 Restaurants know how to do salads!
I love making salads at home. But I love getting salad inspiration from restaurants.
Salads made at home tossed together and served family style taste better.
But restaurants are so good at combining the perfect flavors and textures in a salad.
Perfect example: this chicken quinoa bowl recipe inspired by Sweetgreen's Earth bowl.
Fuji Apple Chicken Dressing:
There are a lot of recipes online for Panera's Fuji Apple Dressing. But most are all oil based. And none have the creaminess Panera's dressing does.
Panera's website even says the vinaigrette features a "a creamy texture and cider vinegar notes."
The key to cider vinegar notes is using apple cider vinegar as the acid.
And the key to getting a creamy texture is mayo. The dressing would be so thick if mayo was the only fat source. So I use half mayo and half oil to make the dressing creamy, but still pourable.
P.S. you can buy the dressing from Amazon to make this salad even easier.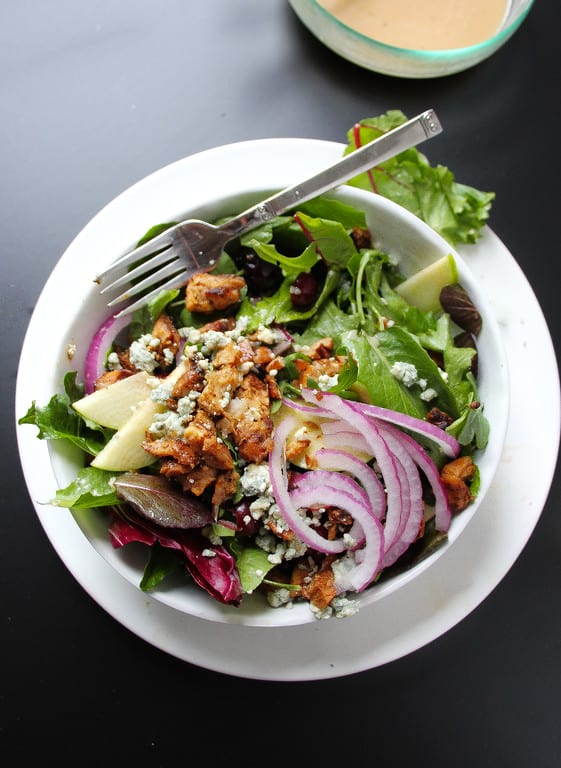 My Fuji Apple Salad Panera Copycat substitutions
I used fresh apples instead of apple chips. Fresh apples still gave the salad that fall flavor. But apple chips would give the salad an amazing crunch.
You can get apple chips from Amazon if you can't find them at your grocery store.
Panera uses plain pecans in their salad. But I use candied pecans because I love the added sweetness.
Fuji Apple Salad (Panera Copycat)
Panera Copycat recipe – Easy and gluten free!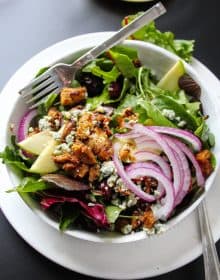 Ingredients:
For the dressing:
1/2 cup mayonnaise
1/4 cup maple syrup
3 Tablespoons apple cider vinegar
3 tablespoons packed brown sugar
3/4 teaspoon salt
1/4 teaspoon ground black pepper
1/3 cup vegetable oil
For the salad:
6 cups mixed greens
2 grilled chicken breasts, diced
20-30 apple chips (or 1 fuji apple sliced)
1/2 cup sliced red onion
1/2 cup chopped pecans or candied pecans
1/2 cup cherry tomatoes
1/2 cup crumbled gorgonzola (or goat cheese work too!)
Directions:
Make the vinaigrette:
Whisk together all dressing ingredients. Pour into a glass jar or container and set aside.
Make salad:
Place the greens, grilled chicken, apple chips, red onion, and cherry tomatoes in a large bowl. Top with pecans and blue cheese crumbles. Drizzle salad with dressing and serve immediately.
[this isn't a sponsored post, there are a few affiliate links above based on things I purchase on my own and love]