May 18, 2015
Baked Cajun Salmon
Baked Cajun Salmon – a super easy, quick, and flavor packed weeknight dinner! So you can get dinner on the table in less than 30 minutes!
This is my brother's favorite recipe I have ever made.
This salmon gets marinated in a cajun spice blend and then finished with an orange glaze. The orange glaze is made with orange marmalade. Meaning it's packed with flavor. The salmon soaks up all of the amazing sweet/spicy flavors before it gets baked to flaky perfection. 100% positive it will convert any salmon hater.
Marinating the salmon takes away most of the fishy-ness. Especially when you have a marinade with a lot of flavor.
I love a cajun seasoning with this because the salty flavors give a bbq-like flavor without the grill being involved.
Is it better to bake salmon at 350 or broil?
I prefer to broil the salmon so it gets a nice crust and flaky, buttery interior!
What to serve with this baked cajun salmon?
You can turn them into salmon tacos! The avocado salsa pairs so well with it. They are the best tacos ever.
We also love serving it with coconut rice and a house salad. A perfect meal right there.
Or honey glazed sweet potatoes!
Baked Cajun Salmon
A super easy, quick, and flavor packed weeknight dinner! So you can get dinner on the table in less than 30 minutes!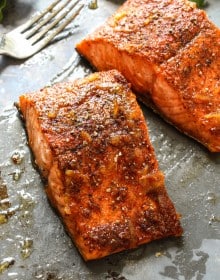 Ingredients:
To make orange glaze:
2 Tablespoons orange marmalade
2 Tablespoons water
To make salmon:
2 tablespoons olive oil
1 tablespoon cajun seasoning
1 tablespoon creole seasoning
2 tablespoons brown sugar
2 tablespoons soy sauce
1 teaspoon orange marmalade
1 teaspoon paprika
1 teaspoon black pepper
4 (6-ounce) Salmon Filets
Directions:
Preheat the oven's broiler (I set mine on the medium setting). Line a jelly roll pan with aluminum foil, and spray with nonstick spray. Set aside.
To make glaze:
Whisk together orange marmalade and water in a small bowl. Set aside.
To make salmon:
Wash salmon and pat dry. Place in a container to marinate. In a large bowl, whisk together olive oil, cajun seasoning, creole seasoning, brown sugar, soy sauce, orange marmalade, paprika, and black pepper. Pour over salmon and let marinate for 5-10 minutes. It is not necessary to marinate but do not marinate for any longer than ten minutes or the fish will not taste good!
Remove from marinade and pace the salmon fillets skin-side down on the prepared pan. Spoon the the excess marinade over the fillets. Place in the oven and broil for 10 minutes. Remove from oven and spoon 1 tablespoon of the marmalade mixture over the salmon. Return to oven and broil for 3 more minutes, or until the fish flakes easily with a fork.