May 18, 2015
Orange Glazed Cajun Salmon
A super quick family-favorite salmon recipe – made in the broiler in under 15 minutes. This is a salmon recipe we make over and over again. So yummy!!


Consider me the new salmon enthusiast. Seriously. I can't believe I used to think I didn't like salmon. For some reason all the salmon I have ever had has been WAY too salty – to the point I pretty much gave up on salmon in general. Shame on me! Sometimes (a lot of times) as I dive deeper and deeper into this foodie world and think: What we you thinking?? Or you have been really missing out!!!
That is pretty much how I felt after I tried this salmon.
I guess I've just never had salmon prepared with the right ingredients.
Like with this simple cajun marinade here, the salmon soaks up all of the amazing sweet/spicy flavors before it gets baked to flaky perfection. And then you finish it off with that sweet orange citrus glaze with a hint of spiciness from the Sriracha because as you know, I have to add Sriracha to everything!
This was seriously some of the best salmon I have ever tasted (And then when I turned the leftovers into tacos the next night was LIFE-CHANGING.) That recipe is coming soon!!
If you can't tell from the chicken kebabs lately (here and here), I have a new-found love: the broiler. It gives the most amazing smokey grill flavor, but because it's cooked in the oven, all the moisture stays inside.
So, of course, I made this salmon in the broiler. To make this salmon, I broiled the salmon over medium broil for 10 minutes, until the salmon was cooked through. Upon removing it from the oven, I brushed a glaze over the top and broiled it for a couple more minutes until the glaze was sticky. Literally perfection.
I always use medium broil to avoid the smoke alarm, BUT I do know almost too clearly what it's like to set the smoke alarm off from my excess salmon marinade that has been high broiled to smoky perfection. Ehh, rather imperfection. If this is the case, and you only have only broil setting, I would suggest baking at 400 degrees for 20-30 minutes.
I am so excited for you to try these! So much flavor! So much yumminess!!
Orange Glazed Cajun Salmon
A super quick family-favorite salmon recipe – made in the broiler in under 15 minutes. This is a salmon recipe we make over and over again. So yummy!!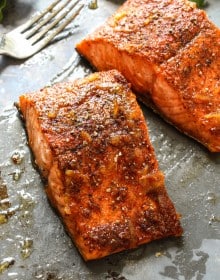 Ingredients:
To make orange glaze:
2 Tablespoons orange marmalade
2 Tablespoons water
To make salmon:
2 tablespoons olive oil
1 tablespoon cajun seasoning
1 tablespoon creole seasoning
2 tablespoons brown sugar
2 tablespoons soy sauce
1 teaspoon orange marmalade
1 teaspoon paprika
1 teaspoon black pepper
4 (6-ounce) Salmon Filets
Directions:
Preheat the oven's broiler (I set mine on the medium setting). Line a jelly roll pan with aluminum foil, and spray with nonstick spray. Set aside.
To make glaze:
Whisk together orange marmalade and water in a small bowl. Set aside.
To make salmon:
Wash salmon and pat dry. Place in a container to marinate. In a large bowl, whisk together olive oil, cajun seasoning, creole seasoning, brown sugar, soy sauce, orange marmalade, paprika, and black pepper. Pour over salmon and let marinate for 5-10 minutes. It is not necessary to marinate but do not marinate for any longer than ten minutes or the fish will not taste good!
Remove from marinade and pace the salmon fillets skin-side down on the prepared pan. Spoon the the excess marinade over the fillets. Place in the oven and broil for 10 minutes. Remove from oven and spoon 1 tablespoon of the marmalade mixture over the salmon. Return to oven and broil for 3 more minutes, or until the fish flakes easily with a fork.
PIN THIS RECIPE >>>