September 14, 2015
BBQ Salmon Tacos
BBQ Salmon Tacos – Sweet and spicy cajun marinade and an orange glaze. Loaded with fresh avocado salsa, greens, purple cabbage, & fresh cilantro.
Which fish is best for tacos?
Traditional fish tacos are made with a lean and flakey white fish. But today I'm here to make a case for salmon tacos!!! Because they are 100x more flavorful than white fish tacos.
What is the white sauce on fish tacos made of?
It's typically sour cream, mayo, and lime juice mixed together. I tend to stick with just sour cream mixed with a little milk in it. That is what chipotle does to get their sour cream to be pourable!
A couple tips for these BBQ salmon tacos:
I like to use corn tortillas and double the tortilla for extra support and extra yumminess.
When you buy avocados, look for they ones that are only a little bit tender when squeezed… if they are too ripe, they are more likely to be brown.
What is a good side for BBQ salmon tacos?
This loaded refried bean dip is incredible. Or some black beans.
Coconut rice or mexican rice would go great with these too.
BBQ Salmon Tacos
Sweet and spicy cajun marinade and an orange glaze – loaded with fresh avocado salsa, greens, purple cabbage, and fresh cilantro. LOVE these layers of flavors!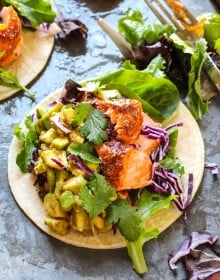 Ingredients:
For the orange glaze:
2 Tablespoons orange marmalade
2 Tablespoons water
For the salmon:
2 tablespoons olive oil
1 tablespoon cajun seasoning
1 tablespoon creole seasoning
2 tablespoons brown sugar
1 tablespoons soy sauce
1 teaspoon orange marmalade
1 teaspoon paprika
1 teaspoon black pepper
4 (6-ounce) Salmon Filets
For the avocado salsa:
3 medium avocados, diced
1/2 finely chopped sweet onion, such as Vidalia
1/8 cup finely chopped fresh cilantro
1 tablespoon lime juice
1 teaspoon crushed red pepper flakes
1/4 teaspoon garlic salt
Black pepper
For the tacos:
8 6-inch corn tortillas, warmed
2 cups thinly sliced red or green cabbage
mixed greens
1/2 cup crumbled Cotija cheese or goat cheese
(optional) sour cream
Directions:
Preheat the broiler (I set mine on the medium setting). Line a jelly roll pan with aluminum foil, and spray with nonstick spray. Set aside.
To make glaze:
Whisk together orange marmalade and water in a small bowl. Set aside.
To cook salmon:
Wash salmon and pat dry. Place in a container to marinate. In a large bowl, whisk together olive oil, cajun seasoning, creole seasoning, brown sugar, soy sauce, orange juice, paprika, and black pepper. Pour over salmon and let marinate for 5-10 minutes. It is not necessary to marinate but do not marinate for any longer than ten minutes or the fish will not taste good!
Remove from marinade and pace the salmon fillets skin-side down on the prepared pan. Spoon the the excess marinade over the fillets. Place in the oven and broil for 10 minutes. Remove from oven and spoon 1 tablespoon of the marmalade mixture over the salmon. Return to oven and broil for 3 more minutes, or until the fish flakes easily with a fork.
For the avocado salsa:
While the salmon is broiling, make the avocado salsa. Gently toss together the avocados, onion, cilantro, lime juice, red pepper flakes and garlic salt in a medium bowl. Add pepper to taste. Set aside.
To assemble the tacos:
Break salmon into small portions and layer over center of tacos, add cabbage, mixed greens, avocado salsa, Cotija cheese, and sour cream. Serve warm.
[this isn't a sponsored post, there are a few affiliate links above based on things I purchase on my own and love]