September 16, 2015
Crispy Chicken Strawberry Vinaigrette Salad
Crispy Chicken Strawberry Salad with Creamy Strawberry Balsamic Dressing and CANDIED walnuts, goat cheese, fresh strawberries, and green grapes – it's so easy, delicious, and beautiful for company, it is sure to become a new favorite! 
Summer's over? Not in my book it isn't. This girl still can't get enough juicy fruit, mountains of freshly picked tomatoes, summer sunshine, and most importantly salads for dinner.
Is it just me or do salads always taste so much better in the summer? I guess that's kind of a given because produce is best in the summer… but still, something about a salad for dinner on a hot summer night seems so much more appealing than a salad for dinner on a cold foggy night. I mean, chili and soups take once the colder weather kicks in.
Lucky for me, California gets the last leg of the colder weather so I'll just keep enjoying my warm summer nights and salads for dinner for as long as I possibly can. 🙂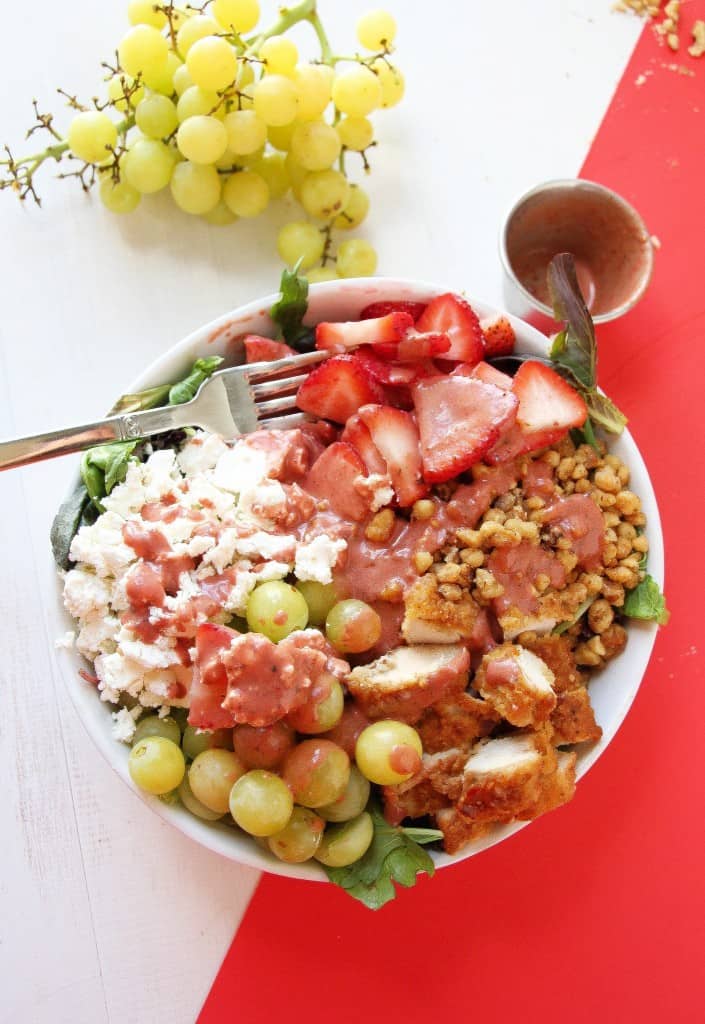 Now, let's talk about this salad creation. It's what dinner dreams are made of. Trust me, even if you aren't totally on board with the whole salad for dinner idea, I get it. Salads can be boring, but there's an emphasis on the "can" part because they certainly don't have to.
Take this salad for example: layers and layers of textures and flavors, everything from plump green grapes, fresh cut strawberries, creamy goat cheese, sweet glazed walnuts, crispy baked chicken, and leafy mixed greens.
OH and you can't forget the creamy, dreamy dressing drizzle on top made with real fresh strawberries.
This is the perfect salad. Full of flavor, super easy and I swear it gets better with each and every bite.
For my salads, I like to keep it simple on the toppings with big flavor in the dressing.
And let me tell you, this dressing has BIG flavor. Made with real strawberries, balsamic vinegar, olive oil, dijon mustard, sugar, garlic, salt and pepper – this dressing comes together with a quick whiz in the blender and it's sure to impress.
I always need a creamy aspect and a crunchy aspect to complement the fresh components. If you have those three components in your salad, you really don't need much else.
I threw some crispy baked chicken on top for some added texture, but the chicken is totally optional.
To make the chicken, it's as simple as coating the chicken and baking. That's it! I always make sure to flip the chicken half way through and to make sure the chicken are in a single layer with lots of room for ventilation to get nice and crispy. You could also substitute the crispy baked chicken for grilled chicken, or even leave it out and serve this salad with grilled steak or hamburgers. This is the kind of salad I would be happy to see at a BBQ.
Crispy Chicken Strawberry Vinaigrette Salad
Crispy Chicken Strawberry Salad with Creamy Strawberry Balsamic Dressing and CANDIED walnuts, goat cheese, fresh strawberries, and green grapes – it's so easy, delicious, and beautiful for company, it is sure to become a new favorite!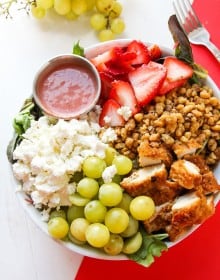 Ingredients:
Strawberry Vinaigrette:
1 cup sliced strawberries
1/4 cup balsamic vinegar
1/4 cup olive oil
1 Tablespoon dijon mustard
2 Tablespoons sugar
1 clove garlic, minced
1/4 teaspoon salt, or more to taste
1/4 teaspoon black pepper, or more to taste
Crispy Baked Chicken:
1/3 cup whole wheat flour
2 Tablespoons cajun seasoning
1 teaspoon cayenne pepper
1/4 teaspoon onion powder
1/4 teaspoon salt
1/4 teaspoon black pepper
1/2 cup seasoned breadcrumbs
1/2 cup Panko
2 large eggs, beaten
1 pound boneless skinless chicken breasts, sliced into strips
For the salad:
6 cups mixed greens
1 cup sliced strawberries
1 cup fresh blueberries
3/4 cup green grapes, halved
1/2 cup goat cheese crumbles (gorgonzola or blue cheese work too!)
1/3 cup glazed walnuts
Directions:
Make the vinaigrette:
Combine all of the vinaigrette ingredients in a food processor or blender. Blend on high until fully combined and the dressing is smooth. Pour into a glass jar or container and refrigerate until ready to use.
Make the chicken:
Preheat oven to 400 degrees. Line a large baking sheet with parchment paper.
Cut chicken breasts into thin strips, about one inch wide. Longer sections can be cut in half to have uniform pieces.
Combine whole wheat flour, cajun seasoning, cayenne pepper, and onion powder. Set aside. Beat eggs in another shallow dish. Pour Panko and breadcrumbs into a third shallow dish.
Coat each chicken strip in flour, shaking off any excess. Then, dip in egg and let any excess drip off. Then generously roll in the breadcrumbs, shaking off any excess. Add more Panko to the dish if you are running low.
Place the chicken strips on the prepared baking sheet. Drizzle the chicken lightly with olive oil or spray lightly with nonstick spray to ensure the coating stays on chicken.
Bake for 10 minutes. Flip chicken and bake for 10 more minutes until coating is crispy and chicken is cooked through. If you like them more brown, bake longer. Slice the warm chicken. Set aside.
To make salad:
Place the greens, strawberries, blueberries, and green grapes in a large bowl. Top with goat cheese, glazed walnuts, and warm chicken. Drizzle salad with dressing and serve immediately.
PIN THIS SALAD >>>