September 16, 2015
Strawberry Chicken Salad
Strawberry Chicken Salad – crispy chicken, candied walnuts, goat cheese, strawberries, & grapes – with a creamy strawberry balsamic dressing!
This is the perfect salad. Full of flavor, super easy and I swear it gets better with each and every bite.
Are thighs or breasts better for this strawberry chicken salad?
I used diced up chicken breast for the crispy chicken in this salad! But you could definitely use chicken thighs. You can also take a shortcut and get frozen chicken nuggets to make it super easy.
Should chicken be hot or cold on a salad?
I prefer the chicken out of the oven or at room temperature for this salad. But you could definitely eat it cold as leftovers.
Other recipe substitutions:
Grilled chicken would work great if you don't want crispy chicken.
Use crumbled feta or diced white cheddar if you don't like goat cheese!
Pecans or sliced almonds would work great in place of walnuts.
You can use any fruit you want. Blueberries and mandarin oranges would be awesome in this salad.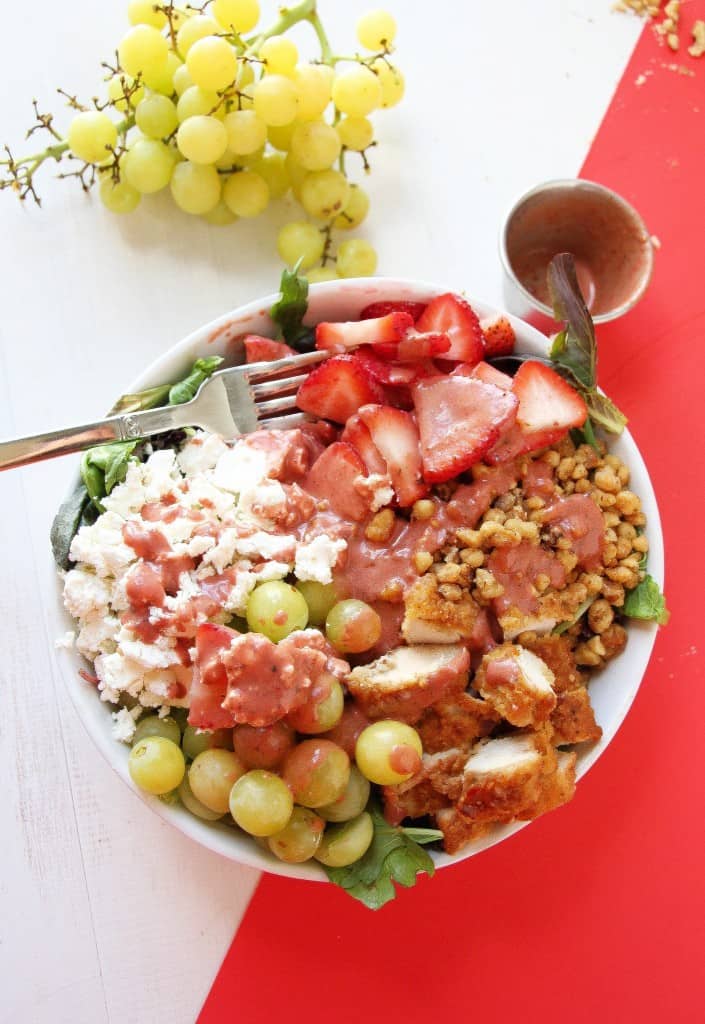 What goes well with chicken salad?
Serve this with sweet potato fries or regular oven baked fries.
Strawberry Chicken Salad
Crispy chicken, candied walnuts, goat cheese, strawberries, & grapes – with a creamy strawberry balsamic dressing!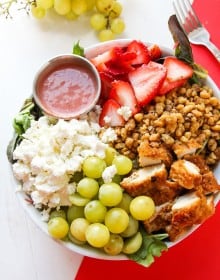 Ingredients:
Strawberry Vinaigrette:
1 cup sliced strawberries
1/4 cup balsamic vinegar
1/4 cup olive oil
1 Tablespoon dijon mustard
2 Tablespoons sugar
1 clove garlic, minced
1/4 teaspoon salt, or more to taste
1/4 teaspoon black pepper, or more to taste
Crispy Baked Chicken:
1/3 cup whole wheat flour
2 Tablespoons cajun seasoning
1 teaspoon cayenne pepper
1/4 teaspoon onion powder
1/4 teaspoon salt
1/4 teaspoon black pepper
1/2 cup seasoned breadcrumbs
1/2 cup Panko
2 large eggs, beaten
1 pound boneless skinless chicken breasts, sliced into strips
For the salad:
6 cups mixed greens
1 cup sliced strawberries
1 cup fresh blueberries
3/4 cup green grapes, halved
1/2 cup goat cheese crumbles (gorgonzola or blue cheese work too!)
1/3 cup glazed walnuts
Directions:
Make the vinaigrette:
Combine all of the vinaigrette ingredients in a food processor or blender. Blend on high until fully combined and the dressing is smooth. Pour into a glass jar or container and refrigerate until ready to use.
Make the chicken:
Preheat oven to 400 degrees. Line a large baking sheet with parchment paper.
Cut chicken breasts into thin strips, about one inch wide. Longer sections can be cut in half to have uniform pieces.
Combine whole wheat flour, cajun seasoning, cayenne pepper, and onion powder. Set aside. Beat eggs in another shallow dish. Pour Panko and breadcrumbs into a third shallow dish.
Coat each chicken strip in flour, shaking off any excess. Then, dip in egg and let any excess drip off. Then generously roll in the breadcrumbs, shaking off any excess. Add more Panko to the dish if you are running low.
Place the chicken strips on the prepared baking sheet. Drizzle the chicken lightly with olive oil or spray lightly with nonstick spray to ensure the coating stays on chicken.
Bake for 10 minutes. Flip chicken and bake for 10 more minutes until coating is crispy and chicken is cooked through. If you like them more brown, bake longer. Slice the warm chicken. Set aside.
To make salad:
Place the greens, strawberries, blueberries, and green grapes in a large bowl. Top with goat cheese, glazed walnuts, and warm chicken. Drizzle salad with dressing and serve immediately.
[this isn't a sponsored post, there are a few affiliate links above based on things I purchase on my own and love]