September 7, 2015
Baked Sweet Potato Fries
Baked Sweet Potato Fries – Crispy edges, soft center, baked not fried! Plus lots of secrets on how to make EXTRA CRISPY fries!!!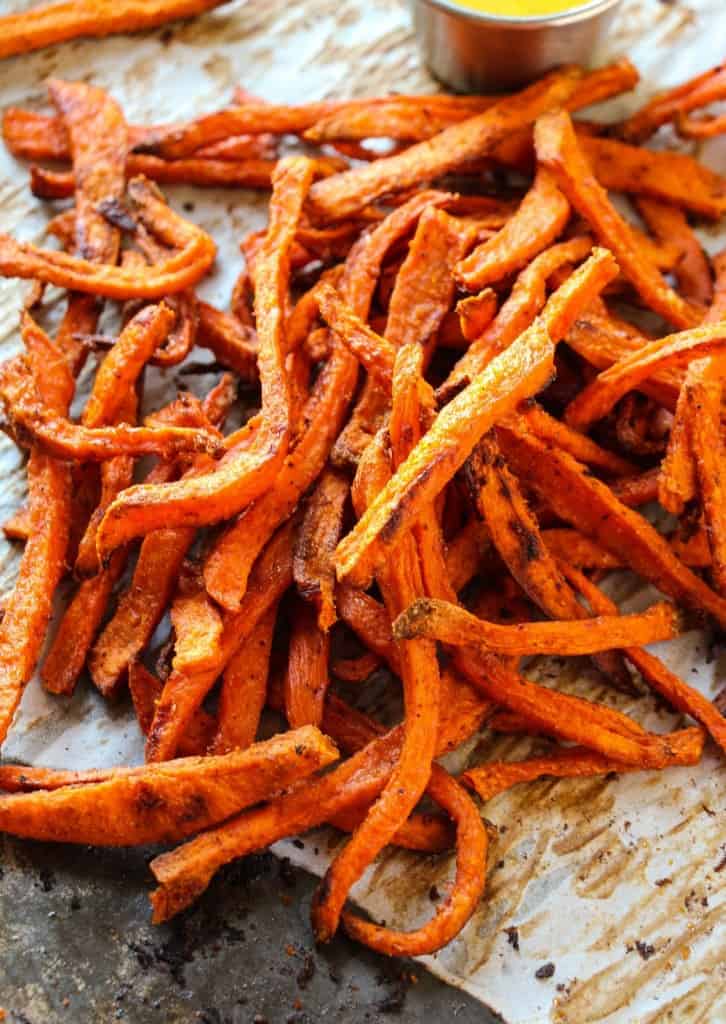 Why don't my fries come out crispy?
Make sure you cut your fries thin enough! 1/4-inch thick is perfect.
They also need a toss in cornstarch to help crisp up. It creates a super thin layer of coating that the heat can grab ahold of and crisp.
Don't over crowd the fries!! This is just as important as cutting the fries the right size. You want them to be in a single layer so that all fries are getting the same amount of direct heat.
I use ghee instead of olive oil. It gives a better crisp. You can use olive oil if you don't have ghee. The fries just won't be quite as crispy!
After down with baking time, turn oven off and crack the oven door open. Keep the fries inside and let them sit for 30 minutes. This step isn't 100% necessary. But it does give an awesome extra layer of crispness.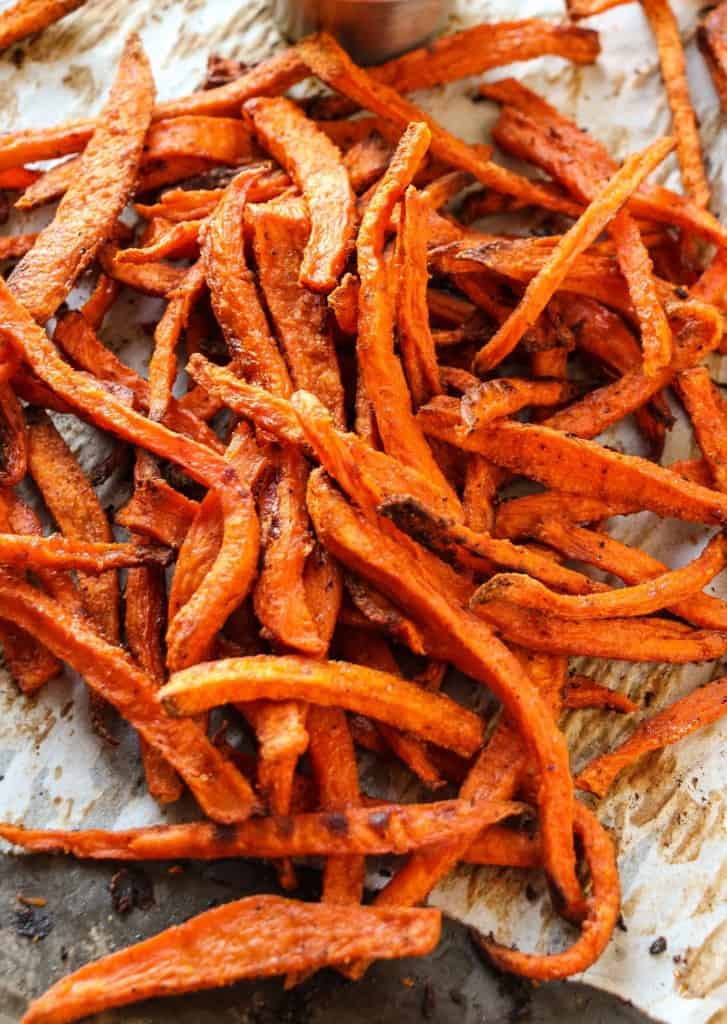 What to serve with these baked sweet potato fries?
This orange glazed cajun salmon!
Sweet potato flavor goes so well with BBQ ribs too.
And these honey mustard turkey burgers would make a great pair.
Baked Sweet Potato Fries
Crispy edges, soft center, baked not fried!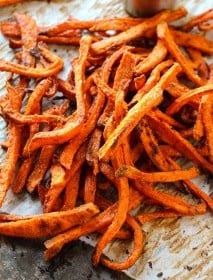 Ingredients:
3 whole Sweet Potatoes, Peeled And Cut Into 1/4-inch wide Thin Sticks
3 Tablespoons cornstarch
1/4 cup ghee (or olive oil)
1 cloves garlic, minced
1/2 teaspoon Seasoned Salt (or Plain Salt)
1/2 teaspoon Chili Powder
1/4 teaspoon Black Pepper
Directions:
Preheat oven to 400 degrees and line a large baking sheet with parchment paper (foil, wax paper etc. will not work). 3 large sliced potatoes are usually too crowded on 1 sheet, but it depends on their size. You may need an additional sheet. Set aside.
Place cut sweet potato fries in a large bowl or ziplock bag and toss with cornstarch. You want a nice thin coating. Pour the potatoes into a strainer and shake off extra corn starch. Discard the extra cornstarch out of the mixing bowl too. Place potatoes back into the bowl and add the ghee/olive oil, garlic, seasoned salt, chili powder, and black pepper.
Line the sweet potatoes onto the baking sheet. Try not to crowd them or else they won't bake, they'll just steam. Bake for 15 minutes. Remove from the oven and flip. Place back into the oven for 10-15 more minutes. Make sure to rotate the pan to avoid uneven browning. It is okay if the edges get a little bit burnt.
Turn the oven off and keep the fries inside as the oven cools down for about 30 minutes. This step will help the fries get crispier. Enjoy immediately.
[this isn't a sponsored post, there are a few affiliate links above based on things I purchase on my own and love]