September 7, 2015
Extra Crispy Baked Sweet Potato Fries
Crispy edges, soft center sweet potato fries baked not fried – so you can feel good about eating them!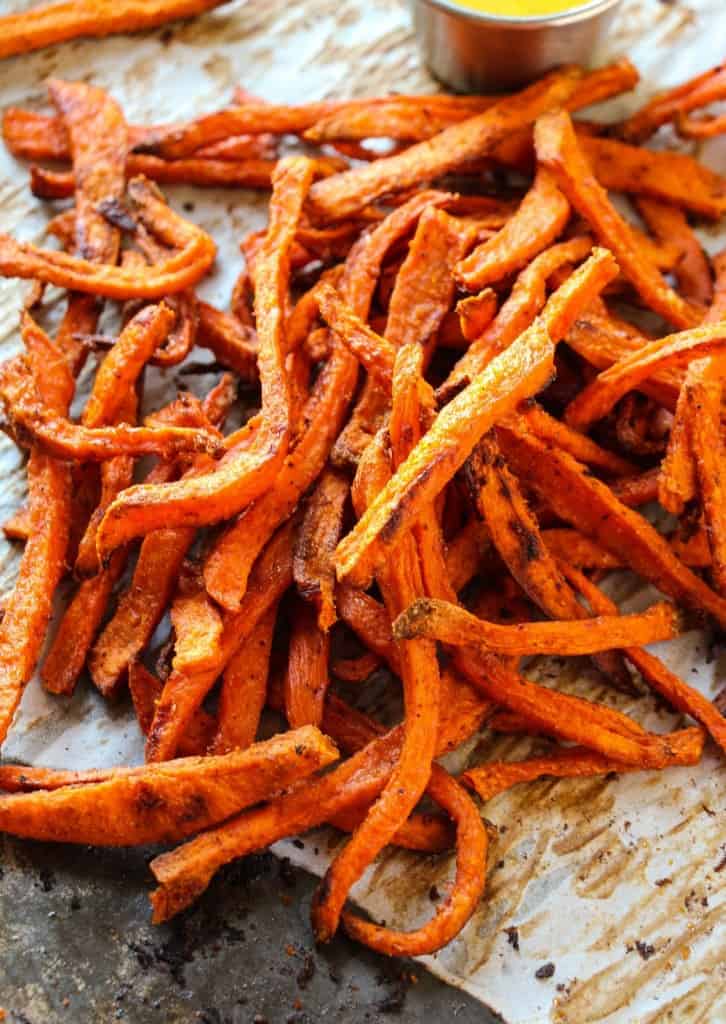 Once upon a time, we concocted the most amazing french fries made in the oven and we fell in love with them. We make them all the time and I can never seem to make enough – somehow we always end up with an empty tray of fries wayyy before the vegetables are gone. Super crispy on the outside, with soft creamy centers… they are an all around winner.
Well today… we are here to introduce the sister version of our ever-so-popular Extra Crispy Baked French Fries: Extra Crispy Baked Sweet Potato Fries.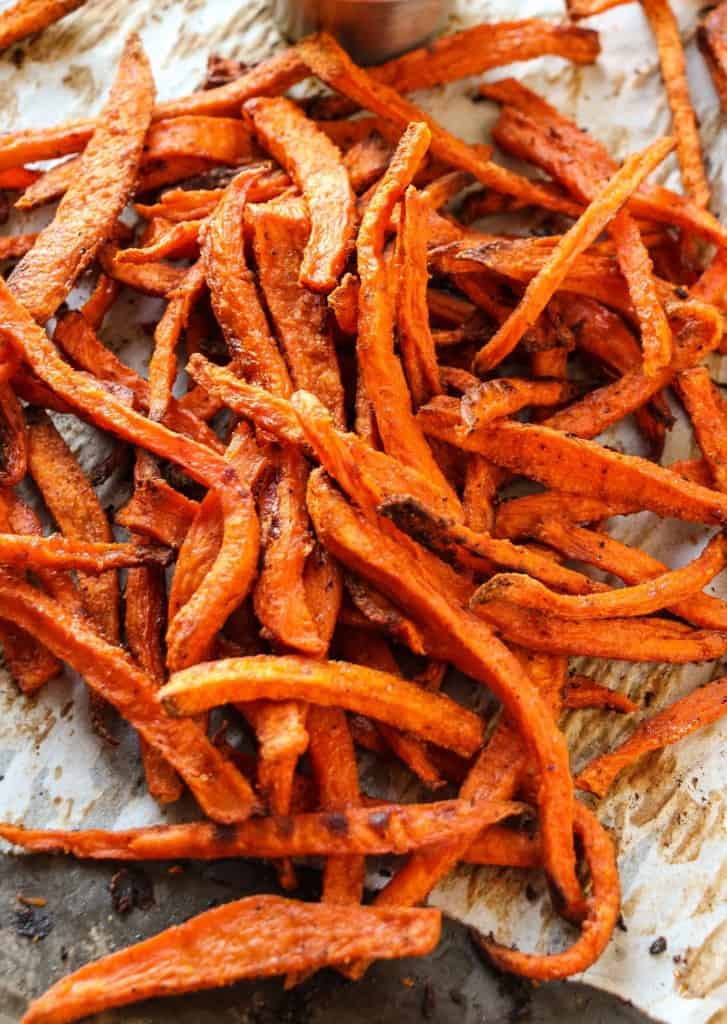 Call me crazy, but I consider a sweet potato, cut into fries, baked to crispy perfection, and seasoned with salt and pepper the best snack ever. Since they're baked and not fried I feel good about eating them for an afternoon snack. And even a little less guilty because they are sweet potatoes and not just potatoes.
The amount of sweet potatoes to use really depends on how hungry you are and how many people you are feeding. One very large sweet potato is normally good for me, but when I'm making enough for my family at dinner, I normally use 3-4 very large sweet potatoes. This normally makes a ton, but hey – no one is going to complain about extra sweet potato fries.  As a rule, I would probably use 1 small sweet potato per person, depending on how hungry you are.
I like to think my french fry slicing technique has improved over the years and that is what I really attribute to the extra crispiness. It's super important that sweet potato fries aren't too thick, but also aren't too thin. 1/4-inch thick is perfect.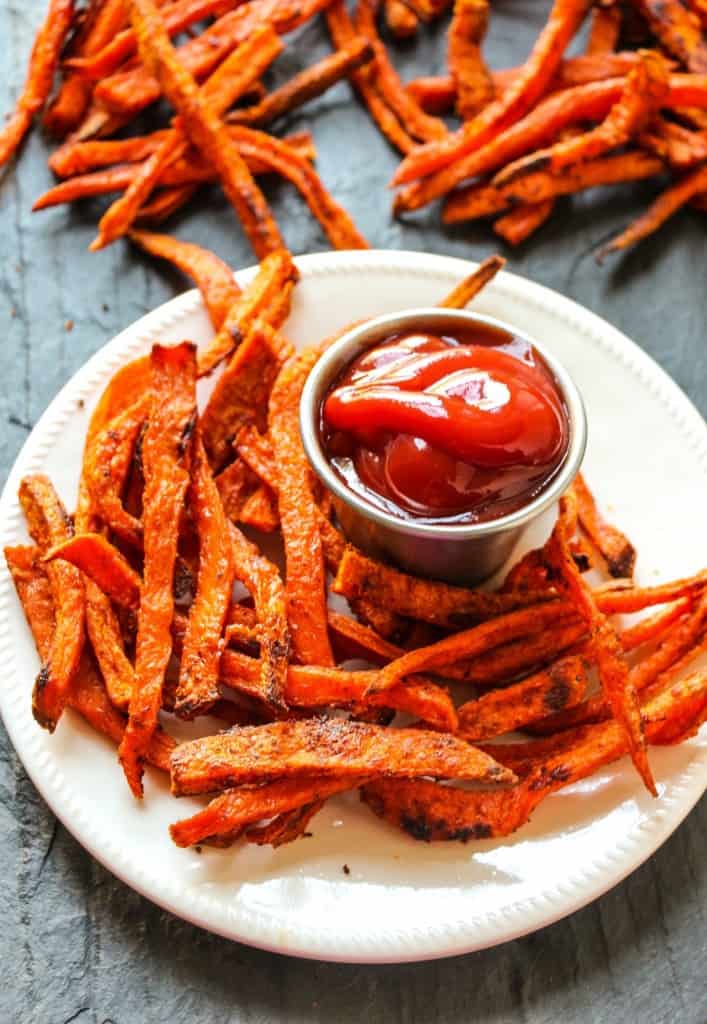 The difference between sweet potato fries and regular fries is that sweet potato fries need a little toss in cornstarch to help crisp up. It creates a super thin layer of coating that the heat can grab ahold of and crisp up. It's important to shake off the excess cornstarch before adding the seasonings and ghee so that the coating isn't too thick, which will make it soggy.
I use ghee instead of olive oil, because I think it gives a better crisp, but you could totally use olive oil if you don't have ghee.
Next it's time for the seasonings, which are up to your own personal preference. I like to use garlic cloves, chili powder, seasoned salt, and pepper.
Expert tip: Don't over crowd the fries!! This is just as important as cutting the fries the right size. You want them to be in a single layer so that all fries are getting the same amount of direct heat.
Expert Tip #2: After down with baking time, turn oven off and crack the oven door open. Keep the fries inside and let them sit for 30 minutes. This step isn't 100% necessary, but it does give an awesome extra layer of crispness. And with sweet potato fries – the crispier the better.
These are the perfect thing to serve as a side, make for a personal afternoon snack, or just have them as a single-lady dinner. No judgement here. 🙂
Enjoy!
Extra Crsipy Baked Sweet Potato Fries
Crispy edges, soft center sweet potato fries baked not fried – so you can feel good about eating them!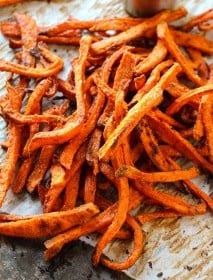 Ingredients:
3 whole Sweet Potatoes, Peeled And Cut Into 1/4-inch wide Thin Sticks
3 Tablespoons cornstarch
1/4 cup ghee (or olive oil)
1 cloves garlic, minced
1/2 teaspoon Seasoned Salt (or Plain Salt)
1/2 teaspoon Chili Powder
1/4 teaspoon Black Pepper
Directions:
Preheat oven to 400 degrees and line a large baking sheet with parchment paper (foil, wax paper etc. will not work). 3 large sliced potatoes are usually too crowded on 1 sheet, but it depends on their size. You may need an additional sheet. Set aside.
Place cut sweet potato fries in a large bowl or ziplock bag and toss with cornstarch. You want a nice thin coating. Pour the potatoes into a strainer and shake off extra corn starch. Discard the extra cornstarch out of the mixing bowl too. Place potatoes back into the bowl and add the ghee/olive oil, garlic, seasoned salt, chili powder, and black pepper.
Line the sweet potatoes onto the baking sheet. Try not to crowd them or else they won't bake, they'll just steam. Bake for 15 minutes. Remove from the oven and flip. Place back into the oven for 10-15 more minutes. Make sure to rotate the pan to avoid uneven browning. It is okay if the edges get a little bit burnt.
Turn the oven off and keep the fries inside as the oven cools down for about 30 minutes. This step will help the fries get crispier. Enjoy immediately.
PIN THESE SWEET POTATO FRIES…..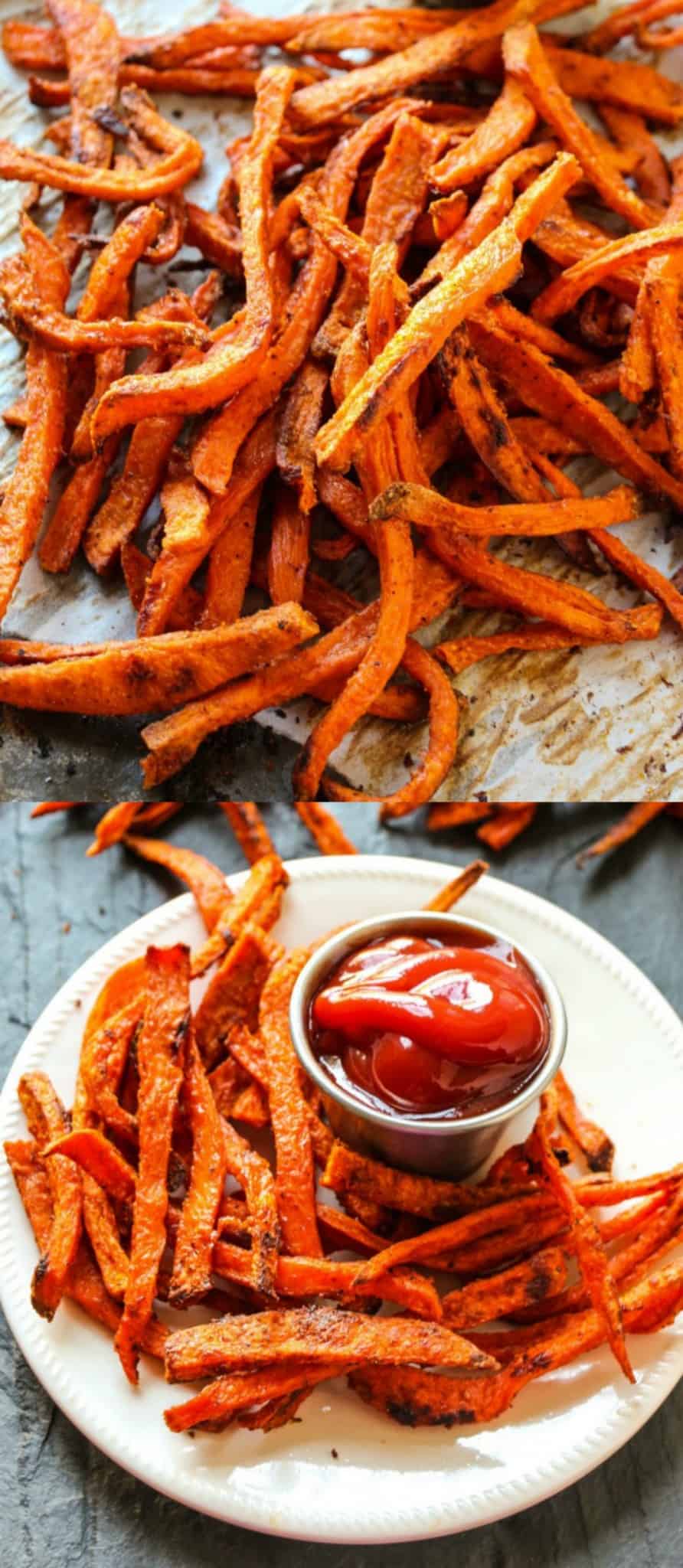 TRY OUR…