August 28, 2015
Bread Dipping Oil Recipe
Bread Dipping Oil Recipe – A super easy, super delicious appetizer that comes together in under 5 minutes.
This is a copycat recipe of the Carrabba's bread dip!
And it makes these easiest appetizer for a dinner party!! A bread basket is the best part of going to a restaurant. So why not normalize that at dinner parties at home.
Here is a great platter to serve this dip in. I love it because the dip part is glass so you can put oil in it. And it cleans very easily!
You could take this up a level and serve it our Easy Tuscan Herb Artisan Bread.
If you want to keep it super easy – just use any Italian or sourdough bread and cut into bite size pieces.
You can adjust any of the spices to your liking.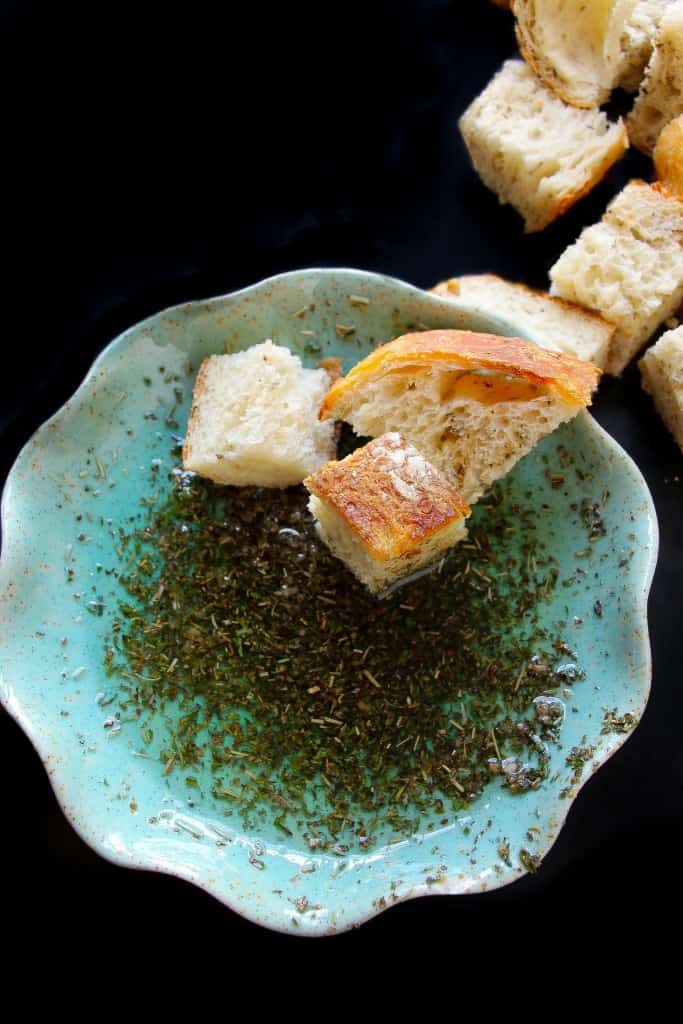 Can you make this bread dipping oil recipe ahead of time?
Yes! You can make this oil ahead of time. It stays good for awhile. I usually double or triple the recipe so that I have some on hand. No need to refrigerate it. The oil will harden if you do.
Bread Dipping Oil Recipe
A super easy, super delicious appetizer that comes together in under 5 minutes.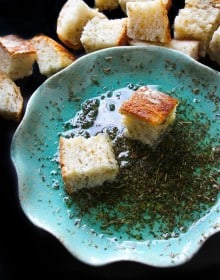 Ingredients:
1/2 Tablespoon minced basil
1/2 Tablespoon chopped Italian parsley
1/2 Tablespoon minced garlic
1/2 teaspoon dried thyme
1/2 teaspoon dried oregano
1/2 teaspoon ground black pepper
1/4 teaspoon kosher salt or 1⁄2 teaspoon ground sea salt
1/4 teaspoon chopped rosemary
1/2 teaspoon fresh lemon juice
1 cup olive oil
grated parmesan cheese (for serving)
Directions:
Whisk together all ingredients except for parmesan cheese in a bowl. Store in an air-tight container (I use mason jars) until ready to serve.
When serving, pour oil in a shallow dish and sprinkle parmesan cheese over top. Serve with artisan bread.
[this isn't a sponsored post, there are a few affiliate links above based on things I purchase on my own and love]