November 4, 2014
Cheesesteak Skillet
One-pan ooey, gooey, cheesy goodness made in under 20 minutes!
I have been in a dinner rut lately. You know when your pantry gets so bare that you really have to get your creative juices going in order to throw something together or you're going to end up eating a peanut butter and jelly for dinner? Yeah that was us. And that's exactly what happen. After a long day – there were NO creative juices left in me. But the next day, our pantry was still bare (yeah we still hadn't gone to the grocery store), BUT this was the result of our creativity on night 2. Seriously. This recipe has such everyday ingredients you will probably have everything on hand.
I have never been to Philly nor have I had a real Philly Cheesesteak, but I can tell you one thing – This was GOOD. Like make it over and over good.
P.S. In case you are wondering… we didn't have old steak laying around, the steak was in our freezer.
I'm craving this cheesy skillet all over again! If you love Philly Cheese Steak Sandwiches…you will LOVE this easy skillet! It's the melted cheese, tender crisp veggies and savory steak flavored with herbs and spices that make it so yummy! Oh and you can't beat a 20-minute dinner either. Just plop everything on a hoagie roll and you've got a dinner your whole family will go crazy over. Or you could do it like we did and hold the bread because it's just so good the bread is really unnecessary.
From start to finish, it's made in the same skillet. Starting with the peppers, onions, and mushrooms; then the meat and spices, then the CHEESE – oh glorious cheese. Meals like this are healthy and comforting! So obviously it's a win, win.
Cheesesteak Skillet
One-pan ooey, gooey, cheesy goodness made in under 20 minutes!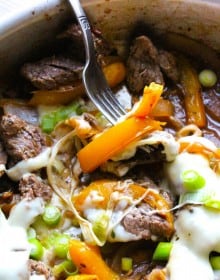 Ingredients:
1 lb thinly sliced rib eye
1 large onion, halved and then sliced into long strips
2 bell peppers, any color, cut into strips
1 cup baby bella mushrooms, chopped
2 Tablespoons soy sauce
1 Tablespoon Worcestershire sauce
1 Tablespoon dried basil (or 1/4 cup fresh basil)
1 Tablespoon lemon juice
1/2 Tablespoon minced garlic
1 teaspoon salt
1 teaspoon black pepper
4 slices provolone or other melting cheese
Directions:
In a large pan, over medium-high heat, cook meat with a little oil until slightly browned.
Add soy sauce, Worcestershire sauce, basil, lemon juice, garlic, salt, and black pepper. Stir to evenly distribute spices.
Add onion, peppers, and mushrooms, cook until browned- about 10 minutes.
Top with cheese. Let cheese melt, remove from heat, serve on hoagie rolls or as it is.