November 2, 2014
Homemade Snicker's Stuffed Brownies
Easiest brownies LOADED with Snickers… or any other candy! The perfect way to use up your leftover Halloween candy.
These decadent brownies are seriously a snickers & chocolate lover's dream. They are so good you won't know whether to love me or hate me – fudgy, rich, and stuffed with a layer of snickers chunks. Brownies and snickers, in one dessert, it doesn't get much better than this folks.
I love a Ghiradelli brownie…
Chewy.
Extra-Chocolatey.
Crackly top.
Fudgy.
Thick.
Mouth watering.
Decadent.
Rich.
Satisfying.
Perfect.
Indulgent.
The list could go on and on…..
I made these by spreading half the batter into the pan, adding a layer of chopped snickers, and then covering the snickers with the other half of the batter. So really, you could use any kind of candy you want – reese's, oreos, anything.
Homemade Snicker's Stuffed Copycat Ghiradelli Brownies
Thick, fudgy, chewy brownies LOADED with Snickers.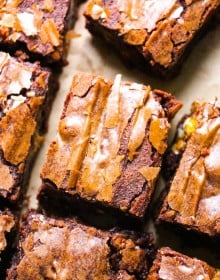 Ingredients:
1 box brownie mix (I like the Ghirardelli brand)
Ingredients the boxed brownie mix calls for
2 cups Snickers, cut into chunks (About one bag of fun size snickers)
Directions:
Preheat the oven to 350 degrees and line a 9×13 baking dish with parchment paper. Set aside.
Prepare the brownie batter according to package instructions.
Once the batter prepared, spread half the mixture on the bottom of prepared baking dish. Sprinkle snickers bits over the brownie batter as evenly as possible and then spread the remained half of the batter over top.
Bake according to the package or until the brownies begin to pull away from the edges of the pan and the top is crackled