November 2, 2014
Homemade Snicker's Stuffed Copycat Ghiradelli Brownies
100% homemade, thick, fudgy, chewy brownies LOADED with Snickers and finished with a crackly top. You will never need a box mix again.
Hey there! How was your Halloween? Mine was full of laughing and sugar comas. Love those kind of nights. But before that, on Halloween afternoon, guess what I did?! Made these ridiculous brownies. Yes. I did. Because it was the end of the quarter so we had a half-day and the end of the quarter just happened to land on Halloween. Score!
These decadent brownies are seriously a snickers & chocolate lover's dream. They are so good you won't know whether to love me or hate me – fudgy, rich, and stuffed with a layer of snickers chunks. Brownies and snickers, in one dessert, it doesn't get much better than this folks!
The ingredients list is actually very simple – No mixer, no strange ingredients, just pure brownie love. Not even any baking powder/soda. Just melted chocolate, butter, eggs, sugar, salt, vanilla, and flour. Oh, and they are stuffed with snickers. 😉
There are so many brownies recipes out on the interweb nowadays. But trust me on this one, we have made our fair share of brownies and one that never fails us is the boxed Ghiradelli brownie mix. I know what you are thinking… how can a box mix be better than homemade??? Well it was. Until now. For some reason homemade brownies never have the crackly top or the chewy texture, and to me that makes the brownies.
But these brownies, man, they embody everything I love about a Ghiradelli brownie and more.
Chewy.
Extra-Chocolatey.
Crackly top.
Fudgy.
Thick.
Mouth watering.
Decadent.
Rich.
Satisfying.
Perfect.
Indulgent.
The list could go on and on…..
I made these by spreading half the batter into the pan, adding a layer of chopped snickers, and then covering the snickers with the other half of the batter. So really, you could use any kind of candy you want – reese's, oreos, anything.
Or you could also not add any candy and have a batch of traditional Ghiradelli brownies made from scratch.
Homemade Snicker's Stuffed Copycat Ghiradelli Brownies
100% homemade, thick, fudgy, chewy brownies LOADED with Snickers and finished with a crackly top. You will never need a box mix again.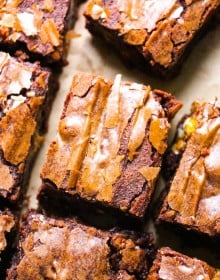 Ingredients:
2 cups chocolate chips
3/4 cup (12 Tablespoons) unsalted butter, sliced
1 1/2 cups sugar
2 teaspoons vanilla extract
4 eggs
1 2/3 cup all-purpose flour
1 teaspoon salt
2 cups Snickers, cut into chunks (About one bag of fun size snickers)
Directions:
Preheat the oven to 350 degrees and line a 9×13 baking dish with parchment paper. Set aside.
Melt the butter and chopped chocolate in a medium saucepan on medium heat, stirring constantly, about 5 minutes. Whisk the granulated sugar into the cooled chocolate/butter mixture. Add the eggs, one at a time, whisking until smooth after each addition. Whisk in the vanilla. Gently fold in the flour and salt.
Once combined, spread half the mixture on the bottom of prepared baking dish. Sprinkle snickers bits over the brownie batter as evenly as possible and then spread the remained half of the batter over top.
Bake for 30-35 minutes or until the brownies begin to pull away from the edges of the pan and the top is crackled.
Let cool completely before slicing. This is very important as the brownies will fall apart if sliced when warm. To speed up the process, put the brownies in the refrigerator for about 1 hour. Cut into 24 pieces and serve immediately.