December 1, 2014
Cinnamon Glazed Gingerbread Bundt Cakes
Moist, fluffy mini gingerbread bundt cakes with a warm cinnamon glaze that is out of this world!
To get my mind off of school and onto the holidays this past week I made these AMAZING gingerbread bundt cakes. I decided on mini bundt cakes because at the end of the day, miniature sized food always tastes better. And it makes me feel better about myself when I eat the entire thing. 😉
The batter comes together so easily and once it cools out of the oven, go ahead and slather on that warm cinnamon glaze. It's absolutely heavenly.
Enjoy!
Cinnamon Glazed Gingerbread Bundt Cakes
Moist, fluffy mini gingerbread bundt cakes with a warm cinnamon glaze that is out of this world!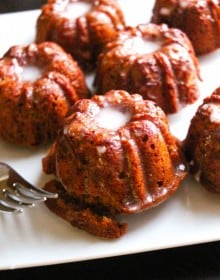 Ingredients:
For the cake:
2 1/4 cups all purpose flour
1/2 teaspoon baking soda
1/2 teaspoon salt
1/2 teaspoon allspice
1/2 teaspoon ground cloves
1/2 teaspoon ground nutmeg
1 teaspoon cocoa powder
1 teaspoon ground cinnamon
2 teaspoons ground ginger
1/2 cup (1 stick) unsalted butter, melted
3/4 cup dark molasses
3/4 cup sugar
1 large egg
1 cup milk
For the glaze:
1 cup powdered sugar
3-4 tablespoons milk
1/4 teaspoon cinnamon
Directions:
For the cake:
Butter and flour a 12-cup mini bundt pan and preheat your oven to 350 degrees.
In a medium bowl whisk together the flour, baking soda, salt, allspice, cloves, nutmeg, cocoa powder, cinnamon, and ginger.
In the bowl of a stand mixer fitted with the paddle attachment, beat together the molasses, sugar, and butter until well combined. Add the egg, and beat until combined.
Slowly beat in the milk. Add the flour mixture and beat until just combined.
Fill each bundt pan cup about 3/4 the way full and smooth out the tops just a bit. Bake on the middle rack of the oven for 20-30 minutes, or until a toothpick inserted into the center of the cakes comes out clean or with a few moist crumbs.
Let cool in pan for about 20 minutes, then turn out onto a baking rack and cool completely.
For the glaze:
Mix powdered sugar and milk together with a fork until smooth and desired thickness. Add cinnamon and mix to combine. If you want the glaze thinner, add another tablespoon or so of milk.
Dip the tops of each bundt cake in the glaze and let dry on a cooling rack.