December 1, 2014
Gingerbread Bundt Cake
Gingerbread Bundt Cake – Moist, fluffy mini gingerbread bundt cakes with a warm cinnamon glaze. These are a great make ahead holiday dessert!
This gingerbread bundt cake would make the best dessert for a holiday dinner party!
Make some chicken pot pies + a kale salad and these for dessert?!
Or maybe some Swedish meatballs… or short ribs… or prime rib! With mashed potatoes and roasted carrots on the side. YUM.
What is the difference between a bundt cake and a regular cake?
Bundt cakes tend to be more moist and tender. Because bundt pans have a hole in the middle which helps the bundt cake cook more evenly. Bundt cakes also they have edges that look pretty even before decorating.
This recipe uses mini bundt cake pan for individual servings. But you could also make this in a regular sized bundt pan.
Is ginger cake the same as gingerbread?
Basically! The main difference is ginger cake doesn't have molasses in it. Gingerbread does typically have molasses.
Other holiday dessert recipes to try:
Christmas chex mix or peppermint bark pretzels are both amazing and also make ahead.
These cut out sugar cookies, chocolate chip cookies, and 7 layer bar macaroons are all great Christmas cookies to try.
Gingerbread Bundt Cake
Moist, fluffy mini gingerbread bundt cakes with a warm cinnamon glaze. These are a great make ahead holiday dessert!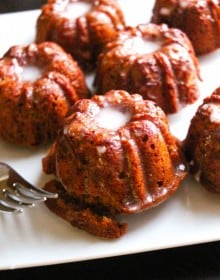 Ingredients:
For the cake:
2 1/4 cups all purpose flour
1/2 teaspoon baking soda
1/2 teaspoon salt
1/2 teaspoon allspice
1/2 teaspoon ground cloves
1/2 teaspoon ground nutmeg
1 teaspoon cocoa powder
1 teaspoon ground cinnamon
2 teaspoons ground ginger
1/2 cup (1 stick) unsalted butter, melted
3/4 cup dark molasses
3/4 cup sugar
1 large egg
1 cup milk
For the glaze:
1 cup powdered sugar
3-4 tablespoons milk
1/4 teaspoon cinnamon
Directions:
For the cake:
Butter and flour a 12-cup mini bundt pan and preheat your oven to 350 degrees.
In a medium bowl whisk together the flour, baking soda, salt, allspice, cloves, nutmeg, cocoa powder, cinnamon, and ginger.
In the bowl of a stand mixer fitted with the paddle attachment, beat together the molasses, sugar, and butter until well combined. Add the egg, and beat until combined.
Slowly beat in the milk. Add the flour mixture and beat until just combined.
Fill each bundt pan cup about 3/4 the way full and smooth out the tops just a bit. Bake on the middle rack of the oven for 20-30 minutes, or until a toothpick inserted into the center of the cakes comes out clean or with a few moist crumbs.
Let cool in pan for about 20 minutes, then turn out onto a baking rack and cool completely.
For the glaze:
Mix powdered sugar and milk together with a fork until smooth and desired thickness. Add cinnamon and mix to combine. If you want the glaze thinner, add another tablespoon or so of milk.
Dip the tops of each bundt cake in the glaze and let dry on a cooling rack.
[this isn't a sponsored post, there are a few affiliate links above based on things I purchase on my own and love]