July 7, 2016
The Best Chewy Chocolate Chip Cookies (No-Mixer)
This cookie has crispy edges, a chewy interior, flaky sea salt on top, and a butterscotch-like, toffee flavor throughout. To die for!!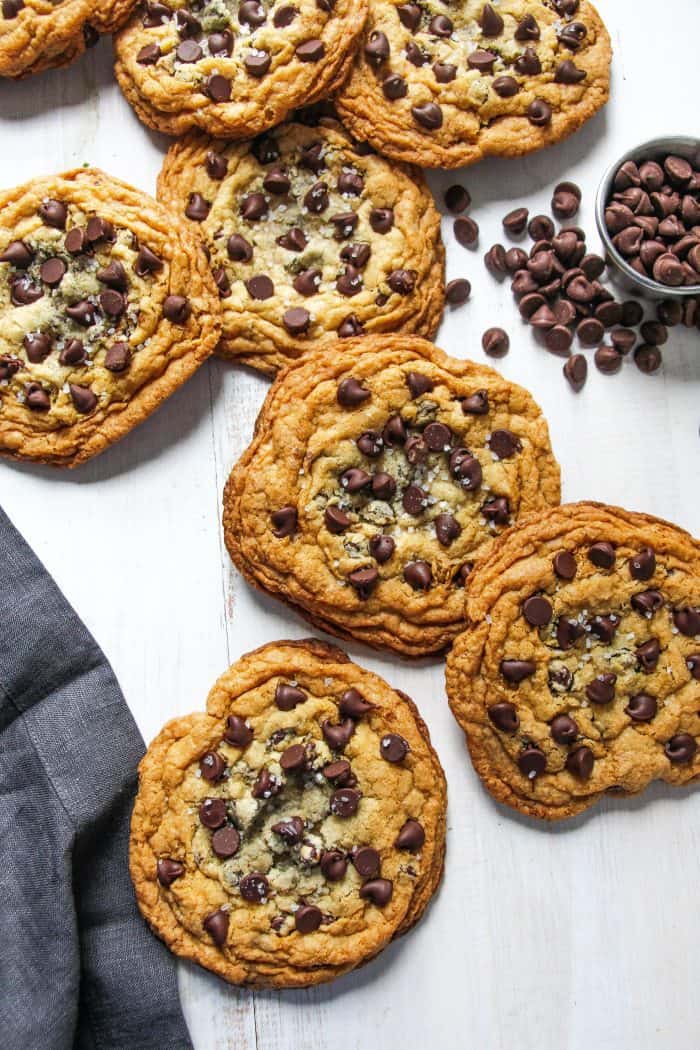 Is here anything better than a fresh batch of super chewy chocolate chip cookies? Probably not.
A chocolate chip is about SO much more than the chocolate chips… It's all about crispy edges, a chewy interior, flaky sea salt on top, and a butterscotch-like, toffee flavor throughout. And that is exactly how I would describe this cookie.
Now I know there are many different types of chocolate chip cookies – the a bakery-style cookie that is soft throughout; a crispy cookie that doesn't have any chew; and a cakey cookie that has a domed shape and a cake-like crumb. However, all the real cookie eaters agree that a chocolate chip cookie should have crispy edges in a way that tastes like a butter-sugar caramelized heavenly goodness with a extra chewy interior.
Disclaimer: many many (MANY) batches of chocolate chip cookies have gone unpublished here on the blog. First off, me and cookies have a love-hate relationship – I like my cookies to spread but still be thick, but by thick I mean chewy not cakey. See my dilemma?
But I have finally cracked the code folks. First off… To get the cookies to spread, you need all baking soda, no baking powder. Then, to get he cookies to be extra caramel chewy, you need melted butter so that the white and brown sugar can dissolve into the sugar.
Okay… Enough science for today.
But it is important to note that because of the melted butter, refrigerating the pre-scooped out cookies for at least 10 minutes while the oven preheats is essential so that your cookies don't spread too much. And learn from me, putting the cookie dough balls in the freezer doesn't work… That also results in chocolate chip cookie pancakes.
Want to know my favorite part about these cookies?? NO MIXER is required! Yup, I know, you can thank me later. Not only are these the best chocolate chip cookies ever, but they are also the easiest chocolate chip cookies ever!
Now go grab yourself a huge glass of milk and make some freaking amazing cookies!! I promise these will become your go to cookies… They are so easy even your kids could make them.
The Best Chewy Chocolate Chip Cookies (No-Mixer)
This cookie has crispy edges, a chewy interior, flaky sea salt on top, and a butterscotch-like, toffee flavor throughout. To die for!!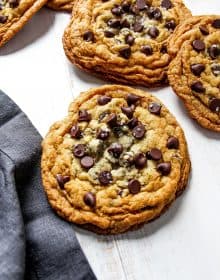 Ingredients:
1 cup (2 sticks) unsalted butter, melted and cooled to room temperature (8 oz/226g)
1¼ cups packed light brown sugar (9 oz/250g)
¾ cup granulated sugar (6 oz/175g)
2½ cups all-purpose flour, spooned and leveled *(see note below)* (10.5 oz/300g)
1½ tsp kosher salt or ¾ teaspoon fine sea salt
1 tsp baking soda
2 large eggs
2 tsp vanilla extract
1 1/2 cups semisweet chocolate chips, divided
Flaky sea salt, optional
Directions:
Whisk the flour, salt, and baking soda in a medium bowl. Set aside.
Whisk brown and white sugar in a large bowl and make sure to break up any large chunks with your fingers if needed. Add the melted butter and whisk vigorously for about 1 minute.
Whisk in one egg to the sugar-butter mixture at a time, stirring until it's fully mixed in. Whisk in the second egg and the vanilla and scrape the sides of bowl.
Add the dry ingredients to the wet and stir with the spatula to fully combine. Stir in 1 cup of the chocolate chips and save the other cup for putting on top after baking.
Preheat the oven to 375ºF.
Scoop out dough into cookie dough balls. I like to make big cookies so I use 1/4 cup to scoop out the dough. Place on a parchment paper lined baking sheet. Refrigerate dough for at least 15 minutes while the oven heats up.
Bake the cookie 3 inches apart on a parchment paper lined baking sheet (I do 3-5 cookies per baking sheet) for 10 to 14 minutes, until the edges are set and the cookie is beginning to turn golden brown throughout. Immediately after removing from the oven, decorate to top of the cookies with chocolate chips, pressing into the cookie a little bit so that the chocolate chips set. Let cool on the sheet for 1-2 minutes, then transfer to a wire rack to cool completely.
You can also refrigerate the dough balls for up to 1 week and bake when needed.