July 5, 2016
Spicy Brown Sugar Glazed Fried Chicken Strips
These sweet-batter baked chicken tenders, dunked in a sweet and spicy glaze, are a family favorite.
You guysss. Today is a Totally Absolutely Completely Spicy Glazed Fried Chicken Strips Tuesday.
These tender, juicy, flavor-pumpin' chicken pieces are first baked to a golden crispy perfection, then dipped in sauce, then re-baked to get that sauce all soaked into the chicken so it's that perfect balance of semi-crispy and saucy-sticky, and served over hot steaming basmati rice that will make you feel like you might be in the restaurant of your dreams. Surprise! It's your kitchen. Sauce makes the food world go ROUND.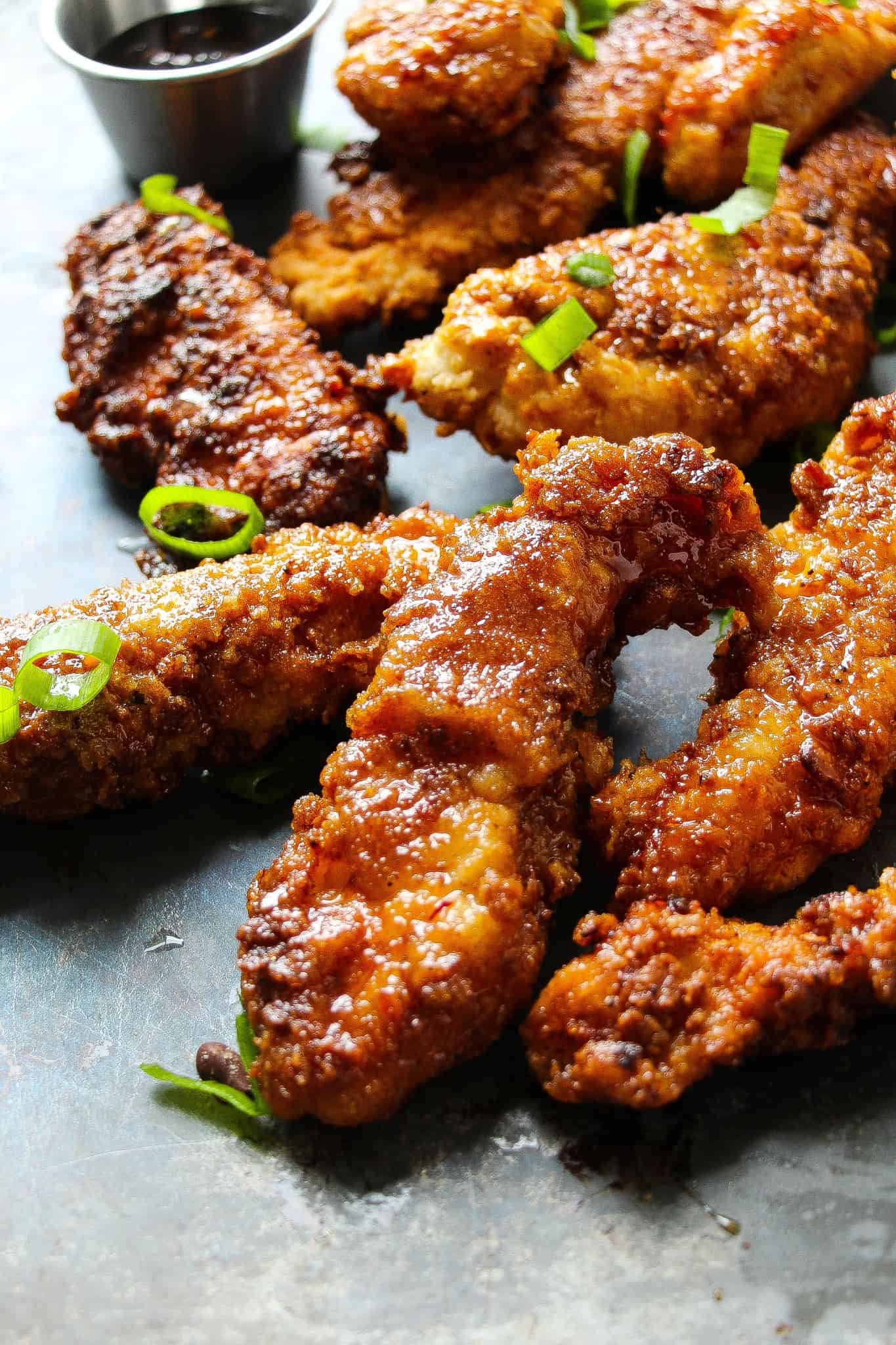 Here, look at some chicken with me.
This Spicy Sticky Chicken. ❤ It's so satisfying – especially with a side of beautiful  basmati rice. And if you are feeling ambitious, add a pile of bright green broccoli. I'm telling you – this combo is going to fill you up all day and night (which, for me, is some kind of miracle) and now let me tell you the magic trick –> 30 minutes.
I made this for the first time in the 25 minutes between a quick jog around the lake, a shower and get ready, and a head out the door for a church event. Maybe I stuffed my face with my spicy sticky chicken and broccoli dinner in the car that night. Don't know don't care.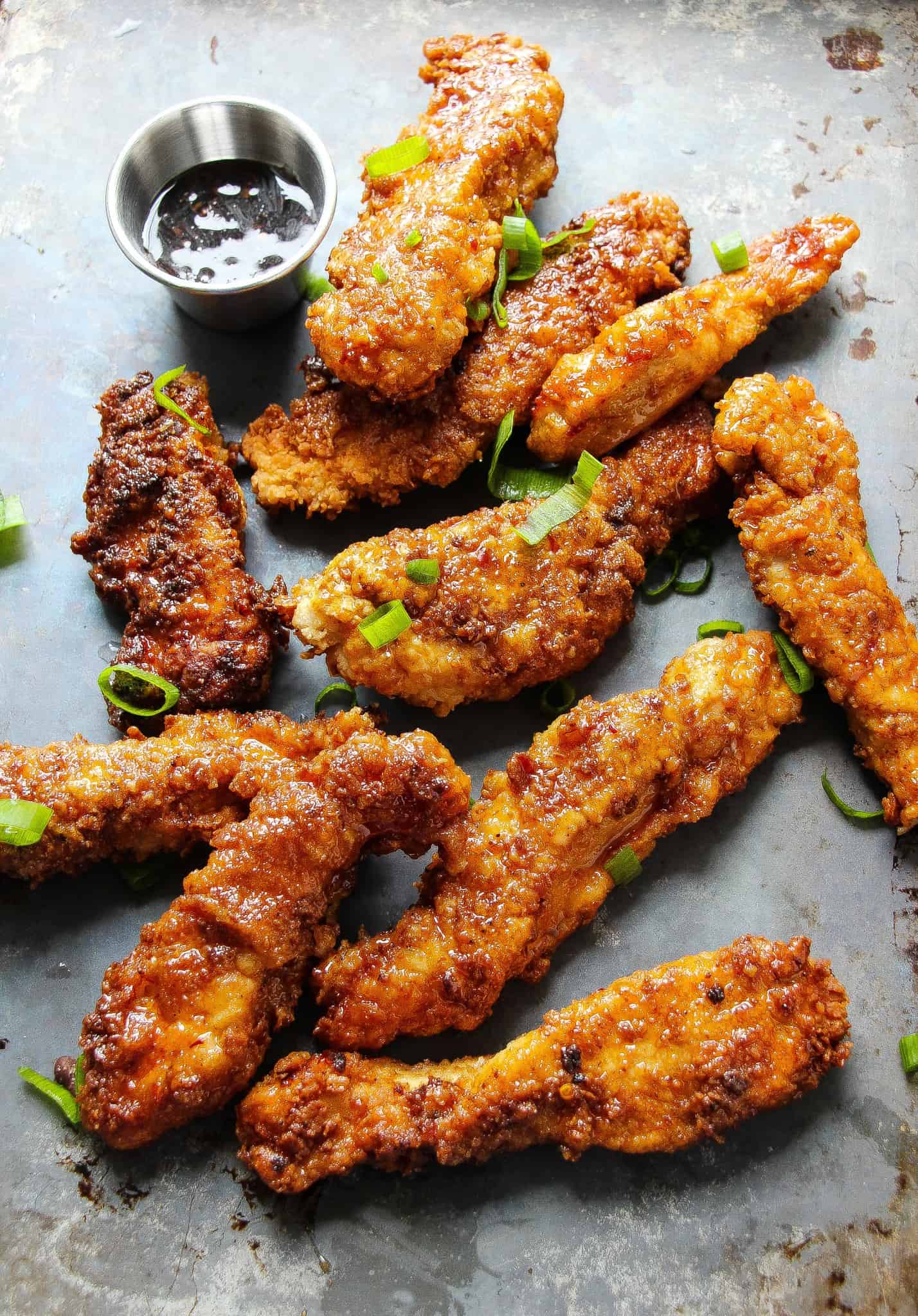 What I do care is about that it was ready in time for me to whip into existence and then the leftovers were there waiting for me the next day for lunch and I swear to you they tasted like something from a super fancy restaurant.
Eat the spicy brown sugar chicken and feeeeeel gooooood.
Spicy Brown Sugar Glazed Fried Chicken Strips
These sweet-batter baked chicken tenders, dunked in a sweet and spicy glaze, are a family favorite.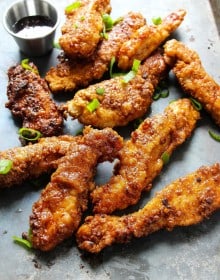 Ingredients:
To make spicy brown sugar sauce:
⅓ cup hot sauce
1½ cup brown sugar
1 Tablespoon water
To make chicken:
1 1/2 lb skinless, boneless chicken breasts
1½ pounds boneless, skinless chicken breast tenders
1 cup buttermilk
1 cup panko breadcrumbs
¼ cup cornmeal
1 tablespoon olive oil
1/2 teaspoon salt
1/4 teaspoon ground black pepper
1/4 teaspoon garlic powder
Directions:
Preheat the oven to 450 degrees. Line a baking sheet with foil and place a metal cooling rack on top if you have one (it can work without, too).
To make spicy brown sugar sauce:
Heat up hot sauce, brown sugar and water in a sauce pot until all the sugar dissolves. Remove from heat and set aside.
To make the chicken:
Cut chicken into 1 1/2-inch x 5-inch strips or in 48 (1 1/2-inch cubes)
Soak the chicken in the buttermilk. Mix the panko, cornmeal, olive oil, salt, pepper, and garlic powder in a bowl. Remove the chicken one piece at a time, let the buttermilk drip off, and gently press into the panko cornmeal mixture until coated with crumbs. Place the chicken on the baking sheet and bake for 10 minutes. At 10 minutes, flip each piece and bake for another 10 minutes (so total bake time for the chicken is about 20 minutes)
When the chicken is done, dip each piece in the sauce and return to the baking sheet. Bake another 5 minutes, re-dip for one last sauce love, and let rest for a minute or two. Serve over rice, with extra sauce.