July 5, 2016
Spicy Baked Chicken Tenders
Spicy Baked Chicken Tenders – oven fried, extra crispy chicken fingers, dunked in a sweet glaze with a little kick of heat.
I have a fried version of chicken tenders. Those chicken fingers are SO good.
But I love making oven baked versions of crispy fried food. Like these extra crispy oven baked french fries. And these oven baked sweet potato fries.
Now introducing saucy, sticky, juicy, chicken tenders.
The sauce is made of brown sugar, hot sauce, and water. You melt it together in a saucepan. The brown sugar dissolves. It's the secret to a super sticky sauce. The brown sugar makes it cling to every part of the chicken's nooks and crannies.
These would be perfect as an appetizer, football party, snack, or main meal.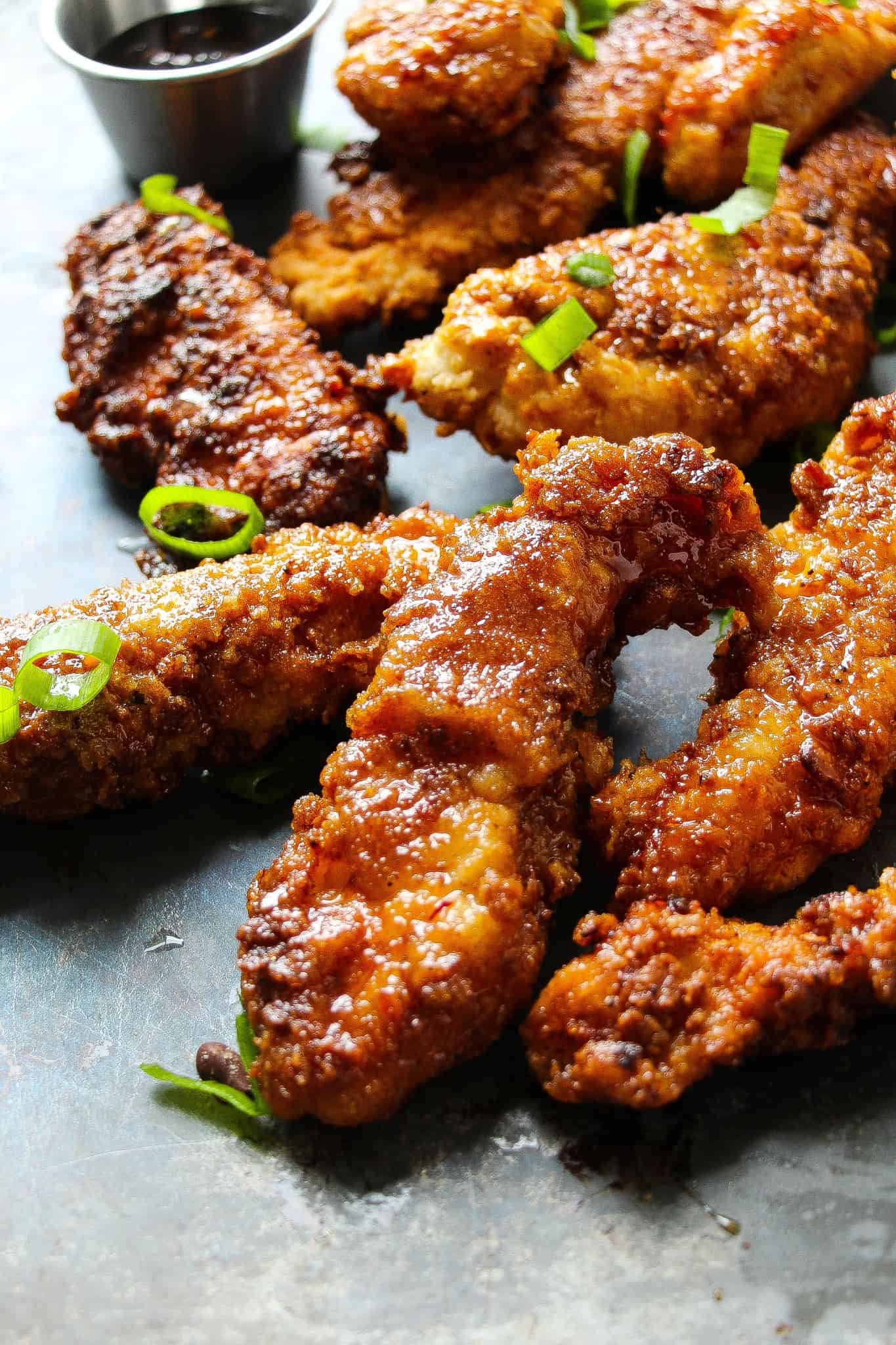 What to serve with these spicy baked chicken tenders:
Since you already have the oven on, you could make these french fries.
Or these sweet potato fries.
You could also keep it lighter and serve the chicken tenders over this salad instead of grilled chicken. Or this salad instead of the frozen chicken fingers!
Frozen french fries would work great too. I love Trader Joe's seasoned waffle fries.
Spicy Baked Chicken Tenders
Oven fried, extra crispy chicken tenders, dunked in a sweet and spicy glaze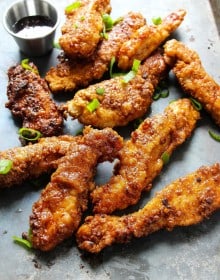 Ingredients:
GLAZE:
⅓ cup hot sauce
1½ cup brown sugar
1 Tablespoon water
CHICKEN:
1 1/2 lb chicken breasts
1 cup buttermilk
1 cup panko breadcrumbs
1/4 cup cornmeal
1 tablespoon olive oil
1/2 teaspoon salt
1/4 teaspoon ground black pepper
1/4 teaspoon garlic powder
Directions:
GLAZE:
Heat up hot sauce, brown sugar and water in a saucepan until all the sugar dissolves. Remove from heat and set aside.
CHICKEN:
Preheat the oven to 450 degrees. Line a baking sheet with foil. Place a metal cooling rack on top of the foil (it can work without, too).
Cut chicken into 1 1/2-inch x 5-inch strips or in 1 1/2-inch cubes.
Soak the chicken in the buttermilk. Mix the panko, cornmeal, olive oil, salt, pepper, and garlic powder in a bowl. Remove the chicken one piece at a time, let the buttermilk drip off, and gently press into the panko cornmeal mixture until coated with crumbs.
Place the chicken on the baking sheet and bake for 10 minutes. At 10 minutes, flip each piece and bake for another 10 minutes (so total bake time for the chicken is about 20 minutes)
When the chicken is done, brush sauce on both sides of each piece. Return to the baking sheet.
Bake another 5 minutes, let rest for a minute or two. Serve with extra sauce
[this isn't a sponsored post, there are a few affiliate links above based on things I purchase on my own and love]