May 10, 2016
Homemade Chicken Fingers
Homemade Chicken Fingers! Fried, golden, and crispy on the outside… moist and tender chicken on the inside. These are super easy and the absolute best!!
Whether you call it chicken fingers, strips, or tenders… there's no debating this cut of fried chicken is superior. It's hand held and you get more than one bite out of it. I've only ever ordered chicken fingers out… so it was about time I learned how to make a homemade version.
Pretty sure my family will never let me go back to the frozen stuff.
How to make the best homemade chicken fingers
The key to these chicken fingers is the blend of crispy coating. It has panko breadcrumbs, cornmeal, and shredded cheddar cheese. The panko breadcrumbs gives the crispiness we're looking for. The cornmeal fills in all the nooks and crannies that get missed by the panko. And the cheddar cheese sticks it all together.
And it's coated not once, but twice in that breadcrumb mixture! Read: they are soooo crispy and flavorful.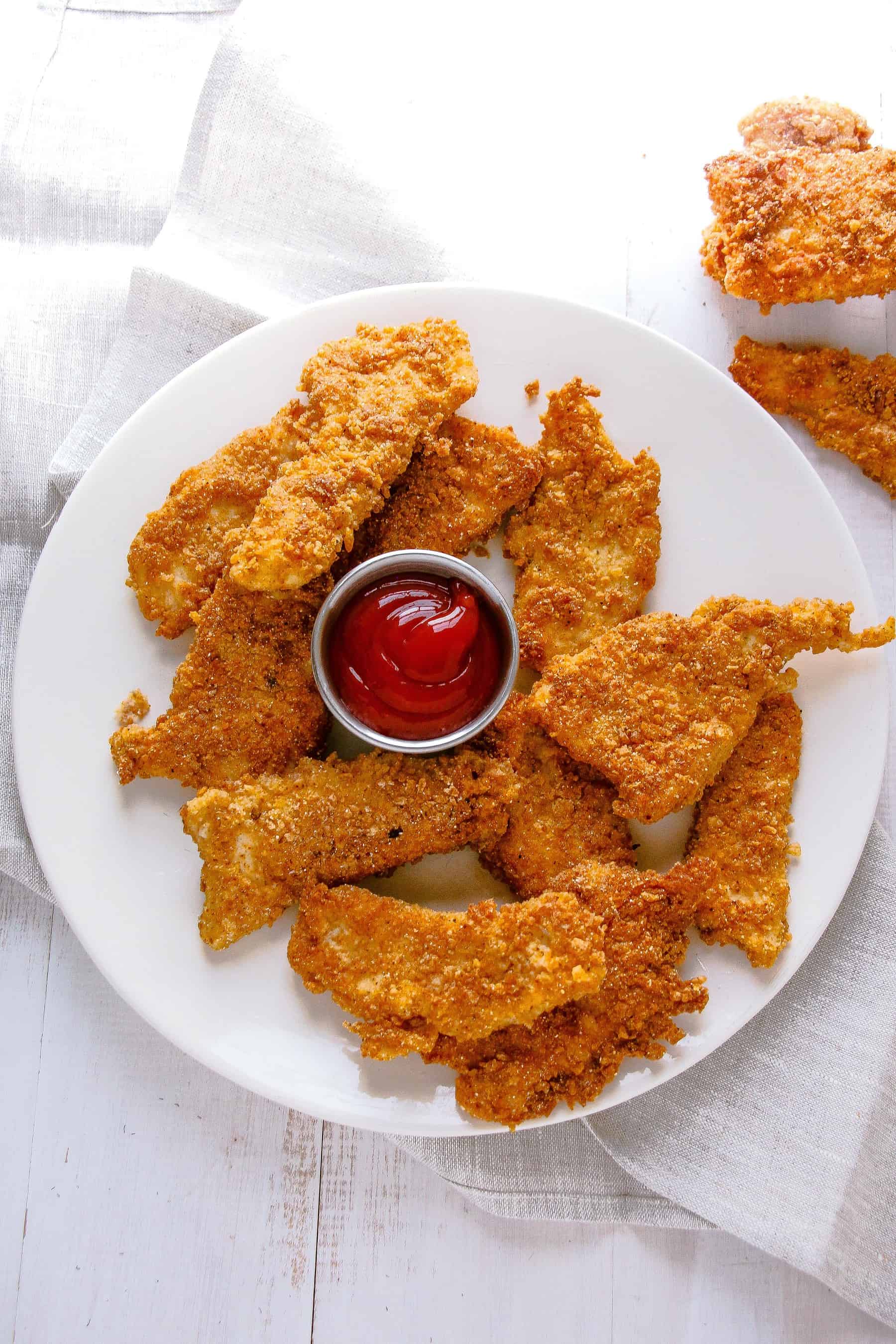 Can you freeze homemade chicken fingers
Yes! Once cooked, lay them out on a baking sheet and freeze for 1-2 hours. Then put them in a resealable bag.
Bake the frozen chicken fingers at 425 degrees for 20-25 minutes until heated back through.
What to serve with these
While you're making these on the stovetop… bake these french fries in the oven!
Make chicken parmesan! And serve it over spaghetti squash.
Homemade Chicken Fingers
Fried, golden, and crispy on the outside… moist and tender chicken on the inside. These are the best!!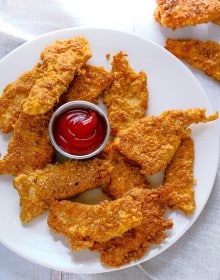 Ingredients:
1 lb thin sliced chicken breast, cut into strips
3 eggs, beaten
1 cup flour
1 cup panko breadcrumbs
1 cup shredded cheddar cheese
1/4 cup cornmeal
For the spice mixture:
1 tablespoon salt (it won't taste salty)
1 teaspoon pepper
1 teaspoon smoked paprika (may sub. regular)
2 teaspoons chili powder
2 teaspoons garlic powder
1 teaspoon onion powder
Directions:
Slice the chicken breasts into strips.
Mix spices together in a small sealable bag. Add 1 tablespoon of the spices, flour, bread crumbs, cheese, and cornmeal to a medium sized bowl. Set aside. Store remaining spices.
Transfer beaten eggs to a medium bowl. Set aside.
Coat each chicken strip with the flour mixture, then egg, and then back in the flour mixture.
Pour enough vegetable oil in to a medium-large skillet so that it is 1/4-inch deep and heat over medium high heat. Fry the chicken strips (in batches if necessary) until golden brown on both sides and cooked through. Set aside on paper towels to drain oil.
Serve immediately with dipping sauce of choice.
[this isn't a sponsored post, there are a few affiliate links above based on things I purchase on my own and love]