July 23, 2023
BBQ Boneless Chicken Thighs
This BBQ boneless chicken thighs recipe is the easiest grilled summer dinner ever! Made with 3 ingredients, no marinading required, and gluten free!
This is the ultimate weeknight summer dinner. You only need 3 ingredients, including the chicken! And the recipe doesn't need any marinade time. Hello, SOS weeknight dinner time lifesaver!
The three ingredients are boneless, skinless chicken thighs, BBQ seasoning, and BBQ sauce. You can use whatever BBQ sauce you like. They are all pretty much the same. But not all BBQ seasonings are created equal. I love the Jack Daniel's Pork Rub BBQ Seasoning. It has a brown sugar base. So it's the perfect balance of sweet and smoky.
I also love this recipe because chicken thighs so forgiving and foolproof. No matter how long you grill the chicken thighs they are always moist. No more dry chicken!
Boneless Chicken Thighs or Bone-in Chicken Thighs?
I prefer boneless chicken thighs. Boneless cooks faster than bone-in chicken thighs. Plus boneless chicken thighs are also easier to eat. You don't have to cut around the bone to get to the meat.
But you can make this recipe using either boneless or bone-in!
What Temperature to Grill Chicken Thighs?
My foolproof method for grilling chicken thighs: preheat the grill to 400-450 degrees. Getting the grill this hot allows you to grill hot and fast! Which is great for getting a nice char on your chicken thighs.
How Long to Grill Boneless Chicken Thighs?
After the grill has preheated, place the chicken on the grill and grill 5-6 minutes per side. Or until the internal temperature reaches 165 degrees if you have a meat thermometer.
For this recipe I flip the chicken twice. So the chicken grills on one side twice. I do this because I don't like to put bbq sauce on the raw chicken. So I let the chicken grill on side. Then flip the chicken and brush the cooked side with BBQ sauce. Let the underside cook. Then flip again and put some bbq sauce on the second cooked side.
But the chicken should be almost completely cooked through after the 2 flip. The bbq sauce doesn't take long to caramelize.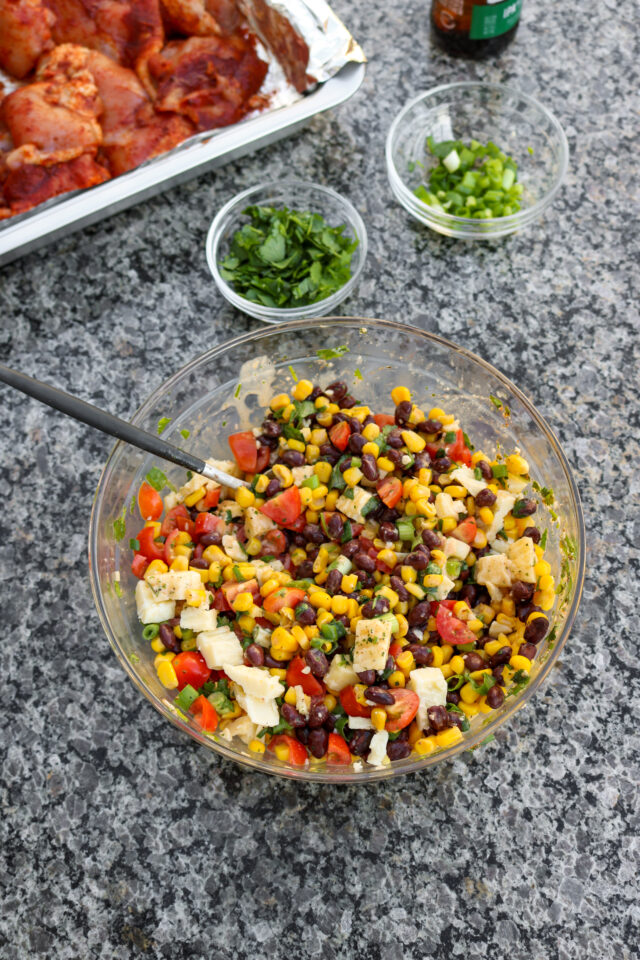 Can you make this in the oven?
Yes! To make them in the oven, place the chicken thighs on an aluminum foil lined baking sheet. Season with BBQ seasoning on both sides. Then bake in the oven at 400 degrees for 20 minutes. Remove from the oven and brush BBQ sauce. Bake for 10 more minutes, or until the chicken is cooked through.
What to serve with the BBQ Chicken?
I serve this BBQ chicken with a creamy corn and black bean salad. It's almost like a cowboy caviar. But it pairs so well with the chicken. I am obsessed with it!! We eat this by the spoonful or with chips too!
I use frozen corn in the corn salsa. It's easy, cheap, and cleaner. But grilled corn on the cob would be an excellent substitution. Grill the corn. Then cut the kernels off the cob and add to the salsa.
Other Side Ideas:
Loaded Baked Potatoes
Honey Roasted Sweet Potatoes
Oven Baked French Fries
Southern Baked Beans
House salad
Balsamic Watermelon Salad
Cornbread
What to do with leftovers?
You can turn the bbq chicken into a grilled cheese! Shred the BBQ chicken up and stuff it in a grilled cheese sandwich.
As for the corn salsa, we eat it with chips!!
Watch how the recipe video here:
BBQ Boneless Chicken Thighs
The easiest grilled summer dinner ever! Made with 3 ingredients, no marinading required, and gluten free!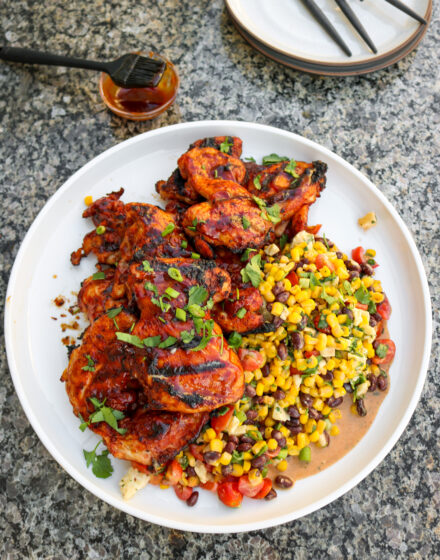 Ingredients:
CREAMY RANCH CORN:
1/3 cup light mayo
6 green onions, thinly sliced (about 1 bunch)
1/2 cup chopped fresh cilantro
Juice of 1 lime
1 (1 oz) package ranch seasoning (~2 Tablespoons)
1 1/2 teaspoons BBQ seasoning
Salt to taste
1 (14 oz) package frozen corn, thawed in microwave
1 (8 oz) block chopped or shredded white cheddar cheese
1 cup diced cherry tomatoes
1 (15 oz) can black beans, drained and rinsed
CHICKEN:
2-3 pound boneless, skinless chicken thighs
5-6 Tablespoons BBQ seasoning (or more)
1/2 cup your favorite BBQ sauce (or more)
Directions:
CREAMY RANCH CORN:
Mix all ingredients in a medium bowl. Set aside.
CHICKEN:
Preheat the grill to 400-450 degrees.
Season the chicken liberally on both sides with BBQ seasoning. Rub in the BBQ seasoning with your hands.
Place the chicken on the grill and grill for 5-6 minutes. Flip, brush with sauce, and grill for 5-6 minutes more.
Flip and brush the other side with sauce. Grill until the BBQ sauce has caramelized, about 1-2 minutes.
Serve the chicken with the creamy corn.