June 9, 2016
THE BEST Southern Baked Beans
Southern baked beans! My FAVORITE summer side!! Made with ground beef. Super easy. So delicious. Always the first dish gone at a potluck.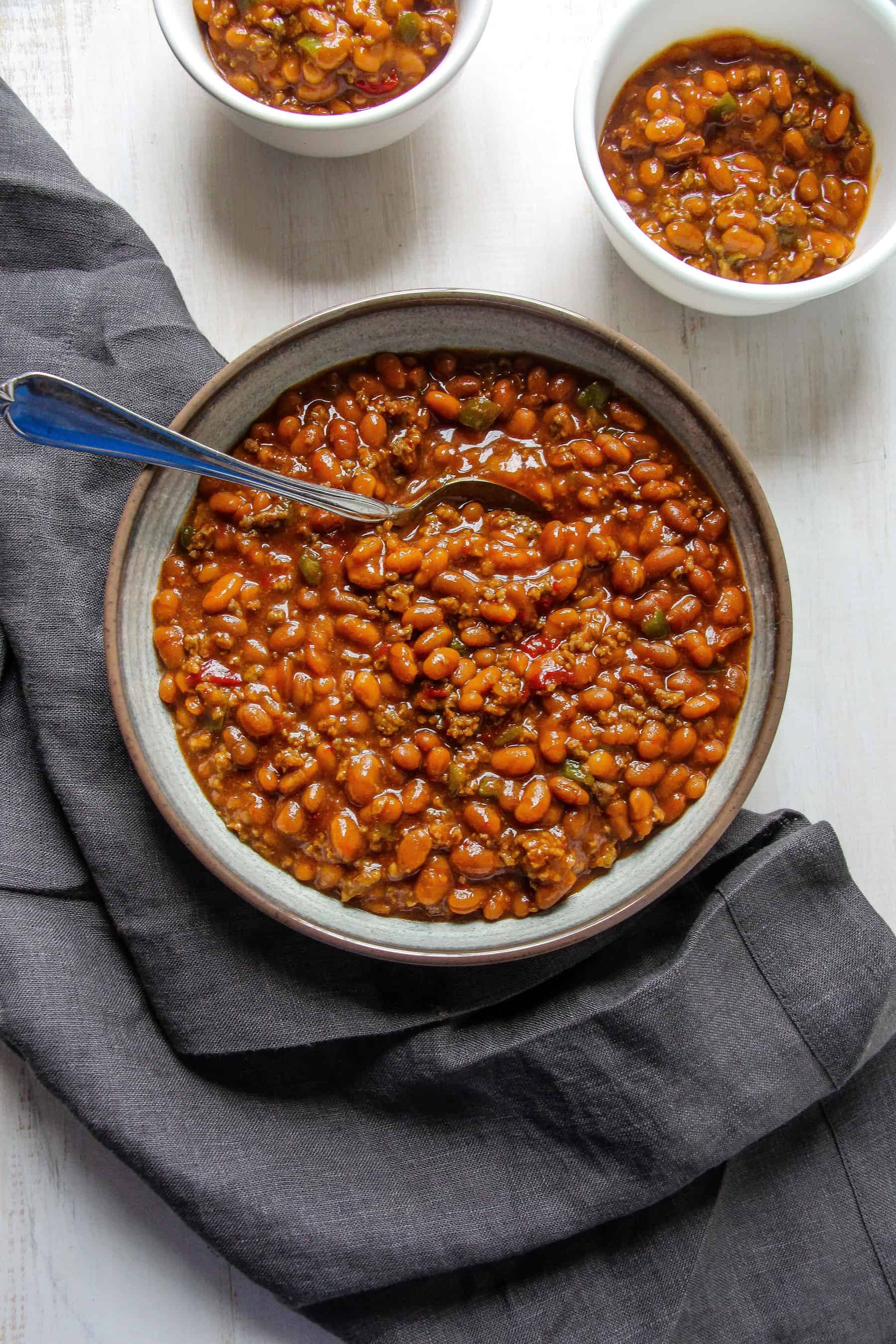 This is my mom's recipe for baked beans. And no baked beans even come close to these. No restaurant's or person's even compare to these.
They are out of this world.
The best part is they are so easy.
It starts with a couple cans of Bush's Southern Pit Barbecue Grillin' Baked Beans.
Then you doctor it up with ground beef, green bell peppers, onions, and brown sugar.
The baked beans get caramelized from the brown sugar. They can stand on their own thanks to the ground beef. And they get a zap of fresh flavor from the green peppers and onions.
You could probably try different brands of baked beans if you can't find the Bush ones. But I'm not 100% sure how that would work. Because I have never tried a different brand.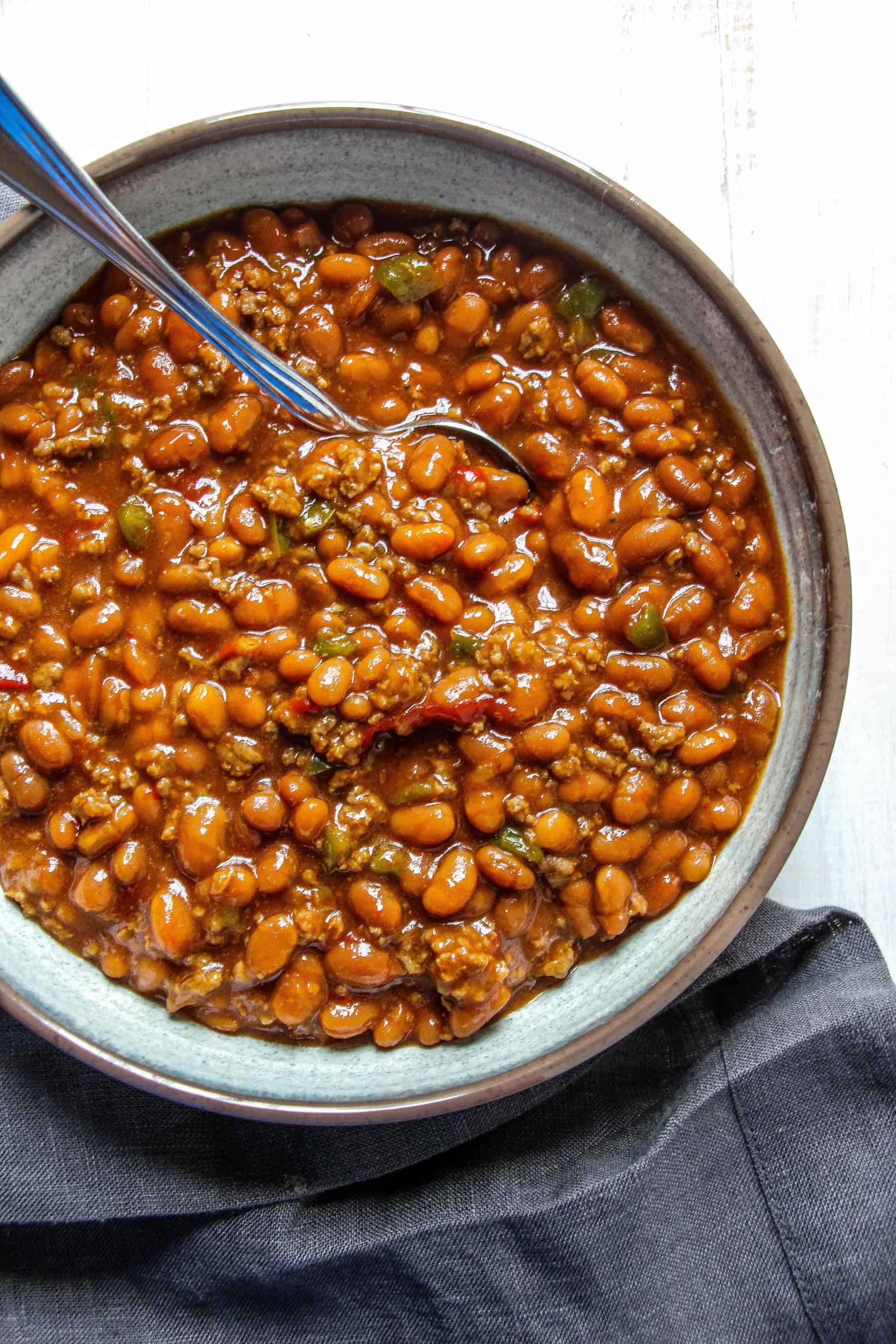 Can you make these ahead of time?
Yes! Prepare the beans in the skillet until everything is combined. Then cover and refrigerate. Bake when you're ready to make them!
Can you freeze the baked beans?
Yes! You can freeze these in an airtight container. Defrost them in the fridge and reheat in the oven!
What to serve with these southern baked beans:
You could bring these to literally any cookout.
Or make burgers with this burger seasoning. These beans + corn on the cob would make the best summer cookout meal. And these ice cream sandwiches or strawberry shortcake cups for dessert!!
These turkey burgers or BBQ boneless chicken thighs would also be amazing.
If you aren't wanting to grill, serve it with BBQ back back ribs.
Southern Baked Beans
My FAVORITE summer side!! Super easy. So delicious. Always the first dish gone at a potluck.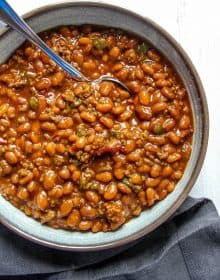 Ingredients:
2 Tablespoon olive oil
2 medium green bell pepper, finely diced
1 sweet onion, finely diced
1 pound ground beef
4 (22 oz) cans Bush's Southern Pit Barbecue Baked Beans
2 tablespoons Worcestershire sauce
1 cup dark brown sugar (or light brown sugar)
1/2 cup ketchup
4 teaspoons yellow mustard
Directions:
Preheat the oven to 325 degrees.
In an oven safe skillet or dutch oven, add the olive oil, peppers and onions. Cook for 3-4 minutes until the onions are translucent.
Add the ground beef. Cook, break up the meat, until no longer pink.
Add the beans, Worcestershire sauce, brown sugar, ketchup, and mustard. Stir until the ingredients are thoroughly combined.
If you don't have an oven safe skillet, transfer the bean mixture to a 9×13-inch baking pan.
Transfer to the oven and bake for 45 minutes. Stir the beans halfway through.
Bake for 45 minutes, stir the baked beans 1/2 way through the baking time.
[this isn't a sponsored post, there are a few affiliate links above based on things I purchase on my own and love]