March 16, 2014
Mom's Crockpot Spaghetti Sauce
This spaghetti sauce is rich, hearty, and absolutely delicious. It's made in a crock-pot, which means it couldn't be any easier. This is our family's idea of a perfect Sunday dinner!
It has only taken me almost two years to share one of our family's favorite dinners with you. My mom always  makes lasagna using this pasta sauce every Christmas.
Aside from Christmas, we make this spaghetti all the time. For birthdays, when family is in town, or just because. This time we made it just because there was snow on the radar and we wanted something warm and hearty to fill our tummies, as we watched the snow fall.
This recipe has been passed down from my grandma (Bubbie) to my mom to me and now to you. It's definitely a keeper.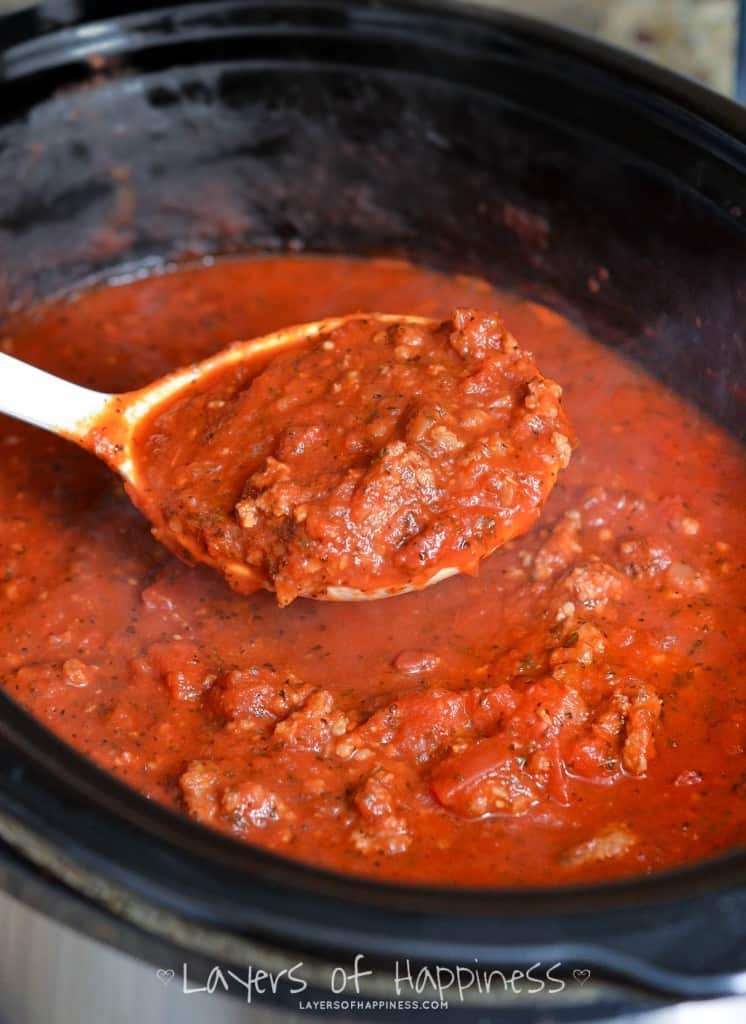 The spaghetti sauce is made in a crock-pot, which means this recipe gets as complicated as browning meat and opening cans.
Onto the ingredients:
The ingredients in my mom's spaghetti sauce are pretty standard with a few exceptions.
Every Spaghetti sauce has a secret ingredient… can you guess what ours is? I guess that was a trick question because we have two.
First: Store-bought marinara sauce! I know, I know. But trust me, this sauce is far cry from ground beef stirred into store bought pasta sauce warmed up on the stove top. You would never have the rich homemade flavor that this sauce has. The one jar of the storebought stuff is almost like adding a dash of something. It give another dimension and depth of flavor.
Now I know some of you have a phobia of store bought anything, so you can totally leave this out and add the same amount in more crushed tomatoes plus 1/4 cup shredded Parmesan and things will be just fine.
As for secret ingredient number two? I betcha can't guess it.
Used Coffee Grounds. Yes. You read that correct… now you can enjoy your morning cup of coffee and get dinner start with the same base ingredient! I have yet to lead you astray thus far, so just trust me on this one. You have to try it. It gives the sauce a great depth of roasted flavor. If you are hesitant to add coffee grounds straight into the sauce, then you could put 1/4 cup coffee beans into a tea bag and add the bag to the crockpot while the sauce cooks and remove the bag right before serving instead of using coffee grounds.
So here you go. From our family to yours! Enjoy, my friends!
Mom's Crockpot Spaghetti Sauce
This spaghetti sauce is rich, hearty, and absolutely delicious. It's made in a crock-pot, which means it couldn't be any easier. This is our family's idea of a perfect Sunday dinner!
Ingredients:
1 lb mild Italian sausage, casings removed
1 lb ground beef
1 small onion, chopped
3 -4 garlic cloves, minced
2 (1lb 8oz) jars Classico Four Cheese Marinara Sauce
1 (28 ounce) can diced tomatoes
1 (12 ounce) can tomato paste
1 (15 ounce) can tomato sauce
2 cups water
1/4 cup red wine
3 Tablespoons brown sugar
(optional) 2 Tablespoons coffee used grounds*
2 Tablespoons dried basil
2 Tablespoons dried parsley flakes
1 Tablespoon salt
1/4 teaspoon crushed red pepper flakes
1/2 teaspoon fresh coarse ground black pepper
2 lbs spaghetti
Directions:
In large, skillet, add the garlic and chopped onions and saute until the onions are softened and little bit golden. Next brown the Italian sausage and ground beef , breaking up with the back of a wooden spoon as you stir. You can make your meat in as big or as little chunks as you'd like. Drain excess fat.
Place ground meat mixture into a slow cooker. Add all the cans of tomato sauce, diced tomatoes, tomato paste, water, wine, brown sugar, coffee grounds, parsley, basil, salt, crushed red pepper, and pepper, to taste. Cover and cook on high heat for 4-6 hours or low for 6-10 hours.
30 minutes before sauce is ready, cook pasta. Feel free to cook only 1 lb of pasta and freeze the rest.
Serve pasta and sauce immediately and enjoy!
TRY OUR…