August 13, 2023
Loaded Caesar Salad
Loaded Caesar Salad is a caesar salad taken to the next level. Loaded with fresh cucumbers, cherry tomatoes, raw corn, pickled onions, and pesto vinaigrette. Serve it with grilled chicken, salmon, or anything Italian. Best summer salad ever!
This isn't your ordinary caesar salad
This Pesto Kale Caesar Salad is a caesar salad but made way better.
First, this caesar salad has extra toppings. Because typical caesar salads are kinda boring. They only have croutons and shaved parmesan. I like to give my caesar salad more color, flavor, and texture. I add cherry tomatoes, sliced cucumbers, raw corn, and pickled onions.
Second, there is two kinds of parmesan in the salad: shaved parmesan and parmesan crisps.
Third, there are two kinds of lettuce: baby kale and fresh romaine lettuce. I stick with baby kale because it doesn't need any de-stemming or chopping. But you could definitely use curly kale if you prefer!
Fourth, the caesar dressing has basil in it giving it an extra punch of fresh summer flavor.
Moral of the story: this salad will be the show stopper of any dinner table it's placed on.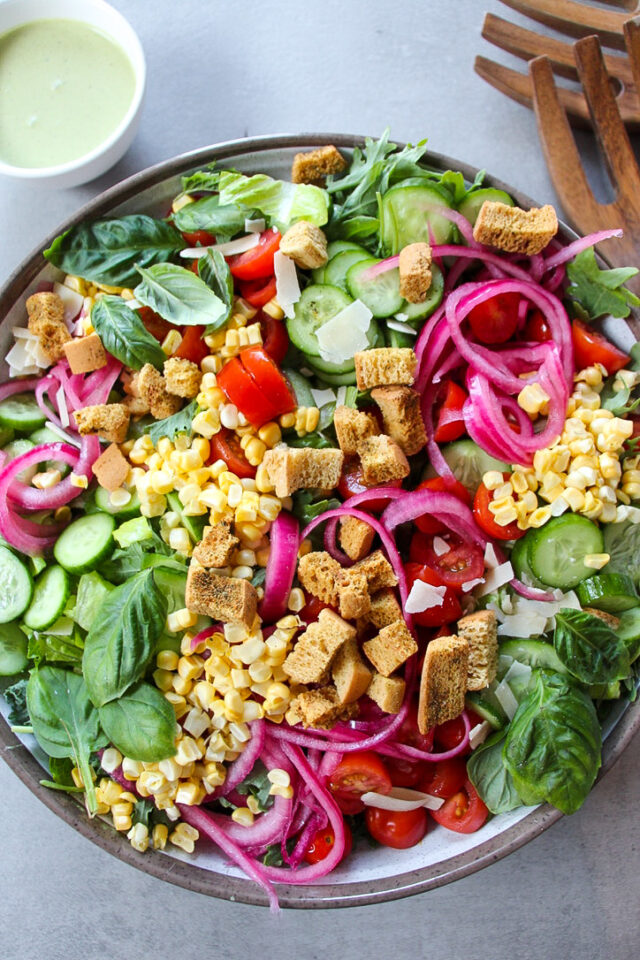 The dressing in this recipe uses store bought caesar dressing
Yep! You read that right. This recipe uses store bought caesar dressing. I add it to a blender with fresh basil, red wine vinegar, and garlic to doctor it up.
The Simply Marzetti 60 Creamy Caesar Dressing is great for this recipe. Because you can't tell it's lightened up. Especially not after adding all the other stuff.
Can caesar salad be made in advance
You can make the dressing in advance. I would recommend 3 days in advance at the most. But I wouldn't dress or assemble the salad until the day of!
Serve this loaded caesar salad with…
This salad would be perfect with this salmon or these cheddar garlic chicken fingers on top.
With anything Italian: like this chicken parmesan spaghetti squash if it's fall when you're craving this.
Or you could keep it simple and do grilled chicken on top. The best weeknight meal ever.
Loaded Caesar Salad
A caesar salad taken to the next level.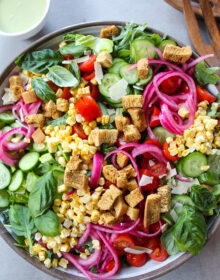 Ingredients:
PICKLED ONIONS:
1/2 cup apple cider vinegar
1/2 cup warm water
1 teaspoon sugar
1 teaspoon salt
1 red onion, thinly sliced
PESTO CAESAR VINAIGRETTE:
2 cups tightly packed basil leaves
1/2 cup olive oil
1/3 cup caesar dressing
1/4 cup water
2 garlic cloves, minced
2 tablespoons lemon juice (about 1 lemon)
2 Tablespoons honey (use more if you like your dressing sweet!)
1 tablespoon apple cider vinegar
big pinch of kosher salt and pepper
SALAD:
2 heads romaine lettuce, shredded
3 cups curly kale, destemmed and shredded
2 baby cucumbers, thinly sliced
1 cup cherry tomatoes, halved
2 ears of raw corn, kernels cut off the corn
1/2 cup croutons (I like this gluten free brand)
1/4 cup shaved parmesan
Fresh basil leaves (any you have left from making the dressing!)
Directions:
PICKLED ONIONS:
In a container with a lid, whisk together the vinegar, water, sugar and salt until the sugar and salt dissolve.
Add the onions and massage with your hands to break up the onions.
Cover and refrigerate until ready to use.
PESTO CAESAR VINAIGRETTE:
Add all the vinaigrette ingredients to a blender or food processor. Blend until smooth.
SALAD:
Combine all ingredients for the salad in a large serving bowl. Pour vinagrette over top and toss together. Serve.