January 7, 2016
Hasselback Potatoes with Lemon and Roasted Garlic
A fancified baked potato – thinly sliced, drizzled with olive oil, and roasted alongside garlic bulbs! The perfect side dish to any meal.
Today I am so excited to be sharing these hasselback potatoes. These are something I have been wanting to share with you guys for so long… they are so easy, but they look so fancy. We love serving them when friends come over and even when it's just the four of us.
Hasselback potatoes are basically a potato that is sliced thinly and baked until the outside edges get nice and crispy, kind of like french fries, and the inside is nice and tender like a baked potato; the best of both worlds!
In addition to being pretty amazing just like that, the space in between the slices are perfect for holding things like melted cheese. Or anything else you could think of. But…. because it's January, and we are trying to eat a little healthier around here. That being, we kept thing simple and roasted garlic bulbs alongside the potatoes to keep thing on the healthier side without compromising flavor.
With the roasted garlic, if you have yet to try these flavor bombs, do not be scared. The roasted process takes out the pungentness of the garlic, so you can literally eat the whole garlic clove smeared on the potato. I mean seriously. How good does that sound? Dying.
Depending on the size of your potatoes these make for a side with small ones or even a meal with larger ones.
Hasselback Potatoes with Lemon and Roasted Garlic.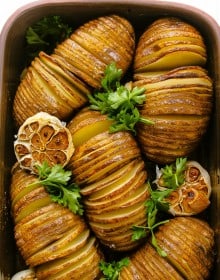 Ingredients:
4-6l baking potatoes
6 tablespoons butter, sliced thinly
salt and pepper to taste
4 garlic bulbs, slice the tops off so that the garlic cloves are just barely exposed
fresh parsley
fresh lemon, for serving
Directions:
Preheat oven to 400 degrees F.
Slice the potatoes thinly (~1/8 inch) without cutting all the way through.
Place the potatoes on a baking sheet or in a baking dish, stuff the sliced butter in between a few of the cuts in the potatoes. Disperse the garlic bulbs and season potatoes and garlic with salt and pepper and drizzle with olive oil.
Tent foil and roast in oven until potatoes are crispy on the top and tender in the middle, about 1 hour. Remove foil after the first 35 minutes.
Sprinkle the potatoes with fresh parsley and squeeze fresh lemon over top.
Serve topped with sour cream, if desired.