January 21, 2016
Chicken Parmesan Spaghetti Squash Boats
Spaghetti Squash Boats – stuffed with crispy chicken, melted cheese and marinara sauce. A healthier version of your favorite Italian dish. And the BEST spaghetti squash recipe ever.
This is the best spaghetti squash recipe!!! It's comforting and tastes like restaurant quality.
Recipe modifications
This recipe uses store-bought marinara sauce. This helps make the recipe easier. And it keeps the cooking time under and hour. Because the chicken part packs on so much flavor that you can't even tell when the marinara sauce is store bought. But you can definitely make it from scratch if you prefer. Like my mom's slow cooker spaghetti sauce.
I love doing spaghetti squash boats for this recipe. It's like a personal pizza. But the portions can be very large depending on the size of your spaghetti squash. So you can make this in a 9×13-inch pan if a half spaghetti squash looks like more than you are wanting to eat. You would follow the same instructions. But you would scoop out the spaghetti squash strands into a 9×13 inch baking dish and mix with sauce instead of mixing it in the halves. Then you would top with the chicken + cheese and bake until melty.
What to serve with these spaghetti squash boats?
I love serving this with a caesar salad or garlic bread. And maybe some chocolate chip cookies for dessert?!
Chicken Parmesan Spaghetti Squash Boats
Stuffed with crispy chicken, melted cheese and marinara sauce. A healthier version of your favorite Italian dish. And the BEST spaghetti squash recipe ever.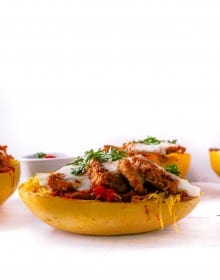 Ingredients:
2 large spaghetti squash
1 lb thin sliced chicken breast, cut into strips
3 eggs, beaten
1 cup flour
1 cup panko breadcrumbs
1/4 cup cornmeal
For the spice mixture:
1 tablespoon salt (it won't taste salty)
1 teaspoon pepper
1 teaspoon smoked paprika (may sub. regular)
2 teaspoons chili powder
2 teaspoons garlic powder
1 teaspoon onion powder
For the squash:
4 cups marinara sauce
8 oz fresh mozzarella
Grated Parmesan Cheese
Italian seasoning
Vegetable Oil for frying
Directions:
Preheat oven to 375 degrees.
With a sharp knife, slice the squash in half. If the squash is too tough – puncture in several places forming a dotted line around the squash. Microwave for 3-5 minutes to soften. Allow to cool before cutting in half – following the dotted line.
Scoop out the seeds – brush with oil, salt, and pepper, – and roast face down in a preheated oven for 35-40 minutes, until a fork can easily pierce the skin.
Meanwhile, slice the chicken breasts into strips.
Mix Spices together in a small sealable bag. Add 1 tablespoon of the spices, flour, cornmeal, and bread crumbs to a medium sized bowl. Set aside. Store remaining spices.
Transfer beaten eggs to a medium bowl. Set aside.
Coat each chicken strip with the flour mixture, then egg, and then back in the flour mixture.
Pour enough vegetable oil in to a medium-large skillet so that it is 1/4-inch deep and heat over medium high heat. Fry the chicken strips (in batches if necessary) until golden brown on both sides and cooked through. Set aside on paper towels to drain oil.
Once the squash is out of the oven, let cool for about 10 mins. Flip over and shred the inside of each squash so that the spaghetti strands are loosened. Be careful not to poke a hole in the skin of the squash.
In each spaghetti squash half: pour 1/2 cup marinara sauce over shredded squash. Top with chicken strips, then 1/2 cup more marinara, and finish with mozzarella and parmesan cheese, and a pinch of Italian seasoning. Return to the oven to bake for 10-15 minutes until the cheese has melted. Enjoy!
[this isn't a sponsored post, there are a few affiliate links above based on things I purchase on my own and love]