July 20, 2014
Copycat Chipotle Grilled Peppers and Onions
Healthy caramelized peppers and onions with an amazing smoky char flavor – just like the pepper and onions you get on your favorite Chipotle Mexican Grill order!
It's no secret that Chipotle is our go-to/favorite fast food restaurant, we go there all the time. We probably average about once a week… which if you think about it, thats a lot of Chipotle in a year. 52 veggie fajita salads? Yeah, that's probably more meals spent eating Chipotle than any other single meal. But hey, it's healthy, it's fast, and a great price for such high quality ingredients.
Everyone in my family has their own unique order, I get a veggie fajita salad, my mom gets a black bean salad, my dad gets a steak burrito bowl, and my little brother (who is basically a garbage disposal at this point in his life) gets a burrito that could pass as a blanket-wrapped newborn baby with double meat and double rice… yeah, I don't think our healthy eating has rubbed off on him just yet.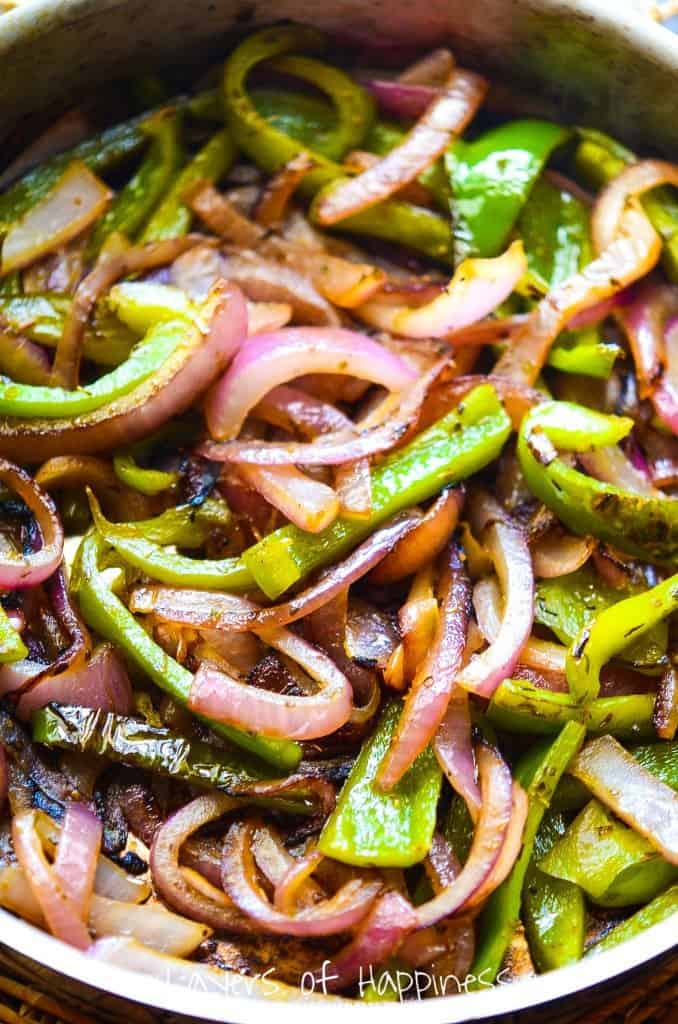 However, there is one thing that all of our Chipotle orders have in common: grilled peppers and onions. We all love the smokey, simple flavor of hearty grilled vegetables. Most importantly, my brother likes them. One night, he said to me: "You know, if we have to have something healthy with the grilled chicken, then could we try to make something like Chipotle's grilled peppers and onions?"
*Light blub!!*
I immediately jumped up and thought, hey! That's actually a really good idea!
My favorite part about this side dish that it only requires 5 ingredients: red onion, green bell pepper, olive oil, fresh oregano, and salt…. and it takes about 15 minutes from prep to table. Score!
Substitutions
Chipotle uses Rice-bran oil, but olive oil works and tastes just as good.
If you don't have fresh oregano then you could use dried oregano.
For cilantro-addicts like us: add chopped cilantro. 😉
Depending on your preferences – you can cut the peppers and onions as thin or as thick as you like… for a side dish, we like them a normal-medium thickness, but sometimes we cut them extra-thin and use it as a taco topping (so good!!).
Ever wonder how all of Chipotle's grilled items are perfect charred but there isn't an outdoor grill in sight? I have the answer!!
Super high heat, shorter cooking time, and uncovered food. The high heat chars the food surface. The shorter cooking time just comes naturally because if the heat is higher, then the food cooks faster. And most importantly of all: don't cover the food while it cooks. All food, especially peppers, release water in the form of steam when cooking, so if vegetables are covered, then that will results in soft, steamed-like vegetables.
Serve the vegetables as a side dish with grilled chicken or steak, on a salad or rice bowl like Chipotle does, as a topping for tacos or nachos… possibilities are really endless!
Enjoy!
Copycat Chipotle Grilled Peppers and Onions
Healthy caramelized peppers and onions with an amazing smoky char flavor – just like the pepper and onions you get on your favorite Chipotle Mexican Grill order!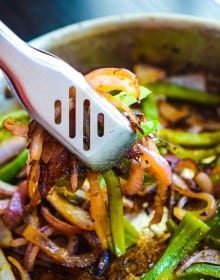 Ingredients:
1 1/2 Tablespoons olive oil
2 large green pepper, stemmed, cored, and sliced
2 medium red onions, sliced
1/2 Tablespoons fresh oregano, finely chopped (1/2 teaspoons dried oregano works too.)
1/2 teaspoon salt
Directions:
Over medium-high heat, add the oil, peppers, onions, oregano, and salt to a large skillet and stir to combine, until the vegetables are even coated with oil and oregano.
Cook until charred and slightly softened but still tender-crisp, about 7 minutes.
Remove from heat and serve.
TRY OUR…