June 25, 2023
Ice Cream Pie with Oreo Crust
This Ice Cream Pie with Oreo Crust is the easiest summer dessert! It has a no bake oreo crust & an ice cream layer made with ice cream & cool whip!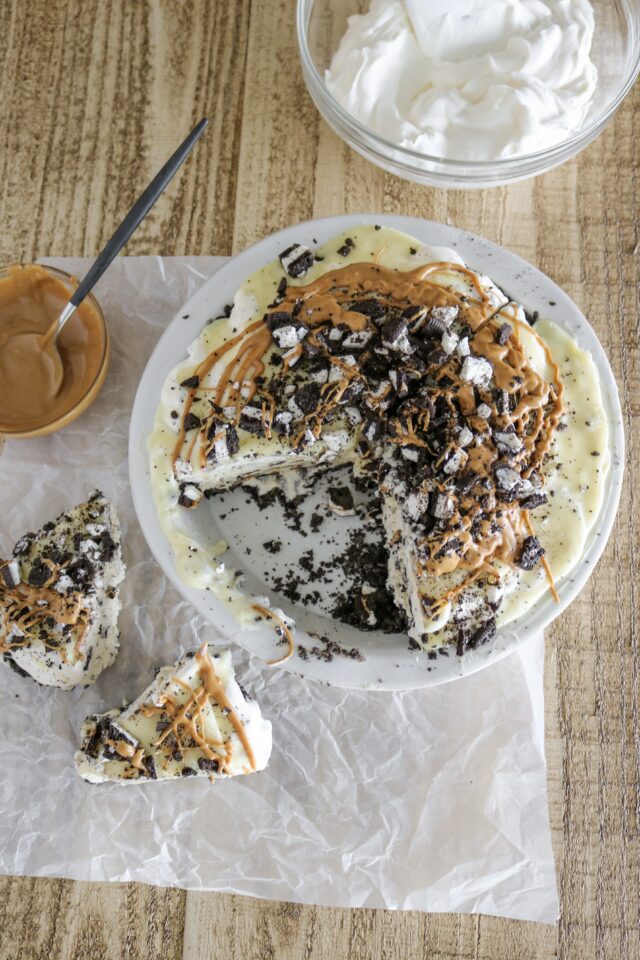 Ice cream pie is the best ice cream dessert.
It's such an easy, yet impressive, dessert. It's made ahead of time. And it's delicious! Which makes it perfect for entertaining. Win, win, win!!
You can use a storebought oreo cookie crust to make it easier
I typically make my own oreo pie crust. But you can 100% use a storebought oreo crust to make this pie even easier.
But an oreo crust is simple to make if you can't find a premade one! It's no-bake and easy. You pulse 24 oreos into crumbs. Then stir in melted butter. Press into a pie dish and freeze!
The ice cream layer is cool whip mixed with store-bought ice cream…
The key to an amazing ice cream pie: mix cool whip with store bought ice cream for the ice cream layer.
Most people just do ice cream.
But Cool whip + ice cream helps make sure the ice cream layer is super fluffy, creamy, and easy to cut into. It's a game changer.
Note: Cool whip is essential. You can't sub whipped cream. Whipped cream gets icy in the freezer. Cool whip stays soft.
I use a stand mixer with the paddle or whisk attachment to combine the cool whip and ice cream. But you can use a potato masher.
My favorite ice cream flavor combination: oreos + peanut butter + white chocolate
When creating this ice cream pie, I didn't want to do a plain vanilla ice cream pie. I wanted an over the top, incredible ice cream flavor combo. And this is it: vanilla ice cream with peanut butter chunks & crushed oreos. Then finished with a white chocolate ganache on top.
The peanut butter oreo combination became popular through The Parent Trap. But in ice cream form it's incredible!!! Don't knock it til you try it.
But you can do whatever ice cream flavor combination you love.
Another flavor I love is peanut butter, peanut butter cups, and salted caramel.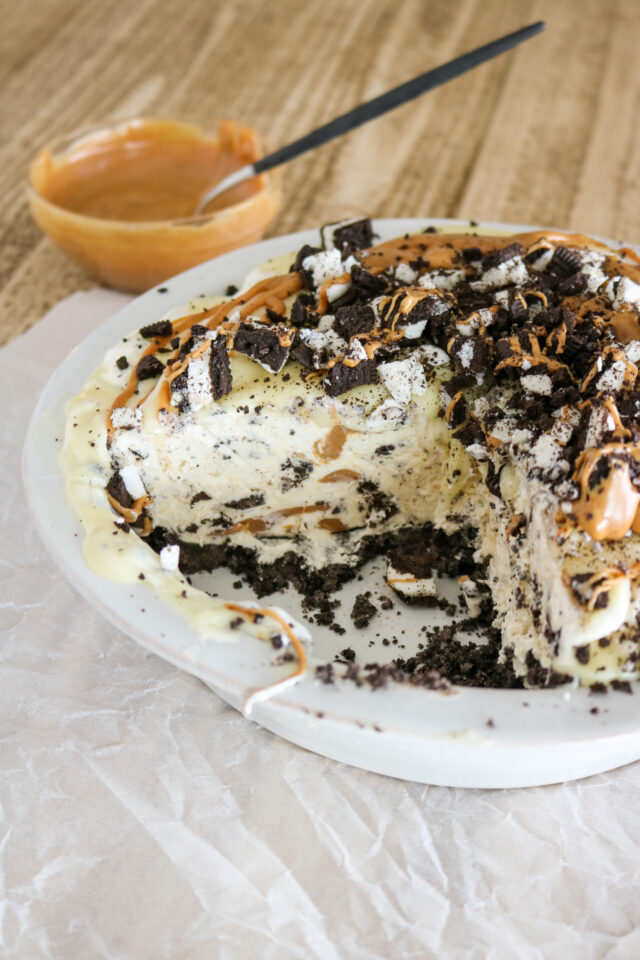 There's peanut butter + peanut butter chunks in the ice cream
I mix a little peanut butter in to the ice cream/cool whip. This makes sure the ice cream flavor is dispersed throughout. Then I freeze schmears of peanut butter and fold those in too. The frozen peanut butter create layered chunks throughout the pie. The frozen peanut butter chunks are optional. But it's heavenly. It's also my fiance's favorite part.
Note: You need a non-runny, regular peanut butter. A natural peanut butter won't stay in place when you schmear it.
I typically use plain peanut butter. But PB&Co has a non-runny white chocolate peanut butter that would be so good in this.
White chocolate mousse is superior to whipped cream
Whipped cream is a popular topping for ice cream pie.
But white chocolate mousse takes it to the next level. It adds some extra flavor and impressiveness. This part is optional. But it's so good. And so easy.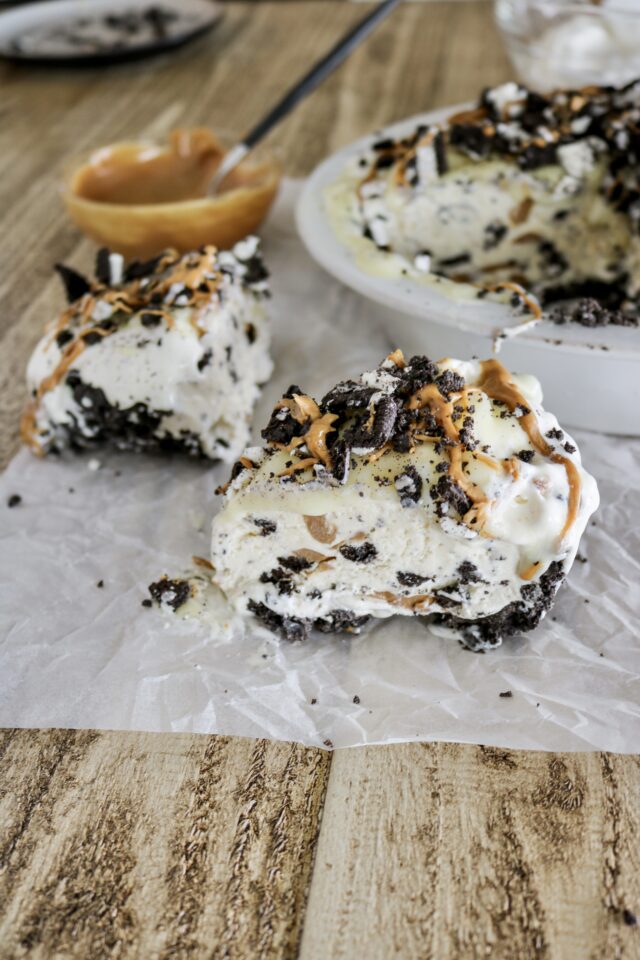 How long do you have to freeze ice cream pie before serving?
This depends on how long your ice cream sat out while assembling. I would freeze at least 24 hours before serving to make sure the pie freezes all the way through.
Watch the recipe video here:
Ice Cream Pie with Oreo Crust
The easiest summer dessert! A no bake oreo crust & an ice cream layer made with ice cream & cool whip!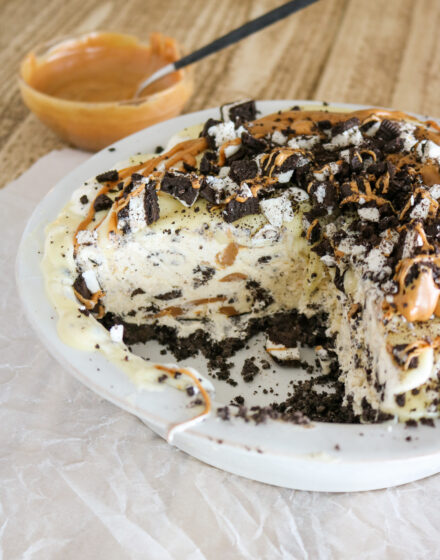 Ingredients:
PEANUT BUTTER CHUNKS:
1/2 cup peanut butter
OREO CRUST (or premade crust)
24 oreos
4 Tablespoons butter, melted
WHITE CHOCOLATE MOUSSE:
3/4 cup (6 ounces) white chocolate chips
3/4 cup heavy cream, DIVIDED (6 Tablespoons & 6 Tablespoons)
ICE CREAM FILLING:
1 quart vanilla ice cream (I like Tillamook Vanilla Bean)
8 oz cool whip
1/4 cup peanut butter
6 oreos, roughly chopped up
Extra peanut butter and chopped oreos, for topping
Directions:
PEANUT BUTTER CHUNKS:
Line a baking sheet with parchment paper.
Drop 1 Tablespoon spoonfuls of peanut butter on a piece of parchment paper and schmear out with the back of a spoon to create flat pieces of peanut butter.
Place in the freezer.
OREO CRUST:
Pulse the oreos in a food processor or blender. Mix in melted butter. Press into a greased 9-inch pie dish. Freeze for 15 minutes.
WHITE CHOCOLATE MOUSSE:
Microwave 6 ounces white chocolate + 6 tablespoons of the heavy cream in 15 second intervals. Stir for 20-30 seconds in between each microwave session. (It usually takes me a total of 30 seconds to get it melted). Set aside to cool.
Once cooled, make the whipped cream. In an electric mixer using the whisk attachment, beat the remaining 6 Tablespoons of heavy cream on high until soft peaks form. Fold in the white chocolate/heavy cream mixture.
ICE CREAM FILLING:
In a stand mixer with the whisk attachment, combine the ice cream, cool whip, and peanut butter. Fold in the oreos.
Remove the peanut butter from the freezer and use a knife to get the peanut butter off the parchment paper. Drop the chunks into the ice cream.
Fold in the peanut butter chunks to the ice cream. Pour the ice cream into the prepared pie crust. Place in the freezer for 30 minutes.
Remove pie from the freezer and spread white chocolate mousse in an even layer over the ice cream. Top with some extra chopped oreos and/or melted peanut butter. Tent with foil and place back into the freezer until ready to serve.
When ready to serve, cut into slices. Let sit on the counter for 10 minutes if the pie is too hard to cut into.