May 19, 2016
Cracker Barrel Hashbrown Casserole (Copycat!)
Copycat Cracker Barrel Hashbrown Casserole – a crowd pleaser at large gatherings, holidays, Christmas breakfast, and family beach vacations. Best part is it can be made the night before.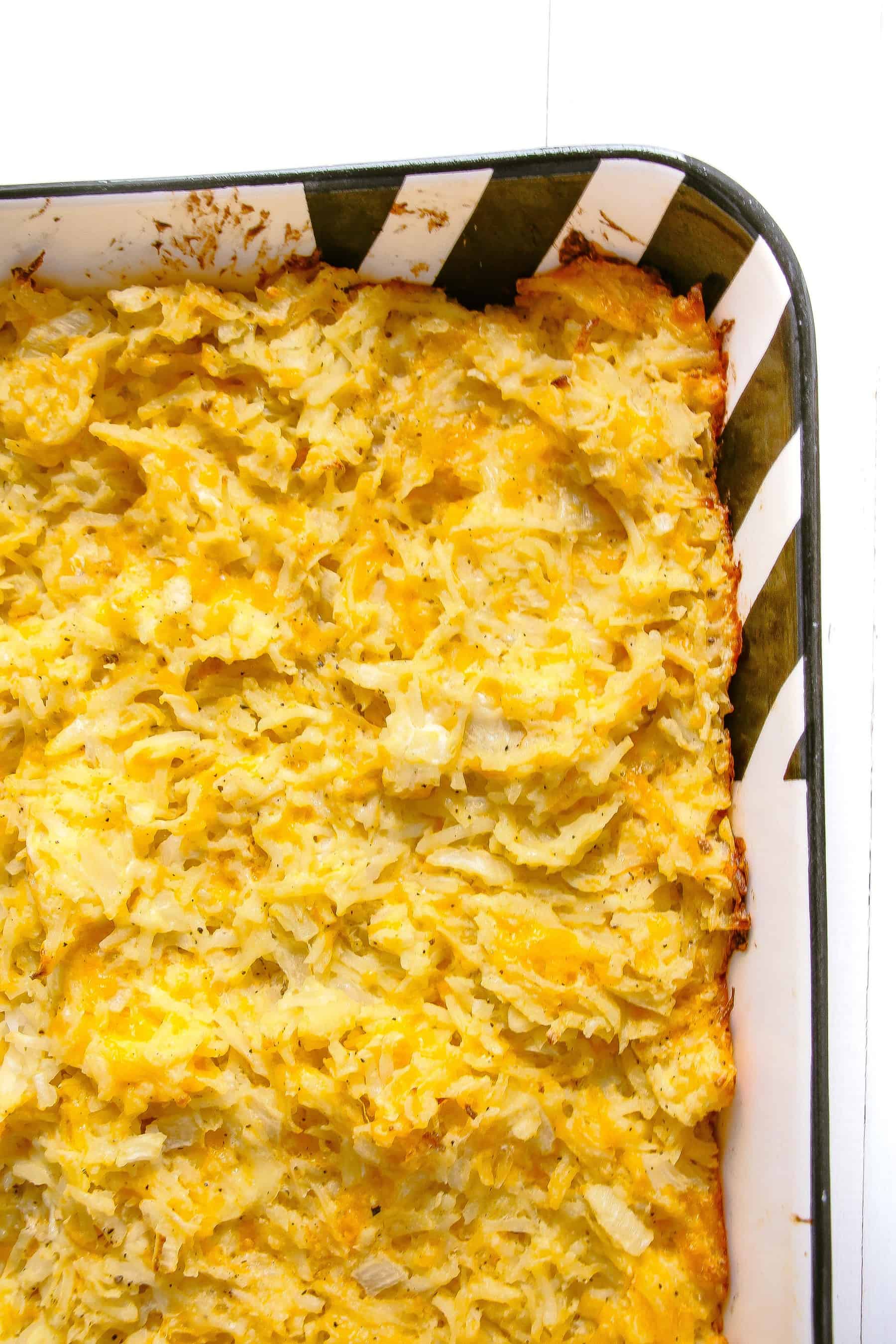 My Cracker Barrel order growing up was an egg sandwich and hashbrown casserole.
Then we learned how to make it at home.
And now this casserole is part of our a Christmas morning tradition. Along with these waffles, mom's cinnamon rolls, a fruit salad, and bacon. It's a breakfast we all look forward to all year long.
Can you make this ahead of time?
Yes! Mix all the ingredients together in a baking dish. Refrigerate overnight. Then bake it in the morning.
We often use disposable pans to make the whole thing even easier.
What to serve with this copycat Cracker Barrel hashbrown casserole
We often make it on family vacations for breakfast. Serve it with eggs and bacon. Or waffles. Or all of the above.
It's also great served with ham at Easter. With this asparagus. And spring cobb salad. Finished with some carrot cake for dessert. YUM.
It's also great with hamburgers. And these baked beans.
It's also a great thanksgiving side!
Cheesy Hash Brown Casserole
This can be made the day before hand! Prepare until just before baking. Refrigerate overnight and bake when ready to serve.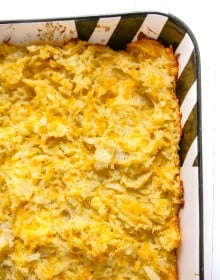 Ingredients:
2 (30 ounce) bags frozen hash browns (do not defrost them)
6 Tablespoons unsalted butter, melted
1 (10 1/4 ounce) can cream of chicken soup
1 (16 oz) container sour cream
1/2 white onion, finely diced
2 cups (6 oz) cheddar cheese, grated
1 teaspoon salt
1⁄4 teaspoon pepper
5 cloves minced garlic
1/2 teaspoon paprika
Directions:
Spray a 9×13-inch baking dish with non-stick spray.
In a large bowl, combine all ingredients. Pour mixture into a greased baking dish.
Refrigerate until ready to bake if making ahead of time).
Preheat the oven to 375 degrees.
Bake for 2 hours, or until golden browned on top.
[this isn't a sponsored post, there are a few affiliate links above based on things I purchase on my own and love]