May 5, 2016
Homemade Crepes
Homemade crepes! Super simple, easy, basic buttery crepe recipe. Absolutely amazing. And stuffed with strawberry salsa and cinnamon roll syrup. YUM!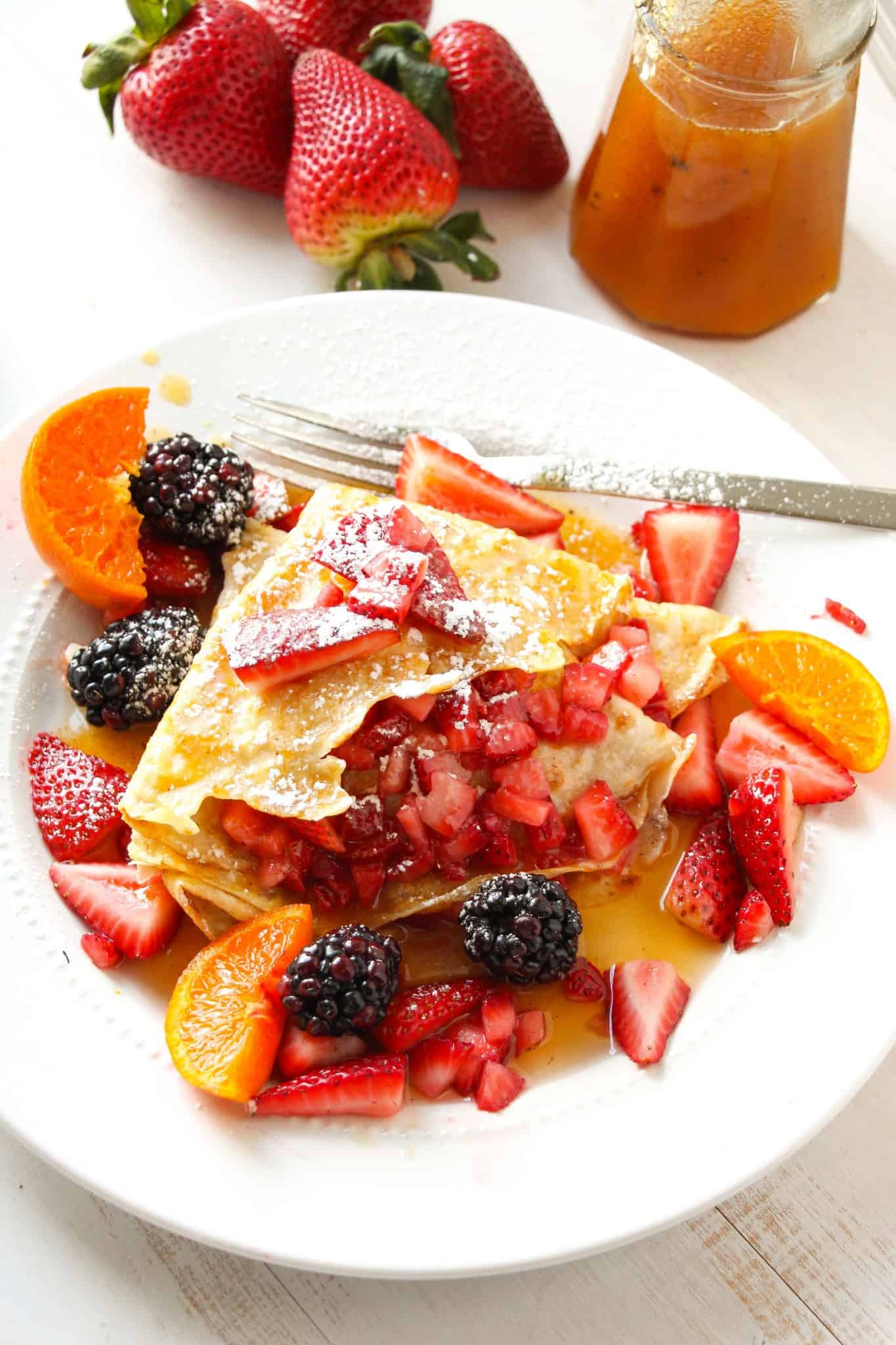 This recipe has become my basic crepe recipe go-to. And for good reason. They are so buttery and amazing. And so versatile. See these Nutella crepes with maple butter. And these banana's foster crepes.
How to make homemade crepes
The most important part is a skillet. You can use whatever medium size skillet you have. But it doesn't really matter the size because all it will determine is the size of your crepes. The taste will be the same no matter what you use. 🙂
There are crepe skillets. But I haven't actually ever tried them because I don't want to buy another kitchen gadget. And I actually like using a skillet. Because 1) I already have it. And 2) you can tip the skillet to get the batter to spread out. There's nothing fancy to it. It's so easy and simple.
I like to serve my crepes with…
Cinnamon syrup and a fresh strawberry salsa. See below for the recipe to those:
For the cinnamon roll syrup:
Combine the 1 cup sugar, 1/2 cup light corn syrup, 1/4 cup water, 3/4 teaspoon ground cinnamon in a medium saucepan. Bring to a boil over medium heat and stir for 2 minutes. Remove from heat, let cool for about 5 minutes, and slowly stir in 1 (5 ounce) can evaporated milk. Set aside.
For the strawberries:
Wash, de-stem, and finely chop (almost mince) 1 quart of strawberries. Transfer to a medium bowl and stir in 2 tablespoons powdered sugar. Cover and refrigerate until ready to use.
But you can fill the crepes with whatever you like!
These would be so good with cinnamon sugar apples and salted caramel on top.
Or do a S'more combination with semi-sweet chocolate chips, crushed graham crackers and marshmallows
Or go savory and do thinly sliced black forest ham + melted sharp cheddar cheese.
The options are endless!
Homemade Crepes
Super simple, easy, basic buttery crepe recipe. Absolutely amazing. And stuffed with strawberry salsa and cinnamon roll syrup. YUM!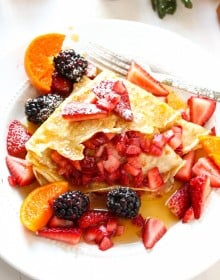 Ingredients:
1 cup all-purpose flour
Pinch salt
1 egg
1 egg yolk
2 1/2 cups milk (or up to 1/2 cup more)
1 tablespoon melted butter
1/2 teaspoon vanilla extract
Desired toppings (I love cinnamon roll syrup and fresh strawberries – see post for the recipe)
Directions:
Into a large bowl, sift together flour and salt. In a small bowl or liquid measuring cup, whisk together egg, egg yolk, and 2 cups milk. Pour milk mixture slowly into flour mixture and fold in. Fold in the melted butter and vanilla extract. Stir until smooth and combined.
The batter should be the consistency of heavy cream. If not, add up to 1/2 cup more milk.
Spray a 10-inch skillet with nonstick spray and heat over medium-high heat. When skillet is hot, pour 1/2 cup batter to the center of skillet and tip/swirl skillet in a circular motion to spread batter into an even thin layer. Cook until the edges of the crepe start to peel off the sides of the pan. Flip and cook until the bottom is golden brown. Transfer to a plate and repeat with remaining batter.
Top with desired toppings.
[this isn't a sponsored post, there are a few affiliate links above based on things I purchase on my own and love]