May 27, 2015
Homemade Bananas Foster Crepes
This shop has been compensated by Collective Bias, Inc. and its advertiser. All opinions are mine alone. #SunsOutSpoonsOut #CollectiveBias
This is the simple recipe I use when I'm in the mood for some buttery, delicate crepes. The batter is so easy and they're absolutely amazing stuffed with ice cream and homemade bananas foster.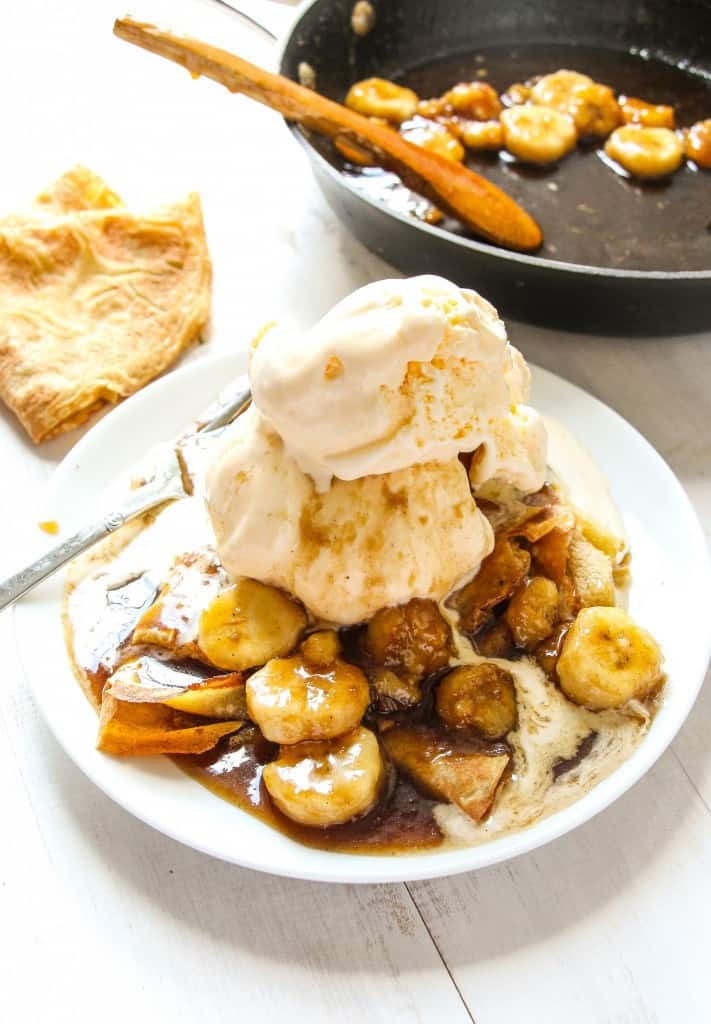 When life gives you ice cream… plop it on a fresh homemade crepe and drown it in homemade bananas foster.
That's what all the cool kids are doing these days, right?
I recently perfected a basic crepe recipe and I couldn't be happier with the result.
This basic crepe recipe is the BEST. It's easy, it's quick, there are no strange ingredients. In fact, you may have everything in your kitchen right now. The best part? These crepes will be on the table in only 30 minutes.
So much so that crepes for breakfast/lunch/dinner have totally become a thing. For like weeks. Sweet crepes, savory crepes, stuffed crepes, fruit crepes, dessert crepes.
Basically you can stuff these crepes with anything you want – but now that it's summer, were all about ice cream around here.
Speaking of ice cream – did you see the Blue Bunny demos at Walmart recently? They were giving out free samples of their vanilla ice cream! Score!! If you missed on all the fun, they are doing another round of demos next week, happening June 4-7 featuring Blue Bunny Premium Vanilla sandwiches and Wet Ones. Check out Bluebunny.com for more info!
You can find the demos and the ice cream in the ice cream frozen aisle of Walmart:
There's a whole lotta deliciousness happening here! Delicate, buttery crepes filled with Blue Bunny Ice Cream and perfectly sweet bananas foster. Finished with a sweet drizzle of the extra sweet caramel sauce.
I know crepes are typically a breakfast food but I could honestly eat these bananas foster crepes all day, everyday. They make an incredible after dinner treat for your family or guests, too. Maybe serve with a little chocolate ice cream on the side? And invite me over?
Or you can prepare the crepes ahead of time, keep covered, and fill before serving. Or allow everyone to "build" their own s'mores crepes themselves for a fun little DIY dessert party. And invite me over again.
I always had the assumption that crepes were so difficult to prepare, but was pleasantly surprised after I began my hand at them. They require little ingredients, little effort, and little time.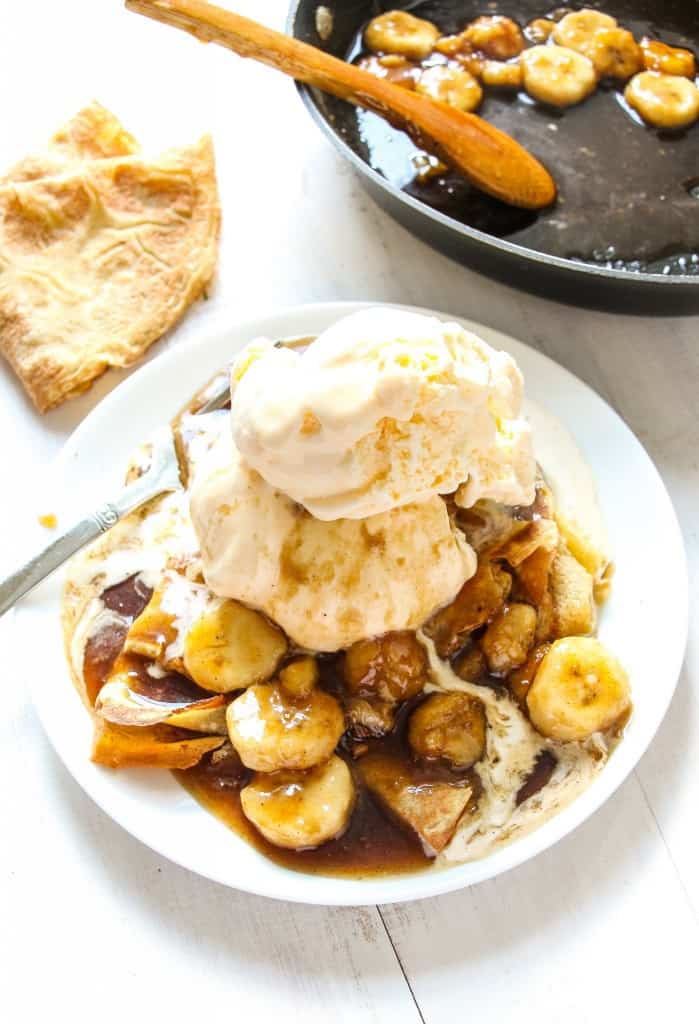 Be sure to check out more delicious ice cream recipes at Bluebunny.com. I'd love to hear your favorite!
Homemade Bananas Foster Crepes
This is the simple recipe I use when I'm in the mood for some buttery, delicate crepes. The batter is so easy and they're absolutely amazing stuffed with ice cream and homemade bananas foster.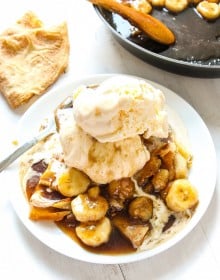 Ingredients:
For the crepes:
1 cup all-purpose flour
Pinch salt
1 egg
1 egg yolk
2 1/2 cups milk (or up to 1/2 cup more)
1 tablespoon melted butter
1/2 teaspoon vanilla extract
For the Bananas Foster:
3 tablespoons butter
2 bananas, sliced
1/2 cup light brown sugar
1 teaspoon vanilla
1⁄4 teaspoon cinnamon
1 pinch salt
Toppings:
Vanilla Ice Cream (such as Blue Bunny)
Directions:
To make the crepes:
Into a large bowl, sift together flour and salt. In a small bowl or liquid measuring cup, whisk together egg, egg yolk, and 2 cups milk. Pour milk mixture slowly into flour mixture and fold in. Fold in the melted butter and vanilla extract. Stir until smooth and combined.
The batter should be the consistency of heavy cream. If not, add up to 1/2 cup more milk.
Spray a 6-inch skillet with nonstick spray and heat over medium-high heat. When skillet is hot, pour 1/3 cup batter to the center of skillet and tip/swirl skillet in a circular motion to spread batter into an even thin layer. Cook until the edges of the crepe start to peel off the sides of the pan. Flip and cook until the bottom is golden brown. Transfer to a plate and repeat with remaining batter.
Optional: Keep in a warm over heated to 200 degrees to keep warm until serving.
To make bananas foster:
Melt butter in a saucepan over medium heat.
Add brown sugar, vanilla, cinnamon, and salt.
Lower heat and continue cooking, stirring constantly for 2 more minutes.
Remove from heat, add in sliced bananas and stir about 1 minute, until caramel is smooth and liquified and bananas are warm.
Stuff crepes with ice cream and spoon over bananas foster, and serve immediately.
PIN THIS RECIPE >>>