October 9, 2015
Vegan Eggplant Parmesan Bake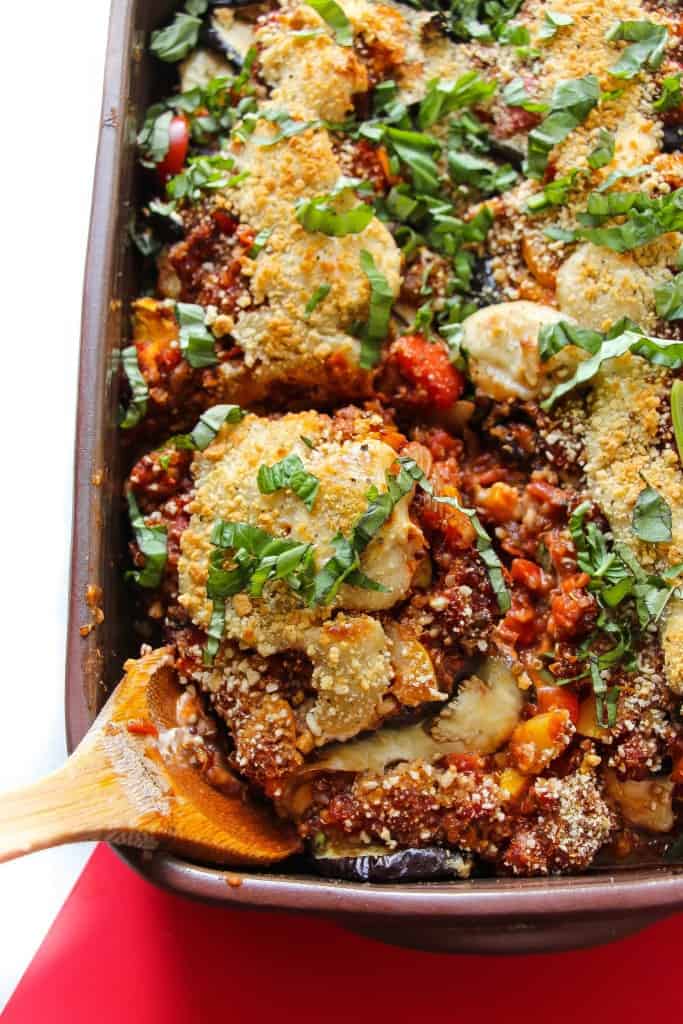 Today's post is sponsored by Bertolli! I'm super excited to be using their Tomato & Basil pasta sauce in todays recipe because, um, Vegan Eggplant Parmesan? Yeah. It's creamy, dreamy delicious. The Tomato & Basil sauce is from the new "Taste of Italy" line at Kroger, in stores from September 23rd through October 11th.
————————————————————————————————————————————————————-
Welcome, welcome friends!
May I introduce you to what may be my new favorite vegan dish. It's that beauty right up there, that eggplant coated in the garden-fresh tomato sauce loaded with quinoa and vegetables featuring a few leaves of summertime basil, a super creamy made-from-scratch vegan mozzarella sauce and the aroma of roasted garlic. Yes, THAT is how a vegan meal should look and taste. It tastes like something the queen would be eating for dinner, but simple enough for even the busiest of us.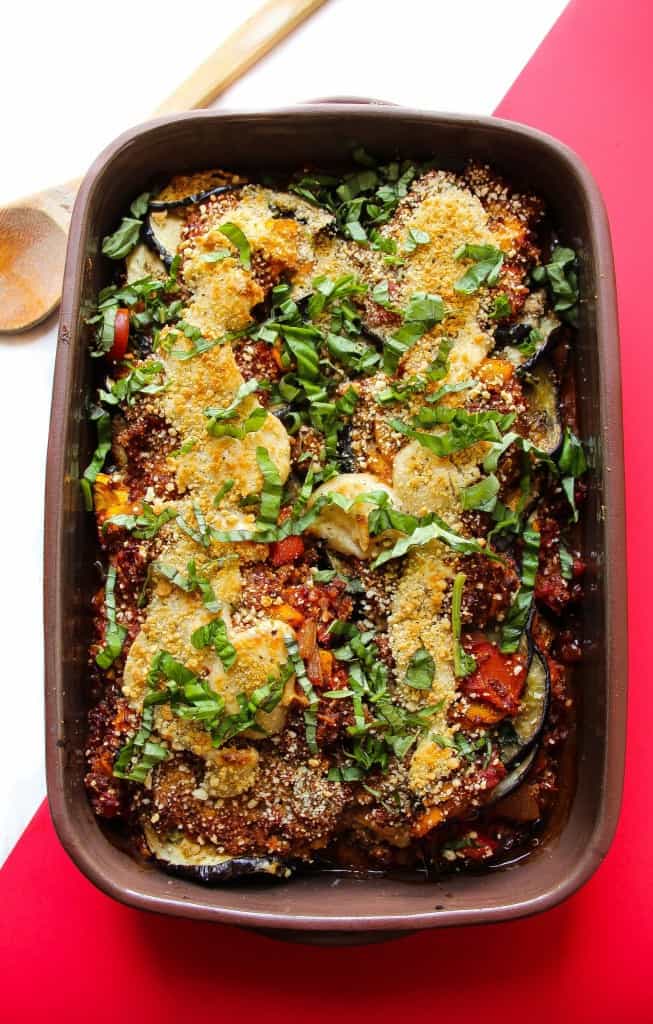 The more I experiment with different vegetables, the more and more I discover their power. Take spaghetti squash for example… I know, I know, so last year, but seriously, spaghetti squash will NEVER fail to amaze me. Pasta, that's actually a vegetable. A vegetable, that tastes like pasta. Mind blown. Every time.
Which then brings me to the vegetable of today's recipe: Eggplant. For some reason eggplant has intimidated me for the longest time. I didn't think the flavor or texture would ever be something I could master.
I was wrong.
It turns out the neutral flavor helps it to absorbs lots of flavor, and depending on how you cook it the texture is super versatile. And it just so happens when the eggplant and the loaded tomato sauce in this recipe intermingle in the oven, the result is a super creamy,  super dreamy eggplant bake that resembles lasagna. But it's vegan and made of vegetables. Winner, winner (non)chicken dinner.
We start out with the eggplant, which gets sprinkled with salt and transfer to a colander to rest for about 30 minutes while the sauce is made. While it's resting  the eggplant releases some water to reduce the amount of water it will release in the oven. This is a super cool trick I learned from a chef a few years ago and it works like magic. No one wants eggplant parmesan soup. Well, maybe if that's what you are going for – but we aren't this go around.
The sauce made with Bertolli Tomato & Basil sauce plus zucchini, roasted red peppers, and quinoa for extra bulk. We want a pretty thick sauce because the eggplant releases some water as it bakes and bringing the sauce back to normal consistency.
And finally the vegan mozzarella sauce. This stuff is amazing. It adds the most amazing creamy layer to the eggplant parmesan. Hallelujah and glory be, this eggplant-tomato-sauce-quinoa-vegetable-vegan-mozzarella combination is so utterly perfect.
The Bertolli Tomato & Basil pasta sauce, as we talked about before, is just what this recipe needs to get an extra boost of flavor. The ingredient combination in this recipe is so simple that you must must must make sure every ingredient is high quality. The eggplant, the quinoa, the mozzarella sauce, the basil, the roasted garlic – they must shine, and using a really high quality pasta sauce (made from tomatoes, basil, onions, and garlic) is the way to do it.
Right now, Kroger is launching a new promotion called "Taste of Italy," from September 23rd to October 11th. These sauces are perfect for giving a Tuscan-inspired twist to a family favorite recipe, and also for trying new recipes to share with your family and friends.
Now go and get yourself some pasta sauce because I seriously can't wait for you to get your hands on some awesome ingredients and for you to make yourself some awesome food.
Just in case you were wondering…. My 16-year-old son ate this for 3 days straight. I repeat, my son at this VEGAN dinner like it was going out of style. Thankfully eggplants will still be in season for another few months because I can already tell this is going to be a family staple meal.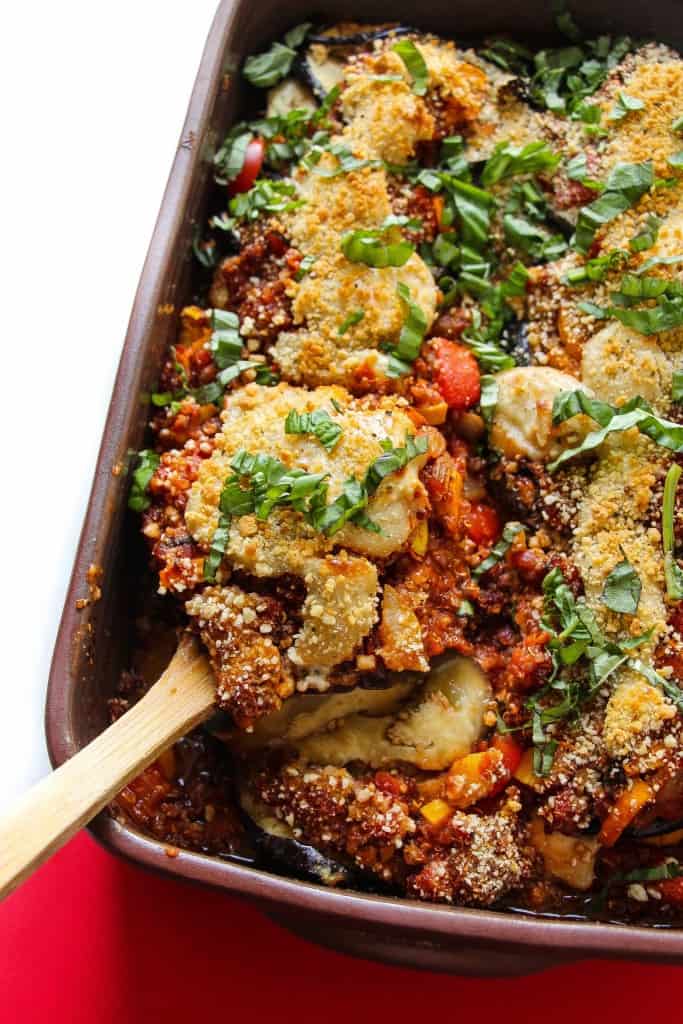 Vegan Eggplant Parmesan Bake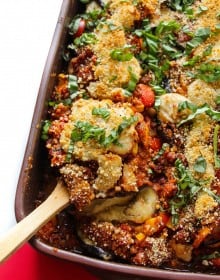 Ingredients:
3 medium eggplants (about 3 1/2 pounds), sliced 1/4-inch thick
Sea salt
1 Tablespoon olive oil, plus extra for brushing
For the marinara sauce:
1/2 onion, chopped
2 small zucchini and or summer squash, chopped
2 roasted red bell peppers, chopped
1 (28 ounce) jar tomato sauce (such as Bertolli Tomato & Basi)l
1 tablespoon fresh thyme, chopped
1 tablespoon fresh oregano leaves, chopped
1 tablespoon fresh basil leaves, chopped
2 Tablespoons balsamic vinegar
1 Tablespoon granulated sugar
1 cup cooked quinoa
coarse salt and freshly ground pepper
2 Tablespoons bread crumbs, for sprinkling
For the Mozzarella sauce:
3/4 cups raw cashews*
1/2 cup water
1 tablespoons lemon juices
3/4 teaspoons sea salt
1 garlic clove
1/2 teaspoon onion powder
1 Tablespoon cornstarch
2 Tablespoon chopped fresh basil
Directions:
Preheat the oven to broil, set to high. Lightly grease 2 large baking sheets.
Generously salt the eggplant and place in a colander. Let sit and sweat for about 30 minutes.
Meanwhile, prepare the tomato sauce by heating oil in a medium saucepan over medium-high heat. Add onion and cook until soft and lightly browned. Add garlic and zucchini and let cook for 1 minute. Add roasted red bell peppers, tomato sauce, thyme, oregano, basil, balsamic vinegar, and granulated sugar. Cook and stir for a few more minutes.
Wipe or dab the eggplant with paper towels to remove excess moisture. Arrange the eggplant on the baking sheet and brush with oil. Broil for 4 to 6 minutes until browned on top.
While eggplant is broiling, make the mozzarella sauce.
In a blender, combine cashews and water. Blend on high until very smooth, about 2 minutes. Add lemon juice, salt, garlic onion powder, and corn starch
Lower the oven temperature to 350F degrees. Lightly grease a 9×13-inch pan.
To assemble the casserole:
Arrange half of the eggplant slices, overlapping the slices, in the bottom of the prepared pan. Sprinkle with 1 tablespoon of bread crumbs. Layer half of the cooked quinoa, half the tomato sauce, and half of the mozzarella sauce on top of the bread crumbs. Repeat the layers. Bake, uncovered for 20-30 minutes, until hot and bubbly. Top with fresh basil and serve.
If you are not using a high powdered blender, such as a Vitamix or Blendtec, soak cashews overnight or boil for 10 minutes and drain. This will soften them and ensure silky smooth cream.
PIN THIS RECIPE >>
This is a sponsored conversation written by me on behalf of Bertolli®. The opinions and text are all mine. Comments submitted may be displayed on other websites owned by the sponsoring brand.