October 9, 2015
Vegan Eggplant Parmesan
Vegan Eggplant Parmesan – a comforting and cheese vegan dish! Eggplant gets layered with loaded tomato sauce & creamy vegan mozzarella sauce.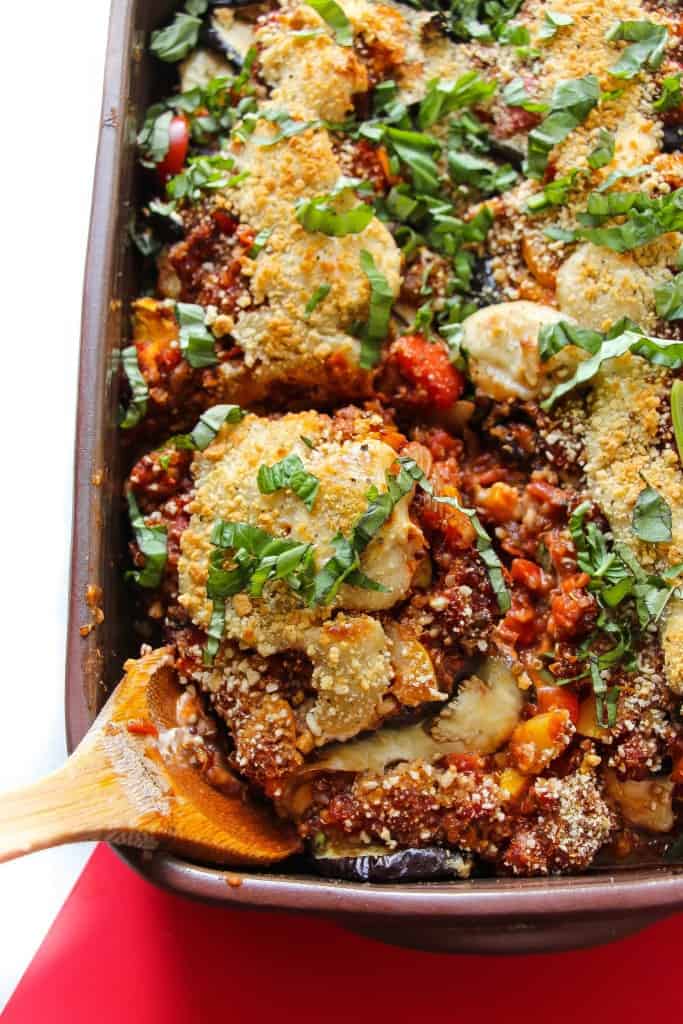 May I introduce you to my new favorite vegan dish. It's creamy and cheesy and freaking delicious.
The creamy sauce is made with cashews and high powdered blender. And the tomato sauce is a doctored up store-bought jar of marinara.
Do you leave the skin on eggplant?
I do leave the skin on eggplant when I make this recipe. Mainly because it's easier that way. But you can peel the skin if you prefer the skin removed.
Do you need to salt the eggplant before making vegan eggplant parmesan?
I highly recommend salting the eggplant before cooking with it. I salt it and then put it in a strainer + a bowl underneath to catch all the water that runs off of it.
The salt helps the eggplant release some of its water before baking rather than in your casserole dish. This is a super cool trick I learned from a chef a few years ago and it works like magic. No one wants eggplant parmesan soup.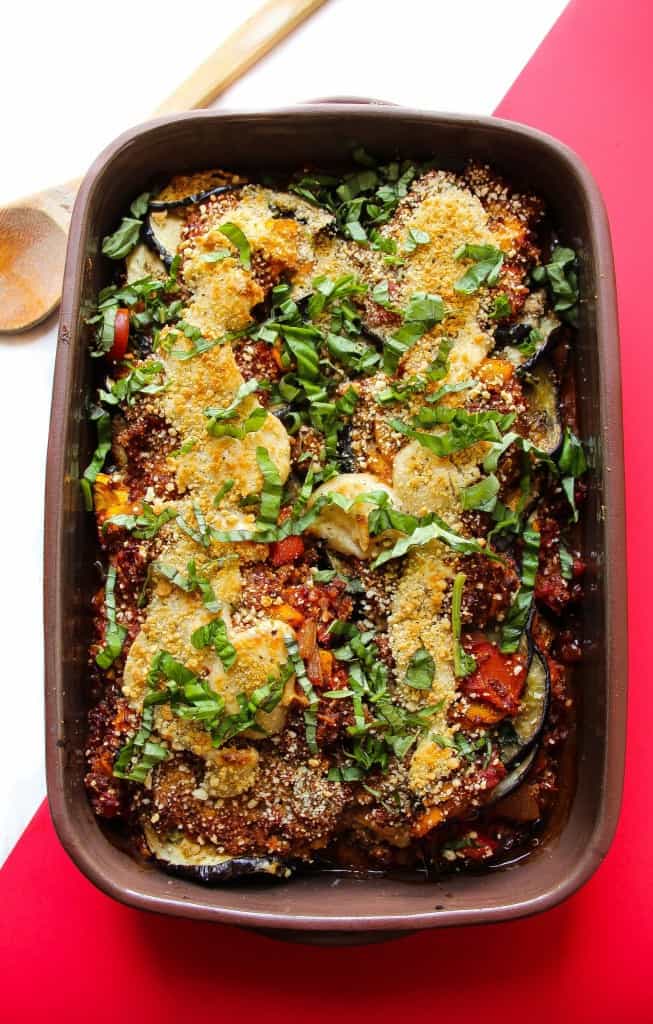 What to serve this with?
This artisan bread would be delicious!
Along with grilled zucchini, roasted broccolini, or sauteed green beans!
And maybe a simple salad with lemon vinaigrette.
Vegan Eggplant Parmesan
A comforting and cheese vegan dish! Eggplant gets layered with loaded tomato sauce & creamy vegan mozzarella sauce.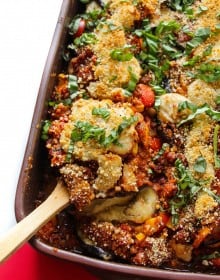 Ingredients:
3 medium eggplants (about 3 1/2 pounds), sliced into 1/4-inch thick rounds
Sea salt
1 Tablespoon olive oil, plus extra for brushing
For the marinara sauce:
1/2 onion, chopped
2 small zucchini and or summer squash, chopped
2 roasted red bell peppers, chopped
1 (28 ounce) jar vegan tomato sauce (such as Rao's)
1 tablespoon fresh thyme, chopped
1 tablespoon fresh oregano leaves, chopped
1 tablespoon fresh basil leaves, chopped
2 Tablespoons balsamic vinegar
1 Tablespoon granulated sugar
1 cup cooked quinoa
coarse salt and freshly ground pepper
2 Tablespoons bread crumbs, for sprinkling
For the Mozzarella sauce:
3/4 cups raw cashews*
1/2 cup water
1 tablespoons lemon juices
3/4 teaspoons sea salt
1 garlic clove
1/2 teaspoon onion powder
1 Tablespoon cornstarch
2 Tablespoon chopped fresh basil
Directions:
Preheat the oven to broil, set to high. Lightly grease 2 large baking sheets.
Generously salt the eggplant and place in a strainer. Let sit and sweat for about 30 minutes.
Meanwhile, prepare the tomato sauce by heating oil in a medium saucepan over medium-high heat. Add onion and cook until soft and lightly browned. Add garlic and zucchini and let cook for 1 minute. Add roasted red bell peppers, tomato sauce, thyme, oregano, basil, balsamic vinegar, and granulated sugar. Cook and stir for a few more minutes.
Wipe or dab the eggplant with paper towels to remove excess moisture. Arrange the eggplant on the baking sheet and brush with oil. Broil for 4 to 6 minutes until browned on top.
While eggplant is broiling, make the mozzarella sauce.
In a blender, combine cashews and water. Blend on high until very smooth, about 2 minutes. Add lemon juice, salt, garlic onion powder, and corn starch
Lower the oven temperature to 350F degrees. Lightly grease a 9×13-inch pan.
To assemble the casserole:
Arrange half of the eggplant slices, overlapping the slices, in the bottom of the prepared pan. Sprinkle with 1 tablespoon of bread crumbs. Layer half of the cooked quinoa, half the tomato sauce, and half of the mozzarella sauce on top of the bread crumbs. Repeat the layers. Bake, uncovered for 20-30 minutes, until hot and bubbly. Top with fresh basil and serve.
If you are not using a high powdered blender, soak cashews overnight or boil for 10 minutes and drain. This will soften them and ensure silky smooth cream.
[this isn't a sponsored post, there are a few affiliate links above based on things I purchase on my own and love]