September 21, 2015
Vegan Pancakes
Vegan pancakes – the fluffiest ever!!! 5 ingredients, 20 minutes and 1 bowl. They are soft, perfectly sweet, buttery and perfect!
What is a vegan substitute for eggs in pancakes?
Spoiler alert! You don't need a substitute because these don't need eggs!
What are vegan pancakes made of?
There's only five ingredients required…
1. All purpose flour.
2. Baking powder.
3. Salt.
4. Water (If you even count that as an ingredient???).
5. Granulated sugar.
What makes the pancakes so fluffy?
Baking powder!
P.S. The recipe calls for what seems like a lot of baking powder, but trust me – it's all needed for fluffy perfection. No more, no less.
These are the perfect weekend breakfast. Super quick and easy to throw together. And the whole family is guaranteed to love them.
I like to make mini pancakes. Like the ones you see in my pictures. Mainly because they are easier to flip. But you could also make regular size pancakes.
Other vegan recipes to try…
Vegan eggplant parmesan is an AMAZING vegan dinner.
Vegan Pancakes
The fluffiest vegan pancakes ever. 5 ingredients, 20 minutes and 1 bowl. They are soft, perfectly sweet, buttery and perfect!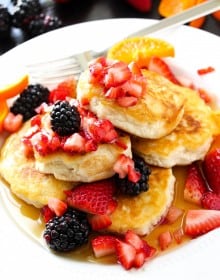 Ingredients:
2 cups all-purpose flour
2 Tablespoon baking powder (yes, Tablespoon)
2 Tablespoons granulate sugar
1 teaspoon salt
1 1/2 cups water
6 Tablespoon maple syrup, for serving
Directions:
In a medium bowl, whisk flour, baking powder, sugar, and salt. Gradually whisk in water. Do not overmix; the batter should be lumpy. That is okay.
Spray a large nonstick skillet or griddle with nonstick spray and heat over medium-high heat. For each pancake pour 1/4 cup of batter onto the skillet, and when small bubbles appear in the center of the pancake, it is time to flip it. Let is cook on the other side until cooked through, about 2 minutes. Repeat with remaining batter, spraying more nonstick spray to the skillet as needed.
Serve pancakes with warm maple syrup and desired toppings.
Keep pancakes warm in a preheated 200F degree oven until all pancakes are cooked. Serve immediately with maple syrup. Pancakes taste best right after they are made. Pancakes freeze well, up to 2 months. Reheat in toaster or microwave.
[this isn't a sponsored post, there are a few affiliate links above based on things I purchase on my own and love]