September 21, 2015
Best-Ever Extra Fluffy Vegan Pancakes
The best-ever vegan pancakes requires just 5 ingredients, 20 minutes and 1 bowl. They are fluffy, soft, perfectly sweet, buttery and perfect!
Before you even start to think that there's no way vegan pancakes can taste just as good, if not BETTER, than regular pancakes, hear me out: everyone I've fed these to agree that these are in fact LEGIT, amazing, fluffy, buttery pancakes.
As in, serve them to your 16-year old brother who knows how to make the fluffiest pancakes on planet earth and he couldn't even tell the difference. As in, fluffy, buttery, pancake perfection. It's true.
Oh, and yes, my little brother makes pancakes on the regular. And they are the BOMB. We like to cook in this family. 🙂

To be honest, pancakes are not my favorite thing to make… hence why I passed that job off to my brother – just because I don't like making them, doesn't mean I don't like eating them.
The reason being, that I can never seem to get the pancakes fluffy enough to my liking. You know, like restaurant fluffy. So when I had the idea to make vegan pancakes… aka just pancakes without any eggs… I thought it was an idea doomed for failure. But my pancake craving was real, so I proceeded with caution.
The results…. it WORKED.
THere's only five ingredients required…
1. All purpose flour.
2. Baking powder.
3. Salt.
4. Water (If you even count that as an ingredient???).
5. Granulated sugar.
These are the perfect weekend breakfast. Super quick and easy to throw together – and the whole family is guaranteed to love them. I mean how much time could 5 ingredients really take to throw together??
The recipe calls for what seems like a lot of baking powder, but trust me – it's all needed for fluffy perfection. No more, no less.


I like to make mini pancakes, like the ones you see in my pictures because mini anything seems to taste better in my book (and mainly because they are easier to flip.) – but you could totally make regular size pancakes.
We top ours with (lots of) maple syrup (duh.), fresh fruit, and powdered sugar if we are feeling fancy.
Enjoy!
Best-Ever Extra Fluffy Vegan Pancakes
The best-ever vegan pancakes requires just 5 ingredients, 20 minutes and 1 bowl. They are fluffy, soft, perfectly sweet, buttery and perfect!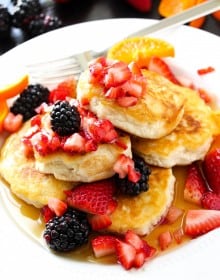 Ingredients:
2 cups all-purpose flour
2 Tablespoon baking powder (yes, Tablespoon)
2 Tablespoons granulate sugar
1 teaspoon salt
1 1/2 cups water
6 Tablespoon maple syrup, for serving
Directions:
In a medium bowl, whisk flour, baking powder, sugar, and salt. Gradually whisk in water. Do not overmix; the batter should be lumpy. That is okay.
Spray a large nonstick skillet or griddle with nonstick spray and heat over medium-high heat. For each pancake pour 1/4 cup of batter onto the skillet, and when small bubbles appear in the center of the pancake, it is time to flip it. Let is cook on the other side until cooked through, about 2 minutes. Repeat with remaining batter, spraying more nonstick spray to the skillet as needed.
Serve pancakes with warm maple syrup and desired toppings.
Keep pancakes warm in a preheated 200F degree oven until all pancakes are cooked. Serve immediately with maple syrup. Pancakes taste best right after they are made. Pancakes freeze well, up to 2 months. Reheat in toaster or microwave.
PIN THESE PANCAKES >>>