September 18, 2015
7 Layer Coconut Macaroon Brownies
This is all things magic together in one recipe.  Think macaroons, 7 layer bars and fudgy brownies all in one delicious treat. 
I am so excited to share this recipe with you.  Our "7  Layer Coconut Macaroon Brownies" are truly irresistible.  The crunchy on the outside and chewy on the inside coconut macaroon sits on top of a perfectly chocolaty brownie.  This wonderfully sweet treat will knock your socks off and have you running back for seconds…okay, thirds in my case 🙂
This is one of those recipes that I will keep and be making forever.  That's how much I love it.  And everywhere I take it people love it.  I am always excited for people to try it.
I thought I had found my favorite treat with our 7 layer bar coconut macaroons.  But when you put them on top of a chocolate fudgy brownie you really have some awesomeness.
We have had so many people love our 7 layer bar coconut macaroons (it's gone wild on Pinterest) that I was really trying to think of another way we could incorporate them in a recipe.  I love brownies and so what better match for our favorite macaroon recipe than that?   All things I love coming together for one big party in your mouth.
I made them Wednesday evening before I headed to book club.  I cut them up and was taking pictures of them before I left and I think I had 4 before I even could get myself under control…. 🙂  The edges are amazing…make sure you save yourself a corner.  I had to take them and give them to a friend just to get them out of the house….I think I would have eaten them all!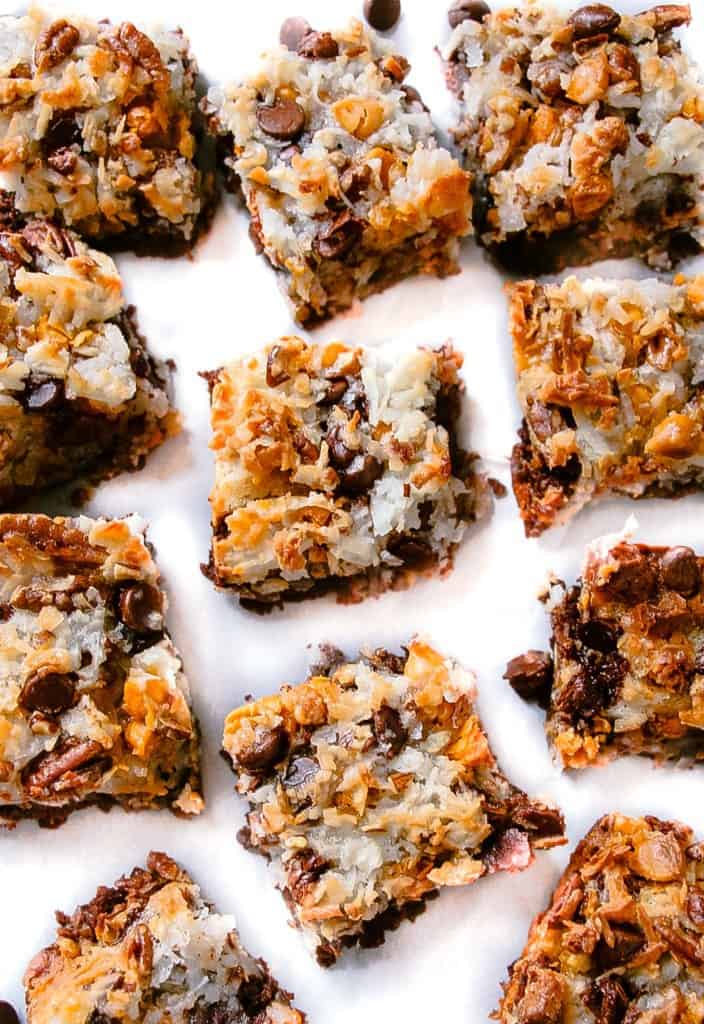 For all you GF people out there…it is so easy to make this gluten free.  It calls for very little flour and using GF flour does not change the texture at all.  You will love it.  A lot of times if you substitute the flour it can change the taste and texture.   That's not the case at all here.  You have to try these….or make a special treat for someone you know that is GF.  It's a great thing to take to parties because even people with food allergies can partake.
The brownie in this recipe is fudgy because that type of brownie pairs so nicely here.   If you like chocolate like I do you will love it.
7 Layer Coconut Macaroon Brownies
This is all things magic together in one recipe.  Think macaroons, 7 layer bars and fudgy brownies all in one delicious treat.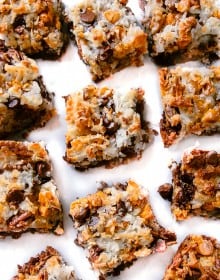 Ingredients:
Brownie layer:
1/2 cup (1 stick) unsalted butter
1/4 teaspoon salt
1/2 cup sugar
1 large egg
1/4 cup unsweetened cocoa powder
1/4 cup all-purpose flour
Macaroon layer:
1-1/3 cups flaked coconut
⅓ cup sugar
2 egg whites
2 tablespoons all-purpose flour (you can use G-F flour here)
⅛ teaspoon salt
¼ teaspoon vanilla extract
⅓ cup milk chocolate chips
⅓ cup butterscotch chips
⅓ cup of chopped pecans
Directions:
For chocolate base: Preheat oven to 375 degrees. Line a 9-inch square baking pan with aluminum foil, leaving a slight overhang; butter bottom and sides of foil (not overhang).
Combine melted butter with sugar and salt; whisk to combine. Whisk in egg, then cocoa and flour until smooth. Spread brownie batter in prepared pan.
Bake just until sides begin to pull away from edges of pan, 10 to 15 minutes (do not overbake). Let cool slightly while preparing coconut topping. Keep oven on for topping.
For coconut macaroon topping: In a medium bowl, whisk eggs with sugar, salt and vanilla. Gently mix in flour, coconut, chips and pecans.
Spoon macaroon mixture over brownie base; spread evenly. Sprinkle extra coconut if you would like.
Bake until golden brown on top, approximately 25 to 30 minutes.
PIN THESE BARS >>>