September 18, 2015
Coconut Brownies
Coconut Brownies – magic bar seven layer brownies have a brownie bottom, then chocolate & butterscotch chips, pecans, and coconut on top. SO GOOD.
One of our favorite desserts on the blog are these 7 layer bar coconut macaroons. So today we are putting that coconut mixture on top of a chocolate fudgy brownie. It is unreal.
Can you use a homemade brownie recipe?
Yes! You 100% can use either a homemade brownie recipe or a a boxed brownie mix to make it easier. Just prepare the homemade brownie recipe until ready to bake. Then continue with the instructions in this recipe.
Recipe modifications…
You can add or leave out any mix-ins you don't like! Peanut butter chips or toffee chips would be a great replacement for the butterscotch chips. You can also leave out the pecans if nuts aren't your favorite.
Do the coconut brownies need to be refrigerated?
No! These can be kept in an airtight container at room temperature.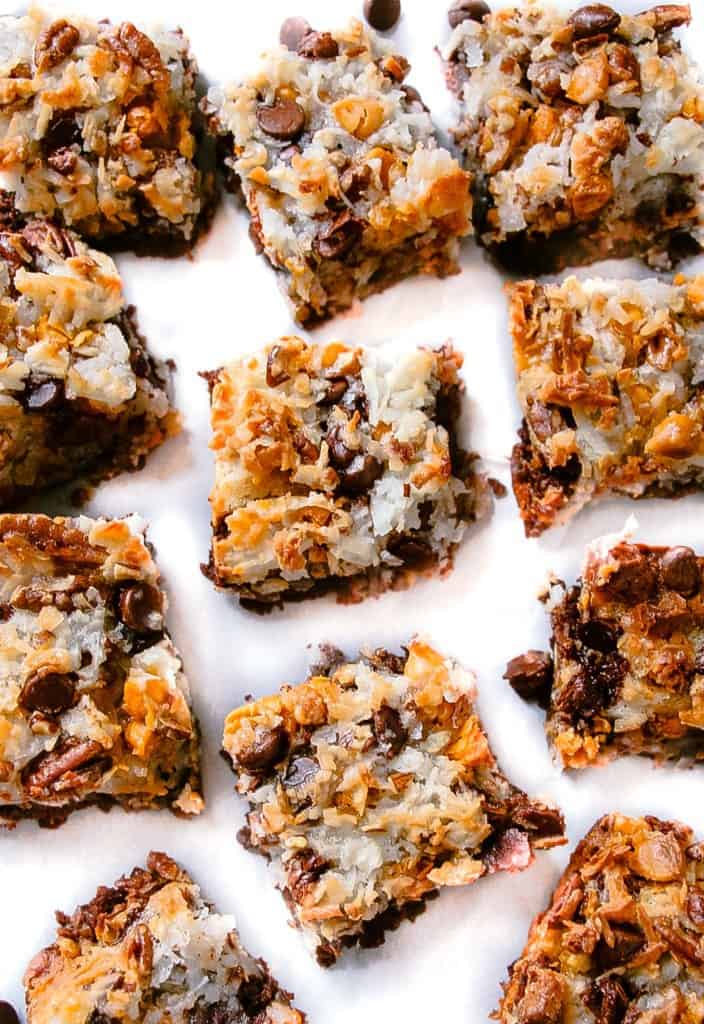 How to make these coconut brownies gluten free…
It is so easy to make this gluten free. The recipe calls for very little flour. So any all purpose gluten free flour will work great.
Coconut Brownies
Magic bar seven layer brownies have a brownie bottom, then chocolate & butterscotch chips, and coconut on top. SO GOOD.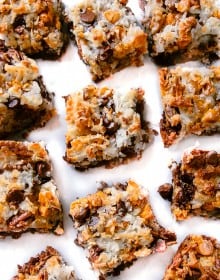 Ingredients:
Brownie layer:
1 box brownie mix + ingredients needed to make brownies
Coconut layer:
1-1/3 cups flaked coconut
⅓ cup sugar
2 egg whites
2 tablespoons all-purpose flour (you can use G-F flour here)
⅛ teaspoon salt
¼ teaspoon vanilla extract
⅓ cup milk chocolate chips
⅓ cup butterscotch chips
⅓ cup of chopped pecans
Directions:
For chocolate base: Preheat oven to 375 degrees. Line a 9-inch square baking pan with aluminum foil, leaving a slight overhang; butter bottom and sides of foil (not overhang).
Prepare the brownie mix according to package instructions. Spread brownie batter in prepared pan.
Bake just until sides begin to pull away from edges of pan, 10 to 15 minutes (do not overbake). Let cool slightly while preparing coconut topping. Keep oven on for topping.
For coconut topping: In a medium bowl, whisk eggs with sugar, salt and vanilla. Gently mix in flour, coconut, chips and pecans.
Spoon macaroon mixture over brownie base; spread evenly. Sprinkle extra coconut if you would like.
Bake until golden brown on top, approximately 25 to 30 minutes.
[this isn't a sponsored post, there are a few affiliate links above based on things I purchase on my own and love]