August 7, 2015
7 Layer Bar Coconut Macaroons
7 Layer Bar Coconut Macaroons – loaded with milk chocolate chips, butterscotch chips, and pecans. The best make ahead dessert ever.
7 Layer Bars Made Easier…
Growing up, we always used to get a magic bar whenever we went shopping at Nordstrom.
The depth of flavor and layers of textures are out of this world.
But homemade 7 layer bars are so difficult and time consuming. The cooling time is also way longer than you want it to be. And it's one of those recipes that requires multiple recipes to make the single recipe.
So I combined two treats I love: 7 layer bars and coconut macaroons. I added everything in a layer bar to my favorite coconut macaroon base recipe.
In this new recipe, all you have to do is combine everything in a bowl and scoop it out onto a baking sheet. Making it hassel free without sacrificing any of the flavor or texture I love!
And they are so easy Griffin and my dad can make them!
These are also great because it's like a gluten free 7 layer bar!
And you can make them ahead of time. These are great even when they are one day old!
7 Layer Bar Coconut Macaroons modifications
My favorite combo is the one in the recipe card. Milk chocolate chips, butterscotch chips, and pecans.
But I have also tried milk chocolate chips, peanut butter chips, and toffee chips. And it is also great!
My other favorite make ahead desserts:
Pretzel M&M hugs are great to make ahead. And you kind of need to make these ahead because the chocolate needs time to harden again.
Cookies and cream pretzels are amazing too!!!
You can also make these ice cream sandwiches ahead of time!
Watch the recipe video here:
7 Layer Bar Coconut Macaroons
Loaded with milk chocolate chips, butterscotch chips, and pecans. The best make ahead dessert ever.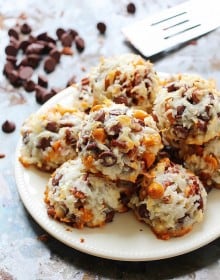 Ingredients:
2 2/3 cups flaked coconut
2/3 cup sugar
4 egg whites
¼ cup gluten free all-purpose flour (such as Cup 4 Cup or you can use regular flour)
1/4 teaspoon salt
1 teaspoon vanilla extract
1/2 cup milk chocolate chips
2/3 cup butterscotch chips
2/3 cup of chopped pecans
Directions:
Line a baking sheet with parchment paper and preheat your oven to 325 degrees.
In a medium bowl, combine all the ingredients until egg whites are evenly distributed.
Tightly pack mixture into a 2 Tablespoon size cookie scooper and drop cookies onto the prepared baking sheet. Cookies don't spread.
Bake for 18-20 minutes or until light golden brown.
[this isn't a sponsored post, there are a few affiliate links above based on things I purchase on my own and love]