April 16, 2015
Gluten Free Turkey Burgers
The most flavorful, moist, juicy Gluten Free Turkey Burgers you will EVER taste. Jazzed up with honey mustard, green onions, & parmesan.
Recipe inspiration:
This recipe was inspired by my brother's love for Cheesecake Factory's turkey burger. He used to order his with a boat of honey mustard on the side and drown every bite in it.
So I decided to create a turkey burger that has honey mustard in the burger mixture in addition to what you can put on top. The honey, mayo, and mustard in the meat mixture gives the meat so much extra flavor. The mayo also helps keep the burger really tender. Which is great because turkey burgers sometimes have a brand of being dry and bland.
I can promise you these turkey burgers are the opposite of dry and bland. The have so much flavor.
If you don't like mayo, don't worry you can't taste the mayo at all. There is only a tablespoon of mayo per 4 burgers.
Why are my turkey burgers so dry?
This will happen if you cook the turkey burgers too long. I highly recommend getting a meat thermometer so you know when they reach 160-165 degrees.
I also recommend getting 94% lean ground turkey meat instead of 99% lean. If you can only find 99% lean I would add an extra half tablespoon of mayo to the recipe to give it some fat.
The mayo in the recipe + 94% lean meat will help make sure there is enough fat in the burgers to keep them from drying out.
Recipe modifications:
I love using shaved parmesan for these burgers because it creates layers of melted cheese. But you can use any kind of parmesan you have.
You can cook these on the stove top in a grill pan, in a skillet, or the grill. Or even a smoker! Our friends have made these on their charcoal grill with cherry wood chips. Honestly life changing. So if you have a smoker, definitely put these on there.
What to serve with these gluten free turkey burgers?
We love serving these with truffle fries. For the truffle fries, you can use this homemade oven baked french fry recipe. And then use truffle salt at the end instead of using the seasoning in the recipe. Or you can get store bought frozen french fries and season with truffle salt once they come out of the oven!
These burgers are also great with a house salad and a caprese salad.
Gluten Free Turkey Burgers
The most flavorful, moist, juicy burgers you will EVER taste.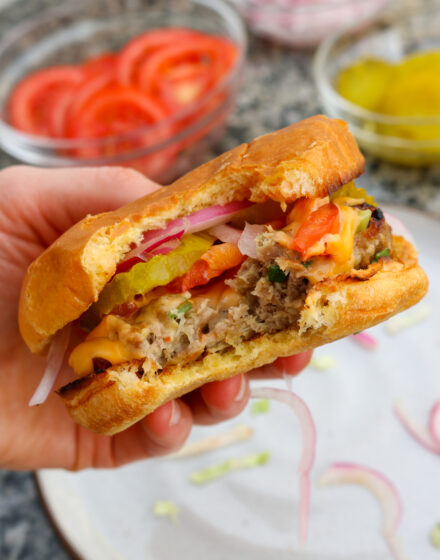 Ingredients:
1 pound 85% lean ground turkey (add an extra tablespoon of mayo if you get 99% lean)
1/2 cup shaved parmesan cheese
1/3 cup green onions, thinly sliced (about 1 bunch)
1/4 cup crushed gluten free pretzels
1 Tablespoon Yellow Mustard
1 Tablespoon honey
1 Tablespoon mayonnaise
1 teaspoon garlic powder
salt and pepper
Toppings:
American Cheese
Honey mustard
Shredded lettuce or green leaf lettuce
Tomato
Pickled Onions
Pickles (I like dill!)
Brioche buns
Directions:
In a large bowl, combine (with your hands or a spatula) the turkey, cheese, green onions, crushed pretzels, mustard, honey, mayonnaise, garlic, salt, and pepper.
Use a 1/2 cup measuring cup to measure/scoop out burgers.
Form into 1-inch thick patties.
Preheat the grill to 350-450 degrees. Oil the grill grates so the burgers don't stick. Place the burgers on the grill and cook 7 minutes per side. Melt cheese on top if desired the last 2 minutes of cooking. Serve on a bun with desired toppings.
Nutrition facts: 299 calories per burger (excluding toppings)