April 16, 2015
Honey Mustard Pretzel Turkey Burgers
This shop has been compensated by Collective Bias, Inc. and its advertiser. All opinions are mine alone.
#KetchupsNewMustard #CollectiveBias
The most flavorful, moist, juicy turkey burgers you will EVER taste. Made with ground turkey, crushed pretzels, New Heinz® Yellow Mustard, honey, mayo, garlic, green onions, and cheese… drizzled with the most amazing/easiest homemade honey mustard sauce…all sandwiched between a soft pretzel bun.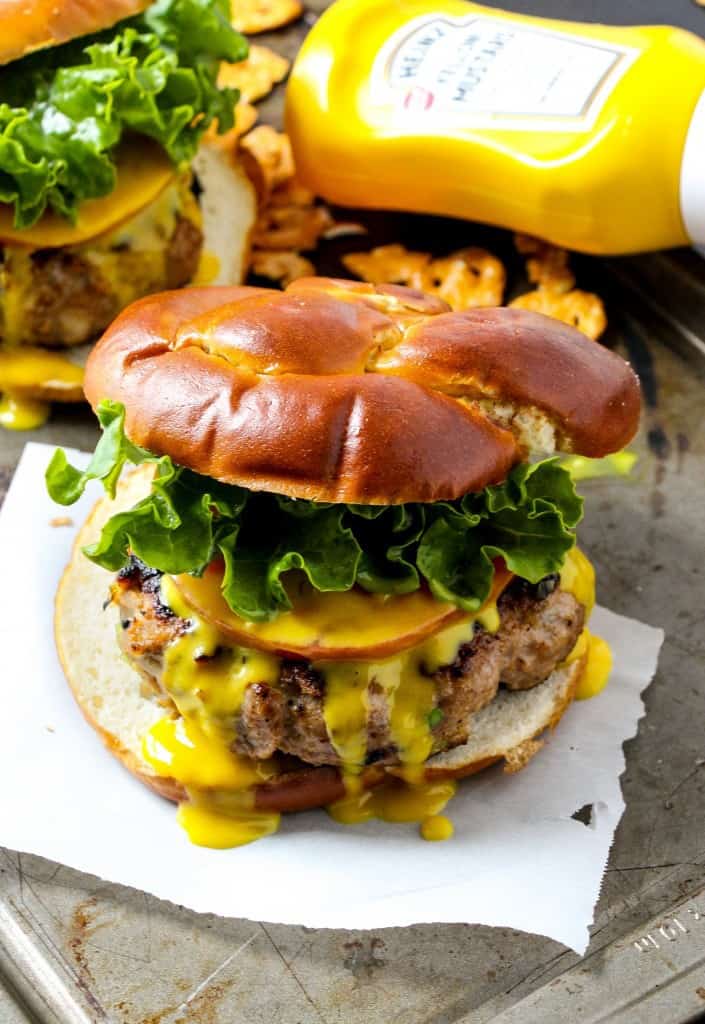 Last weekend was a GOOD one. It was so warm outside.  We went for two evening walks (both Saturday and Sunday), we fired up the grill for the first time this season AND we made the BEST turkey burgers I have EVER tasted.   I am not kidding.
Turkey burgers sometimes have a bad rap in the foodie world… which I can understand because I have had my fair share of dry/bland turkey burgers. BLAH.
In fact, the only turkey burger I have absolutely fallen in love with (until now) is Cheesecake Factory's turkey burger… drenched in their awesome honey mustard. Trust me when I say, mustard and turkey burgers go perfectly together.
The being said, turkey burgers have forever been on my "Leave it to the Experts" lists of food items  —  along with doughnuts, french fries (until I changed my mind and made the most amazing BAKED french fries. Recipe here.), chicken nuggets, Indian food and bagels. When I cook I like it to be simple, quick, and easy. If it doesn't taste at least equally as good or if I have to put in so much effort that I'm not even hungry then… no thanks! I'll just "leave it to the experts." 🙂
BUT—- sometimes I get to take things off that list… and today TURKEY BURGERS are officially off the list of "leaving it to the experts"!
I was blown away by the flavor and moistness of these burgers!
Along with the ground turkey meat… the turkey burgers also have Heinz Yellow Mustard, honey, mayo, green onions, garlic, crushed pretzels, and Parmesan cheese.
Ingredients explained…
Honey, Heinz Yellow Mustard, and mayo… Instead of topping the burgers with honey mustard sauce, I took the honey mustard flavor on the inside with these three ingredients, which are three of the four ingredients that make up my favorite honey mustard sauce. On top of that, just like how mayo makes chicken and fish so incredibly moist, it also makes these turkey burgers extra moist. There is only a tablespoon of mayo in the whole turkey burger recipe, so don't worry, you can't even taste it and it doesn't add too many calories.
The yellow mustard in these burgers is HEINZ Yellow Mustard. Say what??? YES. Heinz recently came out with a "new recipe" for their yellow mustard, and it's awesome. The quality of their mustard's flavor is outstanding. I'm a die-hard Heinz Ketchup lover and after 150 years of making the most amazing ketchup on the planet, they have finally brought their expertise to the mustard department. On top of that, they use 100% natural ingredients, including stone-ground mustard seeds. A secret blend of spices and vinegar for the perfect balance of flavor and tang.
This mustard is also super thick and creamy, meaning… the new Heinz Yellow Mustard doesn't sink into the bread and make it soggy. It is a thicker mustard that sits on top.
Heinz has also designed their new Mustard top-down, squeeze bottle to prevent that first squirt of watered down product. No longer must you shake the bottle before using.
I'm in love. It will definitely be my new go-to mustard.
Click here to learn more about Heinz's new mustard!
You can find it in the condiment aisle above the Heinz Ketchup at Walmart – in 8, 14 and 20 ounce bottles.
Heinz Yellow Mustard is also available at other major retailers nationwide!!
Green onions and garlic… HELLO FLAVOR. These two fresh ingredients bring so much flavor!!!
Crushed pretzels… Honey mustard goes with turkey burgers AND pretzels – so why not let them all live in harmony together?  And oh boy did they do just that in this recipe! The crushed pretzels replace the typical bread crumbs you might see in a burger recipe. They add some nice, unexpected salty flavor.
Parmesan cheese… does this ingredient even need an explanation? The more cheese — the better.
Part of what sets these turkey burgers apart is that they have a double shot of mustard… Heinz Yellow Mustard mixed in the burgers and more Heinz Yellow Mustard on top. Double mustard = double flavor.
Aside from what goes into the burgers… I have two more tips for cooking up some of the best turkey burgers ever:
1. Whether you cook these burgers on the grill or in a pan, cook them over high heat. It will create a crazy delicious crispy outside to the burgers without over cooking them. And try to only flip your burgers once or twice. They will be ready to flip once the edges start to peel up.
2. As soon as the burgers come off, immediately cover them with a paper towel or foil. I do this with all my meat.  Covering the meat allows all the juices to soak back into the meat instead of evaporating. This will leave you with incredibly moist burgers to share with your friends and family.
We topped our burgers with more cheese (cheddar), tomatoes, Heinz Yellow Mustard, and lettuce – all served on pretzel buns to add on to the "pretzel" factor of these burgers.   If you choose, you could definitely serve these on regular buns.
My family rated these a 10+!! And these have already been asked for again! I already know these burgers are going to be making many appearances at our cookouts this summer…. which I totally don't mind because they are so easy to make and they are outrageously delicious. 🙂
Honey Mustard Pretzel Turkey Burgers
The most flavorful, moist, juicy turkey burgers you will EVER taste. Made with ground turkey, crushed pretzels, New Heinz® Yellow Mustard, honey, mayo, garlic, green onions, and cheese… drizzled with the most amazing/easiest homemade honey mustard sauce…all sandwiched between a soft pretzel bun.
Ingredients:
1 pound ground turkey
1/2 cup shaved cheese (Romano, parmesan, or gruyere)
1/3 cup green onions, thinly sliced
1/4 cup crushed pretzels
1 Tablespoon Heinz Yellow Mustard
1 Tablespoon honey
1 Tablespoon mayonnaise
1 garlic clove, minced
coarse salt and ground pepper
Toppings:
Heinz Yellow Mustard
Heinz Ketchup
Lettuce
Tomato
Pretzel Buns (regular buns work too)
Directions:
In a medium bowl, gently combine (with your hands or a spatula) the turkey, cheese, green onions, crushed pretzels, honey, Heinz yellow mustard, honey, mayonnaise, and minced garlic; season generously with salt and pepper. Be careful not to over mix.
Gently form the mixture into four patties and make small indentations in the center of patties to prevent burgers from plumping up.
You can either grill up the burgers 5 to 7 minutes per side or cook them up in a skillet. If you're going to cook them up in a skillet, then heat up a tablespoon of olive oil in a large skillet over medium heat. Cook the patties until cooked through, 5 to 7 minutes per side.
Remove from heat, top with cheese, and cover with foil for about 5 minutes. Top with Heinz yellow mustard, tomatoes, lettuce, onions, and sandwich in between a pretzel bun or regular bun.
Serve immediately. Enjoy!