June 30, 2014
Oven Baked French Fries
Oven Baked French Fries – extra crispy edges, soft centers, baked not fried and healthy! So you can feel good about eating them!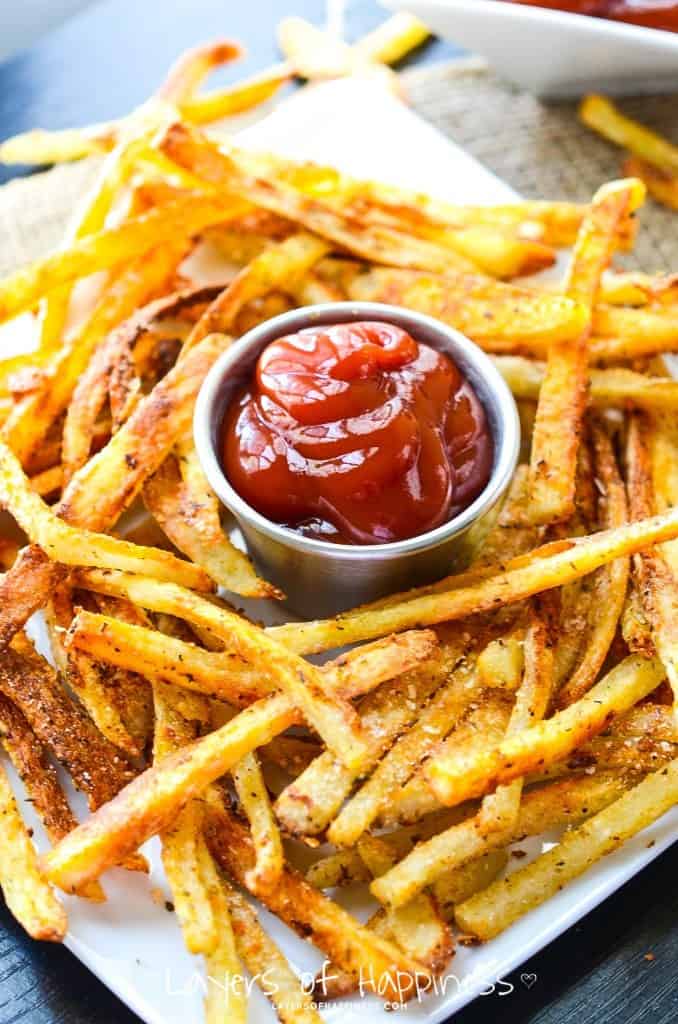 Why are my fries not crispy in the oven?
Below are a few techniques I use in this recipe to make sure the fries come out extra crispy every time…
I cut the fries pretty thin. Not shoestring-style and not too thick. I like them about 1/4 inch wide. This is big enough to keep a soft interior, but small enough to get them extra crispy.
Then I soak the raw potatoes before baking to remove some of the excess starch. Less starch = more crispiness. Starch also tends to burn easily. So removing the starch helps with burning!
Make sure you dry off the potatoes very well with paper towels.
Parchment paper is key in keeping the fries from sticking and getting the best crisp on the outside while keeping a soft inside. Using foil sometimes causes the fries to stick to the foil and then all that amazing crispiness gets stuck to the foil!
Don't overcrowd the pan. If too many fries are on a baking sheet then they'll just steam, not bake. I can normally fit the fries from 3 potatoes on a 13×18-inch jelly roll pan. I would recommend two separate baking sheets for any more potatoes. Or you can get these three-quarter baking pans!
The last trick is a double baking method. The fries are first baked in the oven at 400 degrees for 30 minutes, then baked for another 20 minutes at 425 degrees.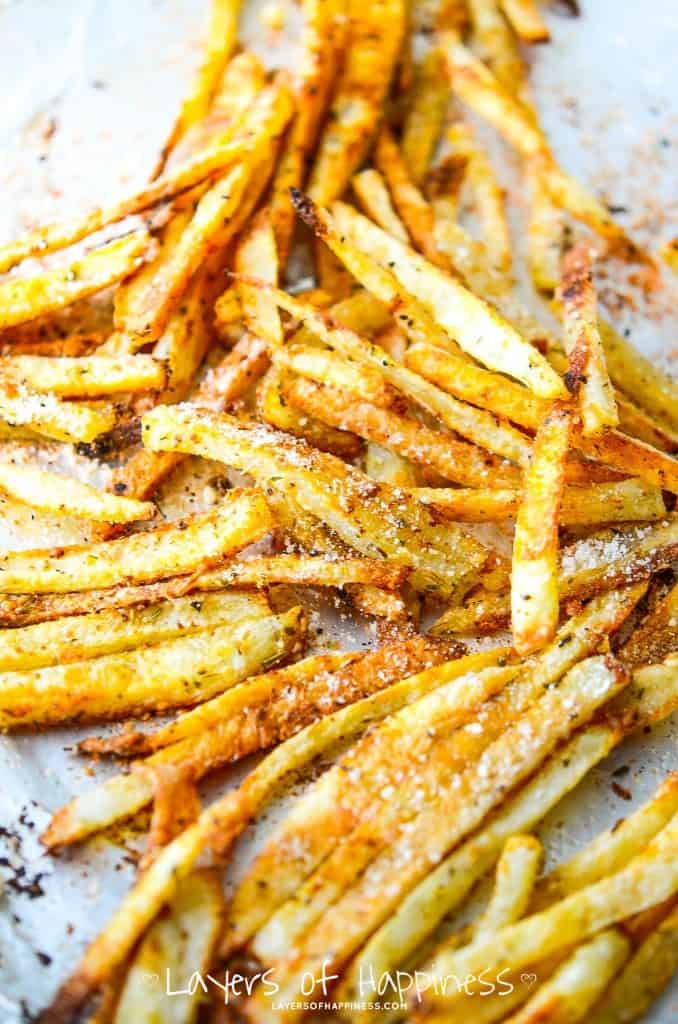 How do you make fries taste better in the oven?
Season them!!! We love the seasoning mix below for fries. But you could also toss them with some truffle salt.
What to serve with these oven baked french fries?
Steak and fries is a winning combination. Maybe some lemon parmesan asparagus on the side?
This turkey burger is also a favorite meal! Plus this watermelon salad = the best summer dinner ever.
Oven Baked French Fries
Extra crispy edges, soft centers, baked not fried and healthy! So you can feel good about eating them!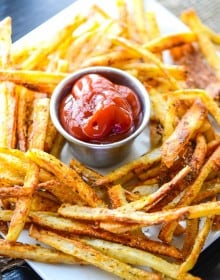 Ingredients:
Seasoning Mix (DO NOT USE ALL  OF THE SEASONING FOR ONE BATCH, READ INSTRUCTIONS):
2 Tablespoons seasoned salt
1 teaspoon chili powder
1 teaspoon dried basil
1/8 teaspoon cumin
1/8 teaspoon black pepper
For the Fries:
3 medium russet potatoes (russet are the best choice for perfect crispy fries)
1-2 Tablespoons olive oil
2 Tablespoons grated Parmesan (optional)
Directions:
Combine seasoning ingredients in a small bowl; set aside.
Wash and peel the potatoes. Cut off the ends. With a very sharp knife, cut the potatoes into thin slices about 1/4 inch wide.
Add the fries to a large bowl and cover with cold water. Allow them to soak for at least 30 minutes but they can soak for as long as overnight. (Place in the fridge if soaking more than an hour).
After the fries have soaked, drain, rinse, and lay the fries on a paper towel lined cooling rack to dry while you preheat the oven to 400 degrees. Blot the tops with additional paper towels to absorb any excess moisture.
Line a baking pan with parchment paper or foil and spray with non-stick spray. Make sure the previously used bowl is dry and add the potatoes to it, add 1-2 tablespoons of oil and 1/2 – 1 Tablespoon of the seasoning mixture based on how much salt you prefer. Toss around to mix.
Evenly line the baking pan with the fries in a single layer. Don't overlap or they fries won't cook properly. Bake for about 30 minutes, flipping with a spatula once or twice after 15 minutes of cooking. Increase heat to 425 degrees and continue baking until the edges look a little burnt!
Sprinkle the fries with the other half of the seasoning mix and Parmesan cheese (optional). Serve immediately.