July 5, 2014
How to Cut a Watermelon into Sticks
 An easy way to cut your watermelon perfectly. Great for parties, cookouts, and road trips!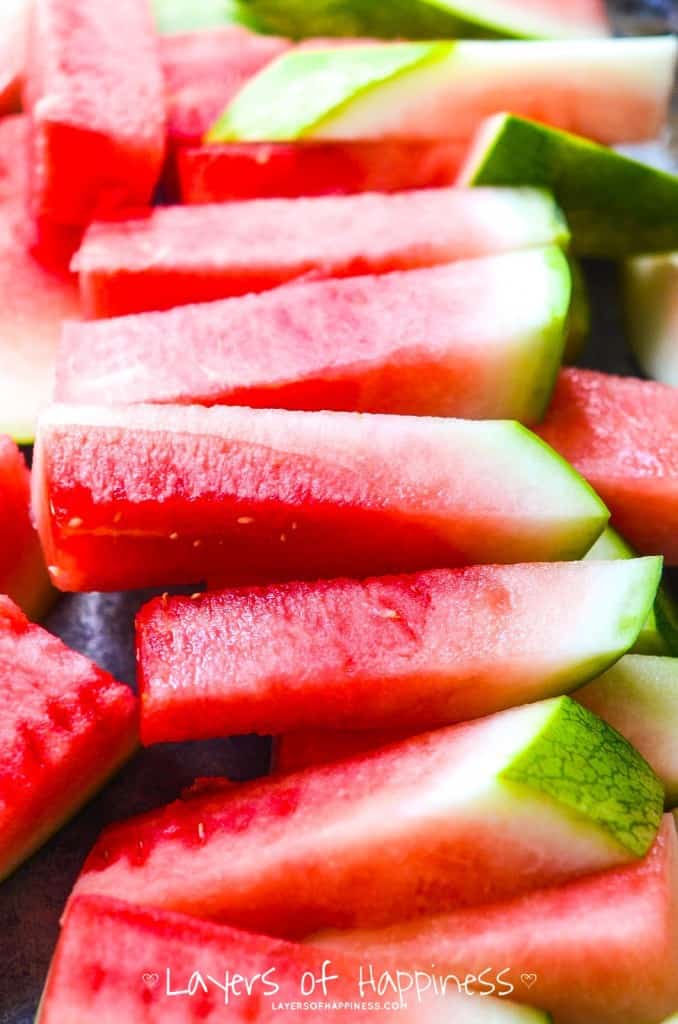 I love watermelon. But before this year I have never, ever bought a whole watermelon uncut… not even the big fat super sweet, super juicy ones that you see at the farmer's market.  Cutting up a whole watermelon has always seemed so difficult and complicated. We always just bought the pre-cut watermelon from the grocery. And we all know that pre-cut anything is never as good or fresh.
Last weekend at the farmer's market, our favorite local farmer had his first batch of watermelons of the season. We buy almost all our produce from him… tomatoes, peppers, cucumbers, and peaches, (<— !!!!) but we have never bought a watermelon… until last weekend. Mr. Sal finally convinced us to buy one of his prized watermelons because he actually showed us how to cut the watermelon into strips. We were so amazed/excited to finally conquer our watermelon fear that we bought 2 whole watermelons! We're going to be eating a lot of watermelon around here this week. 😉
It's almost embarrassing how easy cutting a watermelon this way is… I can't believe I have wait this long to figure out how to correctly (in my opinion) and easily cut one.
Watch how to here:
Below is a step-by-step picture tutorial:

See! Now isn't that so much easier than you would have expected!
There are 3 steps: Cut the watermelon in half, cut each half in 2-inch slices going across (this will leave you with the traditional half moon slices), then cut each moon slice into strips. You can cut each half-moon slice at a time, or cut multiple slices at a time.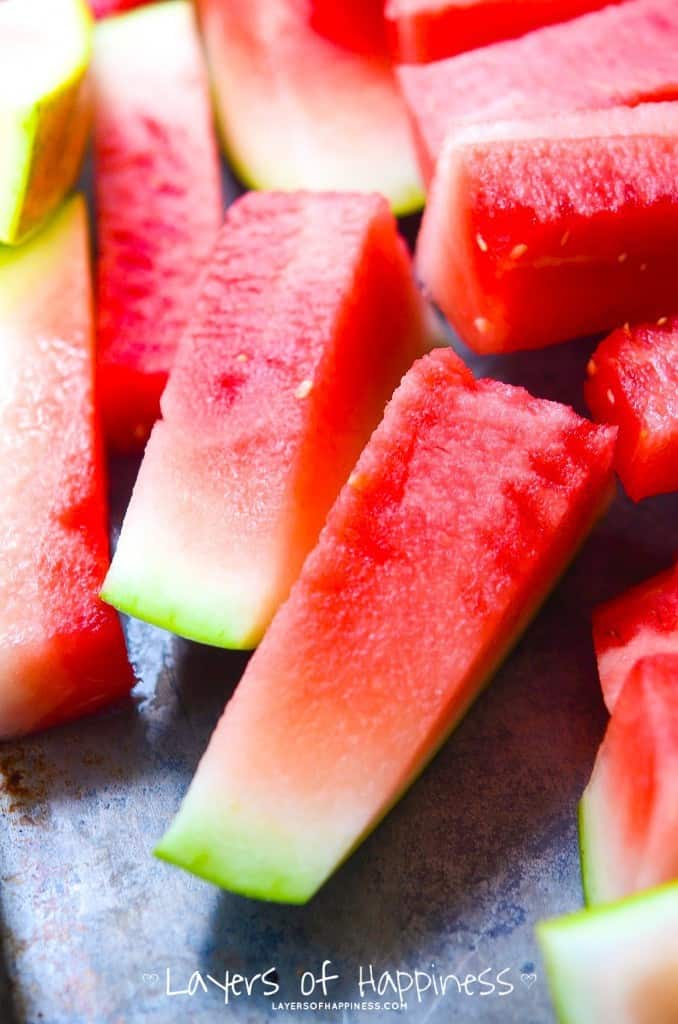 A few important things to note about cutting a watermelon…
Use a *very* sharp knife. Watermelons have a super thick skin, so in order to puncture the watermelon's outter layer, you have to use a very sharp knife. I like to start that the top and cut all the way through the watermelon, and then use that slit for leverage as I finish cutting.
Watermelons are super juicy. This is great when you are eating it, but not so great when cutting it. Make sure to cut your watermelon on a cutting board with paper towel nearby!
If your watermelon is very large, cut along the longer side on the first cut to end up with shorter sticks.
If you don't want the outer layer on your sticks, you can just cut the tops off each stick.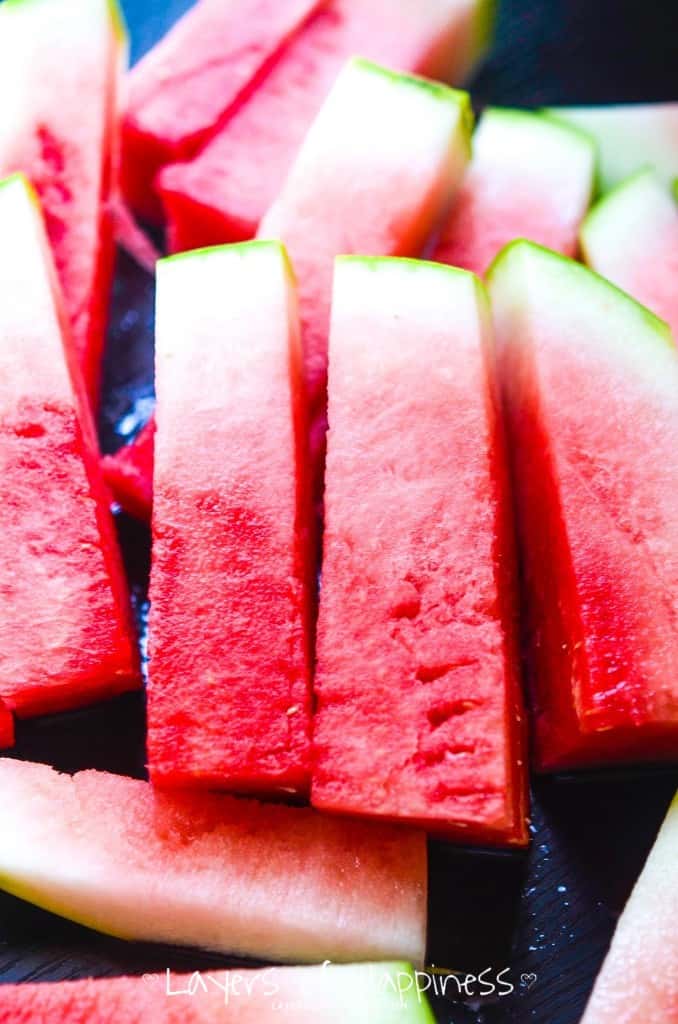 I crave watermelon this time of year. Nothing beats crisp, ice-cold watermelon on a hot summer day. Its sweet, refreshing juiciness quenches thirst, and it makes a superb post-workout snack, replenishing fluids and nutrients.
P.S. Have you tried frozen watermelon before?? It's so good!
This is definitely my new favorite way to quickly and easily cut a watermelon into neat, even sticks.
Enjoy! 🙂