October 1, 2023
Chicken Taco Salad
Chicken Taco Salad – Loaded with taco sauce, chicken thighs, pinto beans, corn salsa, and crushed up crunchy taco shells. Made in under 30 minutes and packed with flavor!
I love a taco salad. But this taco salad…. it's on another level. It has so much flavor thanks to the skillet sauce. The creamy elote corn salsa adds another level of texture and creaminess. It's so good.
What lettuce to use?
We love romaine lettuce! Shredded romaine lettuce is most commonly used on tacos. So it keeps the taco theme going.
You don't need any dressing for this chicken taco salad…
Between the skillet sauce on the chicken and the creamy elote corn… you don't need any dressing. Both are saucy enough to coat the lettuce PERFECTLY.
But if you want a dressing, I'd recommend this chipotle honey vinaigrette.
Recipe modifications
This salad is super customizable. Leave off any toppings and add anything else you like in your taco salads. Black beans, avocado, chopped tomatoes, and/or pico de gallo would all be delicious.
You can also use crushed tortilla chips instead of crushed tortilla shells.
What goes with chicken taco salad as a side?
Chips and guacamole or chips and salsa would round out this meal perfectly. Or make some Mexican rice to go on the side!
Watch the recipe video here:
Chicken Taco Salad
Loaded with taco sauce, chicken thighs, pinto beans, corn salsa, and crushed up crunchy taco shells.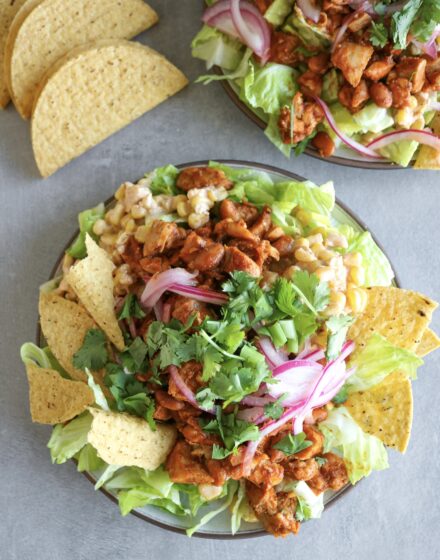 Ingredients:
CHICKEN:
1 pound boneless skinless chicken thighs
Salt and pepper
1 (14 oz) can pinto beans, drained and rinsed
1 (8 oz) package Frontera Ground Beef Taco Skillet Sauce (or 1 (10 oz) can enchilada sauce + 1 (1 oz) packet taco seasoning)
1/4 cup water
TACO SHELLS:
4-6 crunchy taco shells (more or less depending on how many chips you like in your salad)
ELOTE CORN:
1 (10 oz) packages frozen corn, thawed in the microwave
1/2 cup crumbled feta (~half a 6-oz package)
3 Tablespoons light mayo
Juice of 1 lime
3/4 teaspoon garlic powder
1/2 teaspoon chili powder
1/2 teaspoon cumin
Salt to taste
SALADS:
2 heads of romaine, thinly sliced
Pickled Onions
Cilantro (optional)
Taco Bell Mild sauce (optional)
Directions:
CHICKEN:
Heat a non-stick skillet over medium-high heat. (Add a tablespoon of olive oil if you aren't using a non-stick skillet)
Pat the chicken dry with paper towels. Season with salt and pepper.
Sear the chicken on both sides for 5-6 minutes each, or until cooked through.
Remove the chicken and dice into small pieces. Add the chicken back to the pan.
Add the Frontera skillet sauce, beans, and water. Bring it to a simmer to warm the sauce through. Don't simmer for too long because you want it saucy.
TACO SHELLS:
Bake taco shells in oven according to package instructions.
ELOTE CORN:
Mix all ingredients in a medium bowl.
SALADS:
In salad bowls, add a little shredded lettuce. Top with the chicken, elote corn, pickled onions, cilantro, and crushed taco shells
[this isn't a sponsored post, there are a few affiliate links above based on things I purchase on my own and love]