September 17, 2023
Dill Pickle Chicken Salad
Dill Pickle Chicken Salad – this is a delicious chicken salad packed with flavor! The perfect low carb meal prep lunch or an easy no-cook dinner!
I make this classic chicken salad all the time. Today I bring you another variation of chicken salad. This one is for the pickle lovers! It's modeled after my classic chicken salad but this one is loaded with diced dill pickles. And it's a little bit less sweet.
What kind of chicken is best for this dill pickle chicken salad?
You can use any kind of cooked chicken you have.
My favorite is rotisserie chicken. I've started buying a rotisserie chicken from Costco whenever I go. Then I shred it and freeze the chicken in a plastic container.. That way all I have to do is defrost it on a moments notice. When I'm ready to make the chicken salad, I chop up the rotisserie chicken into small pieces.
I have used canned chicken when I need convenience.
But if you don't have either of those, a baked/seared chicken breast works great. Or use a slow cooker to cook the chicken.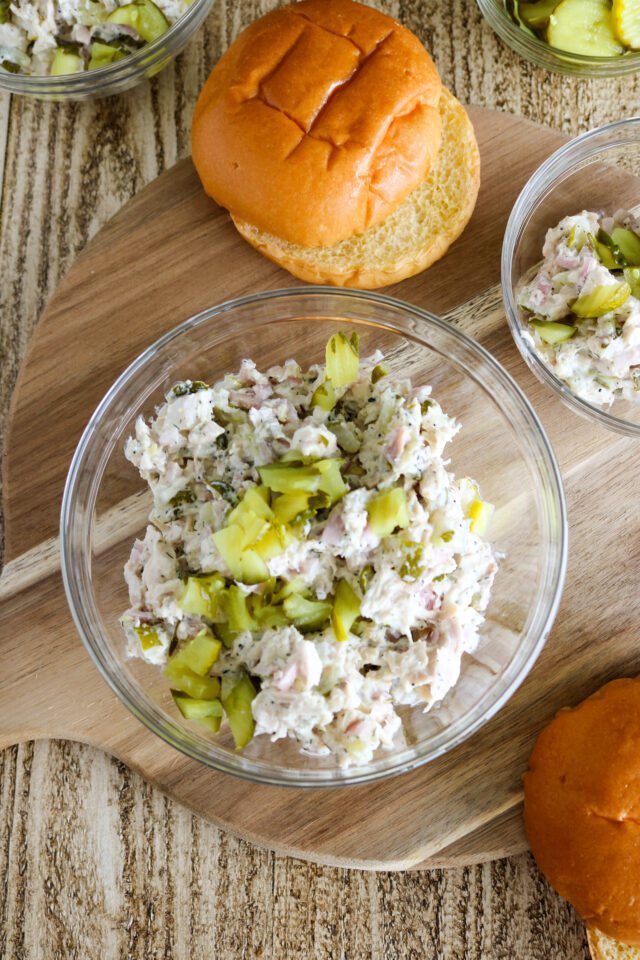 What to serve with this chicken salad?
Of course it's great on an open faced sandwich or in lettuce wraps. Sometimes I add a piece of ham. A bakery near my house serves their chicken salad sandwiches this way. The salty ham pairs great with chicken salad.
Other side options: sweet potato fries, over a kale salad, with a fruit salad, or salt and vinegar potato chips!
Dill Pickle Chicken Salad
This is a delicious chicken salad that's packed with flavor! The perfect low carb meal prep lunch or an easy no-cook dinner!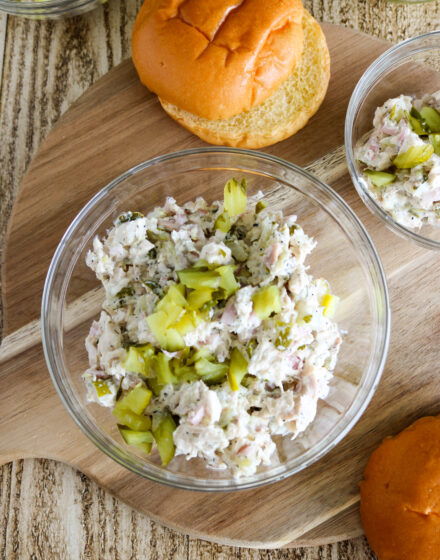 Ingredients:
1 lb cooked and finely chopped chicken breast or rotisserie chicken, (about 2-3 cups or 2 (12.5 oz) cans of chicken)
1/2 cup non-fat greek yogurt (or mayo)
1/4 cup mayo
2 teaspoons dijon mustard
1 1/2 cups diced dill pickle slices (my favorite are from Aldi)
1/2 cup chopped pickled onions (or green onions)
1 teaspoon dried dill
1 teaspoon everything bagel seasoning (or ranch seasoning)
1/2 teaspoon pepper
Directions:
Cut the chicken into very small cubes and roughly chop even smaller, if using rotisserie chicken or chicken breasts.
Add the chicken and remaining ingredients to a large bowl. Mix with a spatula until the mayo/yogurt/spices are evenly distributed.
Refrigerate until ready to eat.