September 10, 2023
Everything Bagel Breakfast Sandwich
Everything Bagel Breakfast Sandwich – inspired by the NYC O'Bagel Bee Sting! Loaded with scrambled eggs, cheddar cheese, bacon, scallion cream cheese, & hot honey!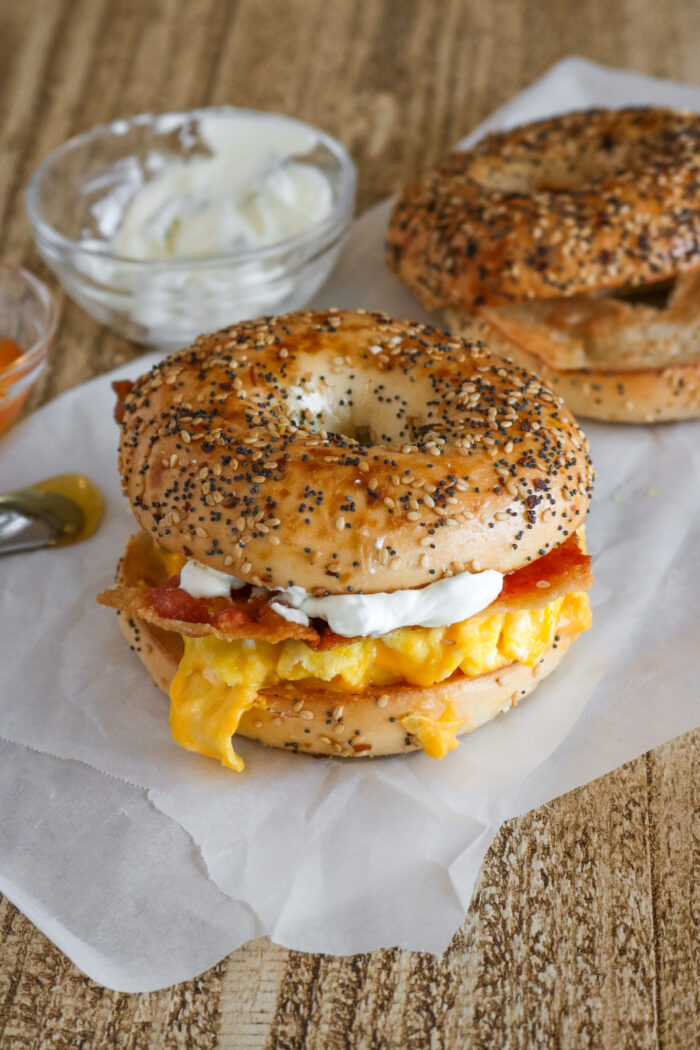 This is our favorite breakfast sandwich ever. It's easy. It's loaded with flavor. And it's the perfect brunch.
I saw O'Bagel making their "bee sting bagel" on TikTok. It's one of their most popular items on the menu. So I knew I had to try it. And it did not disappoint.
The bee sting is made on an everything bagel. Then it's loaded with scrambled eggs, cheese, bacon, scallion cream cheese, and hot honey.
Bagel sandwiches either have cream cheese or egg/cheese/bacon. But this sandwich has both. It sounds weird. But trust me it definitely works.
And the best part: It's easy to put together.
When making the everything bagel breakfast sandwich…
I like to scoop out the top of the bagel so the cream cheese has a moat to sit in. This prevents the cream cheese from spilling out of the bagel on the first bite.
Kraft American cheese slices are always my cheese of choice for breakfast sandwiches. But you can use whatever cheese you prefer.
Hot honey or regular honey works!
You can buy the scallion cream cheese or make it yourself. The homemade version is 8 ounces of whipped cream cheese mixed with 3/4 cup of sliced scallions
A plain bagel also works. But I definitely prefer the everything bagels. Everything seasoning adds so much flavor to the sandwich.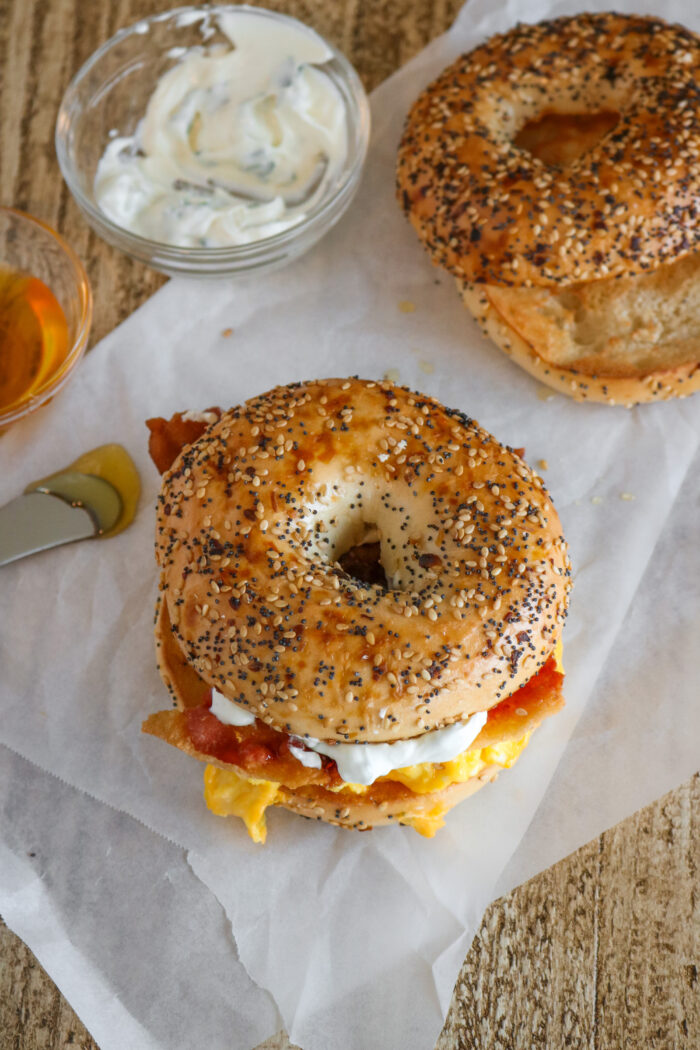 Other favorite & easy brunch recipes:
Cinnamon sugar biscuits use canned biscuit dough. And they are incredible!!
These are our favorite waffles.
And these blueberry jam muffins are a family favorite!
Watch recipe video here:
Everything Bagel Breakfast Sandwich
Inspired by the O'Bagel Bee Sting! Loaded with scrambled eggs, cheddar cheese, bacon, scallion cream cheese, & hot honey!
Ingredients:
Scallion Cream Cheese (enough to make 4 bagels):
8 ounces whipped cream cheese
3/4 cup sliced scallions (about one bunch)
Bagel Sandwich (makes 1):
1 everything bagel, toasted
2 eggs
2 slices American cheese
2 slices bacon, cooked and broken in half
4 Tablespoons cream cheese
1 Tablespoon hot honey or regular honey
Directions:
For the scallion cream cheese:
In a medium bowl, combine the cream cheese and scallion, until scallions are evenly distributed.
For the bagel:
Heat a large non-stick skillet over medium heat. Spray with olive oil and pour in scrambled eggs. Let cook in a flat layer until the edges start to peel up. Place 2 slices of cheese in the middle and fold the eggs over onto the cheese so it's a square with the cheese in the middle.
Transfer the eggs to the bottom half of the bagel. Top with bacon and honey.
Scoop out the inside of the top bagel so you have a moat to put the cream cheese so it won't spill out. Spread the scallion cream cheese into the hollow part of the bagel. Sandwich the two bagel halves together and serve.