June 4, 2023
Strawberry Goat Cheese Salad
This Strawberry Goat Cheese Salad is the perfect summer salad! Made with fresh strawberries, cucumbers, crumbled goat cheese, and more!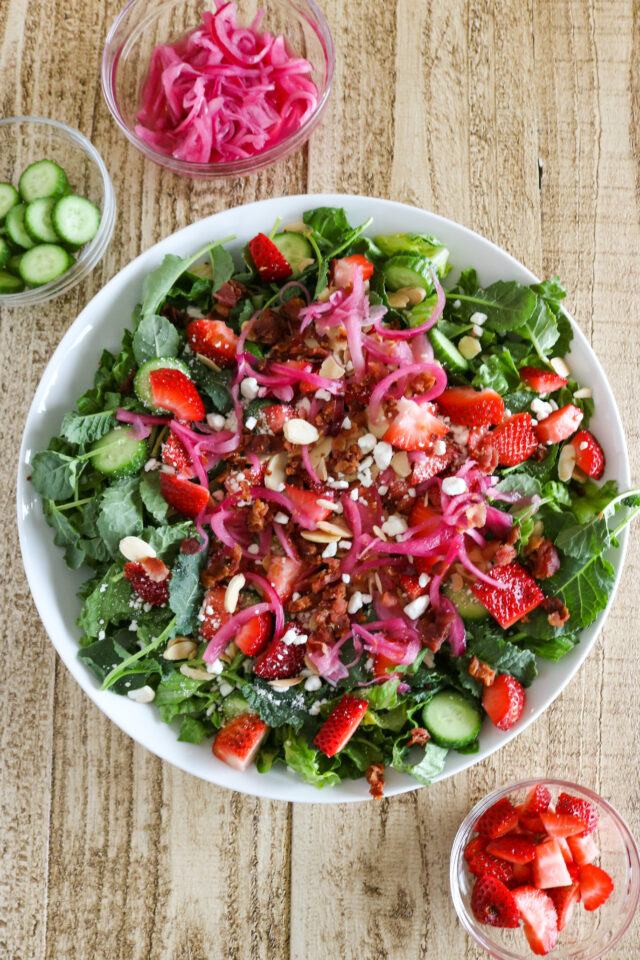 This salad screams summer. It's bright and colorful. Light and fresh. Sweet and salty. It's perfect.
This salad has the perfect balance of salty and sweet
Sometimes using too many fruits in a salad can make it too sweet. Almost like a dessert salad.
To prevent that – I only used one kind of fruit in this salad. This way the salad had a little sweetness for summer. But not an overwhelming amount of sweetness.
I did strawberries in this salad. Then I paired it with pickled red onions, cucumbers, and crumbled bacon to cut the sweetness. The cucumbers and strawberries aren't a common pairing. The juicy sweetness from the strawberries works so well with the crunchy and coolness of the cucumbers. The salty bacon and the tart pickled onions bring more flavor profiles to balance it all out.
Poppyseed dressing can also be too sweet. I added lemon to the dressing to cut the sweetness.
The result of all of the above is the most well-rounded, addicting salad ever!
I highly recommend using goat cheese in this salad
I love crumbled goat cheese in a strawberry salad. Fruit pairs so well with goat cheese. Specifically strawberries.
But you can use crumbled feta if goat cheese isn't your thing. Or leave the cheese out.
Other recipe substitutions
Lettuce – I typically use some combination of romaine, kale, and/or arugula in this salad. But you can also use spinach, arugula, or spring mix.
Pickled onions – I love the pickled onions in salads. But you can use thinly sliced red onions if you don't have time to make pickled onions.
Bacon – Leave the bacon out of this salad if you want this salad to be vegetarian.
Cucumbers – I prefer baby cucumbers in salads because the skin isn't as thick. So it's more enjoyable to eat as opposed to the tougher skin on regular cucumbers. I also like all of the ingredients in a salad to be the same size. So baby cucumbers automatically come in bite sized slices.
Lemon Poppyseed Vinaigrette – I'm obsessed with this dressing. But you can get a store-bought vinaigrette to make the prep time easier!
What to serve with this strawberry cucumber salad?
My dream late spring dinner party menu is this salad with grilled chicken, lemon parmesan asparagus, and roasted potatoes like these (or frozen works too!).
This cajun salmon or baked blackened salmon would be delicious!
It would also be great with steak or burgers!
Watch the recipe video here:
Strawberry Goat Cheese Salad
This is the perfect summer salad! Serve with grilled chicken or steak for an easy meal!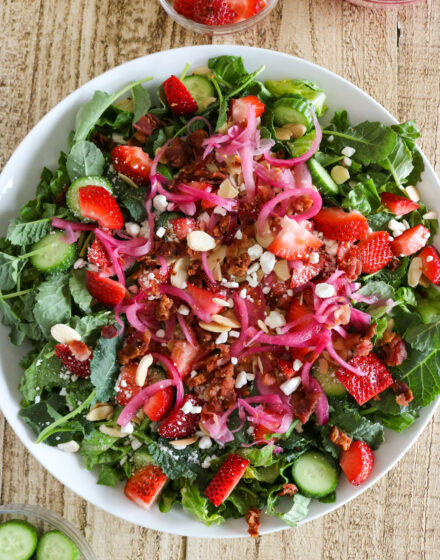 Ingredients:
LEMON POPPYSEED VINAIGRETTE:
1/4 cup lemon juice (about 2 lemons)
3 Tablespoons honey
1 teaspoon dijon mustard
1 shallot, finely chopped (or 1/4 of a red onion)
1 1/2 teaspoons poppy seeds
3 Tablespoons extra virgin olive oil
STRAWBERRY SALAD:
6-8 cups greens (romaine, baby kale, arugula, or spring mix)
8-10 strawberries, quartered (~1 1/2 cups)
1-2 mini cucumbers, thinly sliced
8-10 slices bacon, cut with scissors into small pieces and cooked in the microwave
1/2 cup pickled onions
1/4 cup crumbled goat cheese
1/4 cup sliced, toasted almonds
Directions:
LEMON POPPYSEED VINAIGRETTE:
In a small bowl, whisk together lemon juice, honey, dijon, shallot, and poppyseeds. Stream in the olive oil while constantly whisking until the dressing comes together.
STRAWBERRY SALAD:
In a large salad bowl, add the green and top with remaining ingredients. Drizzle on the vinaigrette and toss well.