May 14, 2023
Baked Blackened Salmon
This Baked Blackened Salmon recipe is the most flavorful weeknight dinner ever. Filets of salmon are laid on a bed of lemon slices. Topped with dijon mustard + a homemade blackening seasoning. And baked to perfection in the oven.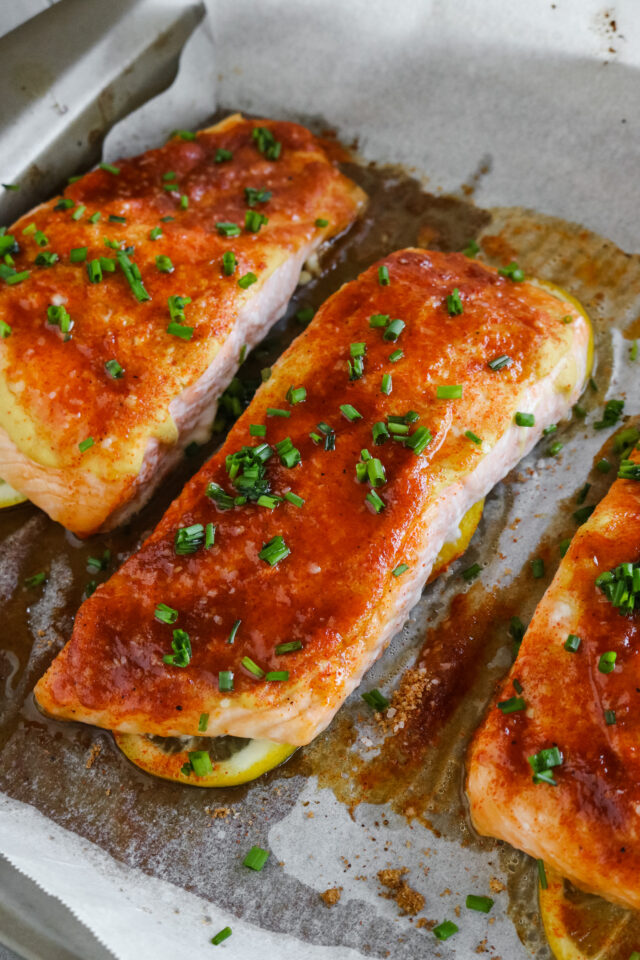 Oven baked blackened salmon results in tender, buttery, flaky, flavorful salmon.
The whole recipe can be made in 20 minutes. And there's no marinade required. So this is one of the easiest and most enjoyable weeknight meals to make.
For salmon recipes, I prefer Atlantic salmon. Atlantic Salmon has a more mild fish flavor compared to Alaskan salmon. But any kind of salmon will work for this recipe. Use the kind you love!
Flavor comes from the top and bottom
The salmon gets laid on a bed of lemon slices. Then topped with dijon mustard and a homemade blackened seasoning. That way you get flavoring on the top and bottom of the salmon.
You can use a cedar plank instead of lemons on the bottom
I also make this recipe by baking and grilling with a cedar plank on the bottom.
You can order cedar planks on Amazon. But I can often find them in my local grocery store too!
Put the cedar plank onto a baking sheet. Fill with water and put a mug on top of the cedar plank to make sure the cedar plank is submerged. Drain the water from the baking sheet. Top with dijion mustard and then the brown sugar mixture!
To bake, bake the salmon on the cedar planks with the same instructions in this recipe.
To grill the cedar plank salmon, Preheat the grill to 350-400 degrees. Turn off one burner and put the cedar plank on the No burner area so it's over indirect heat. Close the grill and cook for 15-18 minutes or until the salmon is fully cooked through (you can cut the salmon in half to make sure it's not opaque). You want to keep the grill closed as much as possible so the heat stays in and it gets cooked! Remove from the grill and serve!
Typically blackened salmon is pan fried, but I prefer baking it
Baking it's so much easier than pan frying.
Easier to clean up. Because you don't have any oil splatters to clean up.
And it's easier to control the heat.
And easier because baking allows you to cook all of the salmon at once. So you don't have to cook in batches.
Why bake the salmon at 425 degrees?
425 degrees the perfect temperature to make sure the homemade blackened seasoning and dijon mustard caramelize. You want the two to meld together so it forms one coating. Almost like a crust.
What to do with the leftovers?
Turn them into tacos! Blackened salmon tacos are absolutely incredible. Flake the leftover salmon and use this recipe with the avocado salsa!
You could also put it on top of a salad. A salmon caesar salad would be delicious.
What to serve with this blackened salmon recipe?
Honey Roasted Carrots – you can skip the basil goat cheese sauce to make it easier.
Lemon parmesan asparagus and our house salad.
Or this rice pilaf with arugula pesto!
Watch the recipe video here:
Baked Blackened Salmon
The most flavorful weeknight dinner ever.
Ingredients:
SALMON BASE
1 lemon, thinly sliced
2 pieces Atlantic salmon
3 Tablespoons Dijon mustard
BROWN SUGAR TOPPING:
2 Tablespoons brown sugar
3/4 teaspoon salt
1/2 teaspoon smoked paprika
1/2 teaspoon garlic powder
(optional) chives or parsley, for topping
Directions:
Preheat the oven to 425 degrees.
Line a rimmed baking sheet with parchment paper. Lay 3 lemon slices in a single row for each piece of salmon.
Place each piece of salmon on top of the lemon bed. Check for fish bones and remove with fish tweezers.
Brush the top of the filets generously with dijon mustard.
In a bowl, whisk together the brown sugar topping ingredients.
Sprinkle the spices on top of the mustard. Make sure to cover the salmon all over.
Bake for 15-18 minutes, or until the salmon is no longer opaque in the middle. Top with fresh parsley and chives if desired.