February 3, 2014
Microwave Fudge Without Condensed Milk
Microwave Fudge Without Condensed Milk – absolutely delicious, made with 5 ingredients, and no fancy equipment required!!!
This fudge is unbelievably easy!
It's perfect if you get a craving for fudge and don't have the time to wait. Or you don't have a candy thermometer. Or if the stove version of making fudge is little bit overwhelming!
Here are the ingredients:
Butter
Vanilla
Salt
Powdered Sugar
Chopped Walnuts – you can leave out the nuts if you prefer!
How do you make microwave fudge without sweetened condensed milk?
The nutella acts as the binder to replace the sweetened condensed milk!
You don't need a candy thermometer or a stove. All you need is a microwave and a bowl.
Melt the butter and Nutella together in the microwave. When it comes out, stir in the salt, vanilla, and powdered sugar. Turn it out into a dish lined with foil, refrigerate it and BAM you're done!
Other things you could add to the fudge…
Stir in some peanut butter to the top! Or salted caramel!
Add some white chocolate chips at the end.
Top with flaky sea salt for a salt-sweet combo!
Other chocolate recipes to try…
Chocolate ganache cheesecake is a chocolate lovers dream.
Chocolate granola is the perfect way to consume chocolate for breakfast.
And this crockpot hot chocolate is out of this world!
Microwave Fudge Without Condensed Milk
Absolutely delicious, made with 5 ingredients, and no fancy equipment required!!!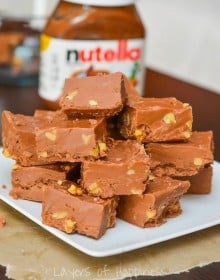 Ingredients:
1 cup Nutella
1 cup (2 sticks) butter, salted
1 teaspoon vanilla extract
1/4 teaspoon salt
4 cups confectioners' sugar, sifted
3/4 cup walnuts, chopped
Directions:
Line an 8-inch square baking pan with aluminum foil. Make sure there is extra foil sticking out on the sides to lift the finished fudge out.
Melt the Nutella and butter together in a large bowl. Stop the microwave and stir the mixture every minute until completely melted and smooth. Remove from the microwave and stir in the vanilla and salt using a large rubber spatula.
Add the sifted confectioners' sugar and stir until completely combined. Make sure you sift the powdered sugar or the fudge will not end up as firm as it should be. The mixture is very, very thick and resembles cookie dough. If using walnuts, fold them in at this point.
Press the fudge into prepared baking pan, smoothing the top with the back of a spatula. The top will be somewhat oily. Refrigerate for at least 4 hours or until the bottom of the dish is no long warm and the fudge is firm to touch. Cut into small pieces.
Store fudge in an airtight container in the refrigerator for up to 1 week.