October 8, 2023
Halloween Muddy Buddies
Halloween Muddy Buddies – inspired by Target's Harvest Scarecrow Crunch Trail Mix. The perfect snack mix for Halloween, a fall tailgate, or a scary movie night!
I love muddy buddies. But this muddy buddies recipe is on another level!!
This muddy buddy recipe is made with Nutella instead of peanut butter
Typically buddy buddies are made with semi-sweet chocolate chips melted together with peanut butter.
But this recipe doesn't have peanut butter in the chocolate mixture.
I do nutella and butter as the chocolate mixture instead. I think it tastes better when the chocolate mixture is just chocolate. Then I add in peanut flavor with peanuts and Reese's pieces. This helps get the same flavor but with more variety and texture!
Plus Reese's pieces are always fall colored. So you don't have to hope your grocery store has the seasonal packages to be festive.
Recipe modifications
I like to use honey nut chex cereal instead of rice chex cereal. The honey nut chex stays crunchier and has more flavor than the rice chex. But you could use rice chex is you prefer!
If you want to make this halloween snack mix even more festive, you could mix in candy eyeballs or candy eyes
If you want to make this recipe even easier, you can use store bought muddy buddies instead of making your own. Combine the store bought muddy buddies with peanuts, Reese's pieces, and marshmallows!
Can you make these Halloween Muddy Buddies ahead of time?
This is best the day of if you are serving this at room temperature to a crowd! But you can make this a day ahead of time if needed.
If this is for personal consumption, I like to store this in the freezer to make it extra crunchy and last longer!
Halloween Muddy Buddies
Inspired by Target's Harvest Scarecrow Crunch Trail Mix. It's the perfect snack mix for Halloween, a fall tailgate, or a scary movie night!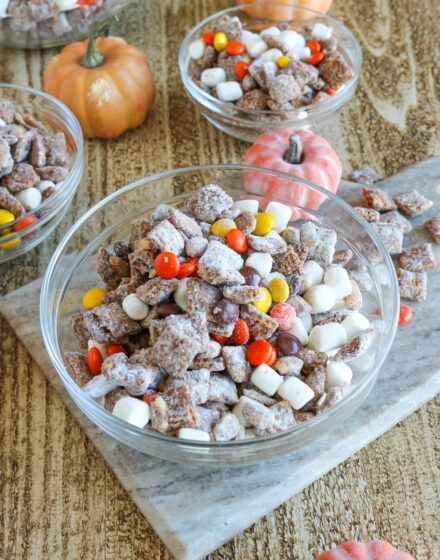 Ingredients:
1/2 cup (1 stick) unsalted butter, cut into 1 Tablespoon pieces
1 cup Nutella /(~ one 13 oz container)
3/4 teaspoon sea salt
1 cup dry roasted & salted peanuts
1 (12.5 oz) box Honey Nut Corn Chex cereal (About 8 cups)
2 1/2 cups powdered sugar, or more depending on preference
2 cups mini marshmallows
3/4 cup Reeses pieces (one 8 oz package)
Directions:
In a large bowl, add the butter and nutella. Microwave for 15 second intervals. Stir in between each one until the butter is melted and combined.
Add the chex cereal and peanuts to the bowl. Fold into the chocolate with a rubber spatula until the chocolate nutella mixture evenly coats all of the cereal.
Add the powdered sugar to the bowl and toss gently with a rubber spatula or your hands until the powdered sugar evenly coats the cereal and peanuts.
Let cool for 5 minutes so the heat of the chocolate doesn't melt the marshmallows. Once cooled, toss in the marshmallows and Reese pieces.
Serve immediately! Or store in an airtight container.