October 15, 2023
Cauliflower Mash Recipe
Cauliflower Mash Recipe – Made with cauliflower, chicken broth, gruyere, parmesan, and fresh chives. Healthier, easier, and lower carb than mashed potatoes!
This is the best fall side dish!!
My family prefers this creamy mashed cauliflower over regular mashed potatoes (!!!!!) And I do too!! I love mashed potatoes. But honestly, this is just as satisfying and taste just as good. And they are way healthier.
The best part: they are easier than mashed potatoes too!!!
Should I use cauliflower florets or cauliflower rice?
I recommend using cauliflower florets! Cauliflower rice absorbs too much water. So you won't get the same creaminess as you do if you use cauliflower florets.
What does mashed cauliflower taste like?
Cauliflower makes it a little bit lighter than potatoes. But the creaminess and flavoring can be spot on if you have the right ingredients and tools.
I use a Vitamix blender to get the cauliflower into a puree. A high powered blender makes the creamiest, smoothest texture ever. Then you mix parmesan and gruyere into it. The cheese combo gives a little extra decadence and so much flavor. It's heavenly.
Can you make this creamy mashed ahead of time?
Yes! You actually can. I make them ahead almost every time I make these. Make it in the morning of or the day before. Then reheat them in the microwave just before eating.
Can you freeze it?
Yes! I have frozen it before and can confirm it works. It does loose a bit of the cheese pull when frozen and reheated versus when freshly made. But I've prepped a bunch and frozen it before. I put in tupperware with chicken for easy meals. Then reheat in the microwave. It's great!
What to serve with this cauliflower mash recipe?
This would be amazing as a healthier Thanksgiving side!
It would also be incredible with these spicy baked chicken tenders. Or homemade chicken fingers.
If you're looking for a seafood option – almond crusted salmon or almond crusted tilapia would be great choices.

Cauliflower Mash Recipe
The BEST & creamiest mashed cauliflower ever! Healthier, easier, and lower carb than mashed potatoes!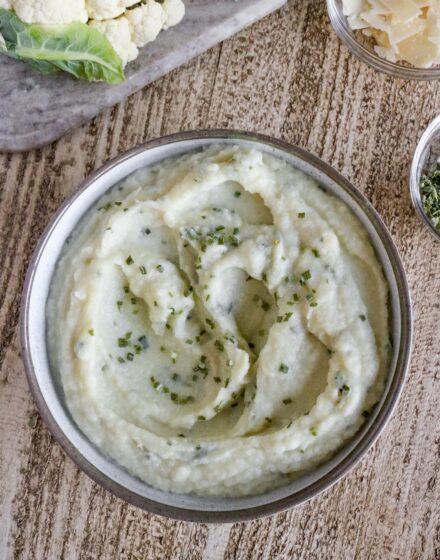 Ingredients:
3 cauliflower heads, broken/cut into florets
1 (32 oz) container chicken broth
1/2 cup shaved Parmesan cheese
1/2 cup shredded gruyere cheese
1/4 cup chopped fresh chives (about 1 package)
1 teaspoon salt
Directions:
Add the cauliflower and chicken broth to a large pot and bring to a boil.
Reduce heat to low and cover the pot. Cook for 10-15 minutes, or until the cauliflower is tender enough to be broken with a fork.
Use a slotted spoon to strain the chicken broth and transfer the cauliflower to a blender. (I do the cauliflower in 2 batches so my blender doesn't over heat.)
Blend on low speed until the cauliflower is smooth and creamy (takes ~ 3 minutes).
Transfer all of the cauliflower to a shallow dish and stir in the parmesan, gruyere, chives, and salt. Keep folding until the cheese is fully melted. Top with extra chives.
Nutritional Facts: 158 calories per serving
[this isn't a sponsored post, there are a few affiliate links above based on things I purchase on my own and love]