March 10, 2016
Cheesecake Factory Vegan Cobb Salad (Copycat!)
Cheesecake Factory Vegan Cobb Salad – Copycat recipe! Loaded with lots of vegetables, garbanzo beans, quinoa, & nuts. Super easy, fresh, and filling!
This salad from Cheesecake Factory is one of my favorite salads of all time.
It's loaded with so many vegetables. The color and flavor and texture in this salad is out of this world.
Recipe modifications:
Add or leave off whatever vegetables you like/don't like.
But I do encourage you to try golden beets! I don't love beets. But golden beets have a much less dirty flavor to them.
Roasted sweet potatoes would be great in this salad too.
You can use store bought dressing instead of making your own.
I know it's a vegan salad – but it's so good topped with salmon or grilled chicken!
Can you make this ahead of time?
You can make the dressing a few days ahead of time.
For the salad, I would prep all the vegetables. But I wouldn't dress the salad until you are ready to serve it!
What to serve with this Cheesecake Factory Vegan Cobb Salad:
This would make the best addition to your Easter table. Make some ham. With this asparagus. And hashbrown casserole. Finished with some carrot cake or Easter egg cupcakes for dessert. YUM.
Cheesecake Factory Vegan Cobb Salad (Copycat!)
Loaded with lots of vegetables, garbanzo beans, quinoa, & nuts! Super easy, fresh, and filling!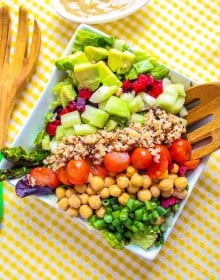 Ingredients:
For the salad:
Romaine Lettuce (2 to 3 heads cut Romaine)
4 grilled asparagus spears, cut
3/4 cup green beans, cut
1/2 cup cubed roasted golden beets (can buy at Whole Foods or somewhere similar)
1/2 avocado, cubed
1 cup cucumber, peeled and cubed
1 cup cherry tomatoes, cut in half
3/4 cup garbanzo beans, rinsed
1/4 cup cooked quinoa (Far East – Rosemary Olive Oil)
3 tablespoons slivered almonds
sunflower seeds to sprinkle on top
cracked pepper – optional
For the Dressing:
1/4 cup champagne vinegar
1/2 cup extra virgin olive oil
2 tablespoons dijon Mustard
1 garlic clove, finely chopped
1 tablespoon fresh lemon juice
1 tablespoon agave nectar
1/2 teaspoon salt
1/2 teaspoon freshly ground black pepper
Directions:
Place cut romaine lettuce in a salad bowl.
Mix the quinoa with the slivered almonds.
Top the greens with the vegetables, quinoa, nuts, and chickpeas.
Combine all salad dressing ingredients in a bowl and thoroughly whisk together.  You can blend them in a blender for a 20 seconds if you have one.
Pour desired amount of dressing over salad.
[this isn't a sponsored post, there are a few affiliate links above based on things I purchase on my own and love]