March 8, 2016
Honey Lime Chicken Enchilada Stuffed Peppers
These Honey Lime Chicken Enchilada Stuffed Peppers can be made with or without meat – all with simple pantry ingredients and minimal prep!
It's the best Tuesday in all the Tuesday's.
Er, what? Tuesday and best in the same sentence? I know, but I have my reasons.
Let's just pause for a second and add these honey lime chicken enchilada stuffed peppers into the picture of your day and maybe you might see what I mean by "best" Tuesday…
These Honey Lime Chicken Enchilada Stuffed Peppers topped with cilantro, Pepperjack cheese, sour cream, and avocado are making Tuesday dinners everywhere just a little more wonderful.
The stuffed pepper.
It's a beautiful thing, no?
You can top them with all your favorite things in the worrrrrld, which makes them ultra pretty for something that's coming from a weeknight meal.
The nutrition factor here is right on! Protein, fiber, and veggies, oh my. If you want to get extra-healthy, just omit or reduce the cheese – we'll all cry a few tears for you, but you just go ahead and do what you want to do, friend.
So bring it on, Tuesday! I feel good about this one.
Honey Lime Chicken Enchilada Stuffed Peppers
These Honey Lime Chicken Enchilada Stuffed Peppers can be made with or without meat – all with simple pantry ingredients and minimal prep!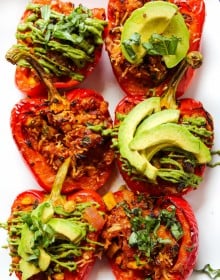 Ingredients:
4 chicken breasts (1 1/2 pounds) or 3-4 cups shredded rotisserie chicken
1/3 cup honey
1/2 cup lime juice
1 tablespoon chili powder
½ teaspoon smoked paprika
½ teaspoon cumin
1 teaspoon chipotle powder
1 teaspoon onion powder
1 teaspoon garlic powder
½ teaspoon salt
¼ teaspoon black pepper
1 16 oz. bottle salsa verde
4 bell peppers
(optional) 3 cups Pepper Jack cheese, shredded
(optional) 2 cups Monterey Jack Cheese, shredded (optional for EXTRA cheesiness)
Directions:
To cook the chicken, heat 1 tablespoon of olive oil in a large nonstick pan over medium-high heat. Add the chicken and sear for 3-5 minutes until golden brown. Flip and add 1 cup water (or chicken broth) to skillet and reduce to low. Let steam until chicken is cooked through and tender enough to shred, about 15 minutes. If the water evaporates too quickly, add more to cover the bottom of the pan. Remove chicken and let rest.
In the bottom of a large bowl, whisk together marinade ingredients. Add chicken to bowl and shred with two forks or with your fingers. Stir chicken to evenly distribute marinade and let sit for 10 minutes.
While chicken is marinading, preheat oven to 350 degrees and grease a 9×13-inch baking dish. You may need an extra baking dish if all bell peppers don't fit.
Remove and discard the tops, seeds, and membranes of the bell peppers. Arrange peppers in a baking dish with the hollowed sides facing upward. (Slice the bottoms of the peppers if necessary so that they will stand upright.)
After 10 minutes, remove chicken with a slotted spoon to a plate and add the salsa verde to the marinade. Whisk to combine marinade and salsa verde. Set aside.
Assemble peppers:
Evenly distribute pepper jack cheese in the bottom of each pepper. Scoop 1/2 cup of the chicken into each pepper, spoon 2-3 tablespoons sauce over each pepper, and top with monterey jack cheese if desired. Pour remain sauce in the bottom of the baking dish and bake uncovered for about 1 hour, or until peppers are tender.