October 4, 2014
The Best Vegetable Curry Ever
Vegetarian cooking in India is healthy, delicious, easy and so flavorful!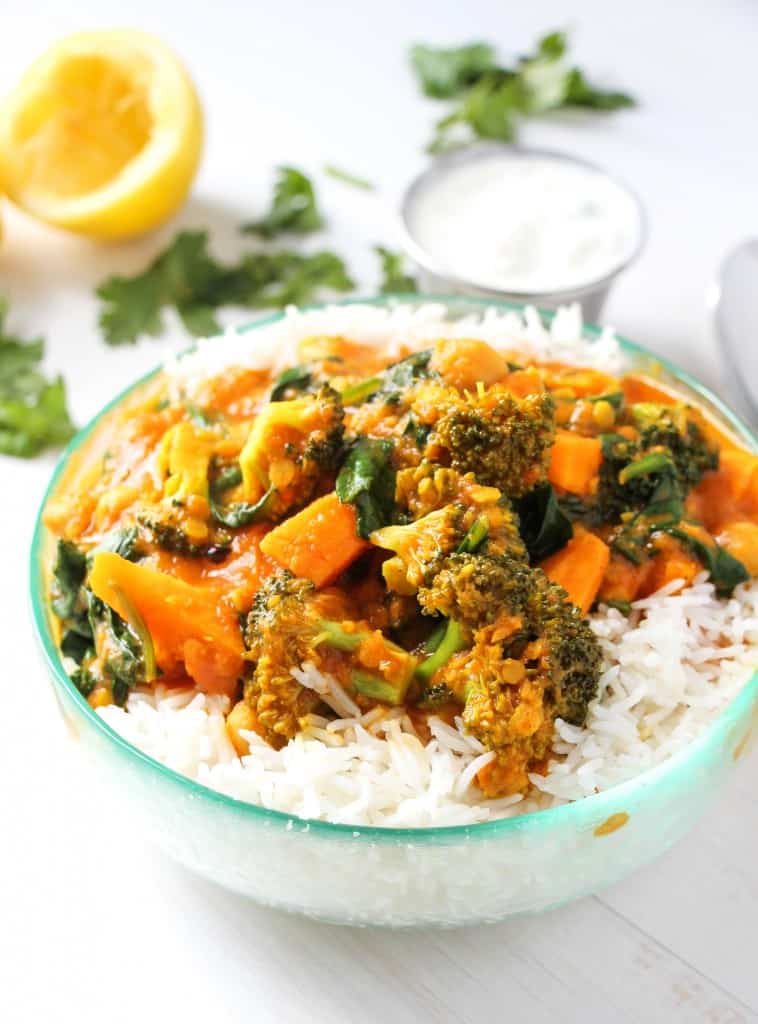 If you eat Indian food you know just how delicious their vegetarian dishes are!  If you haven't ventured into Indian or maybe just haven't made Indian food for yourself at home, this is the perfect dish to start with.  You have probably heard me say this before…..Indian is my very favorite ethnic food.  I literally think I could eat it every single day!
It is so healthy and there are so many vegetarian meal options…. Yeah!  Love vegetarian dinners!  If you do Meatless Mondays at your house this would be the perfect dish to have.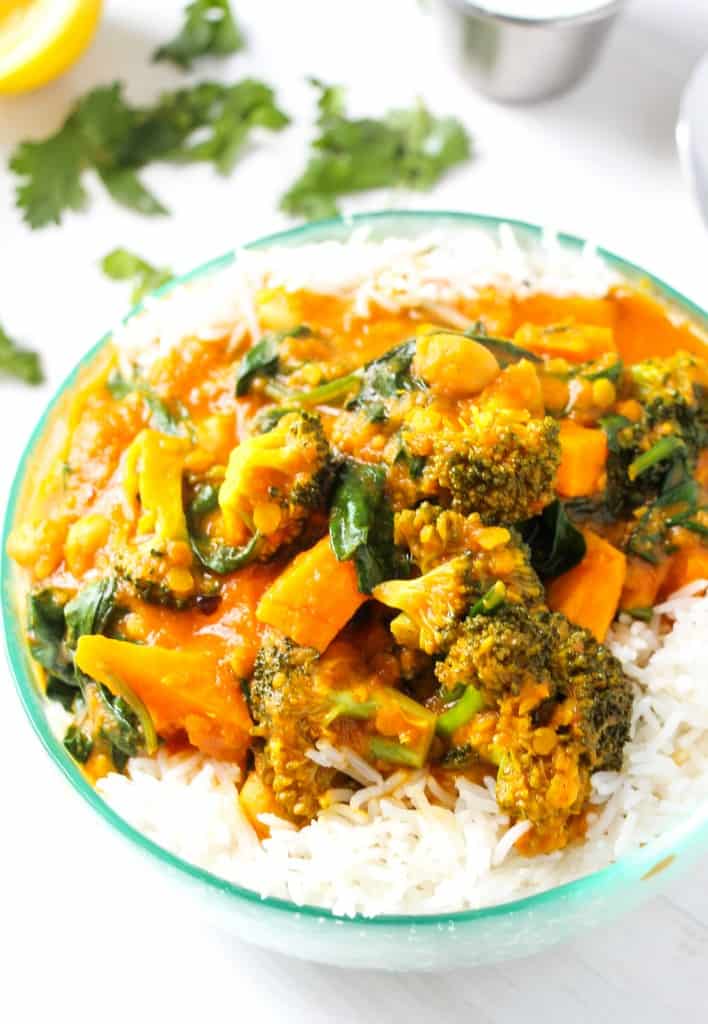 I suggest serving it with Basmati rice and some Raita (yogurt sauce)…..or you can just eat it by itself as a side dish.
If you would like to make your own Raita mix the following together:
1/2 cup plain yogurt
1/2 cup chopped seeded cucumber (English cucumbers are the best)
2 tablespoons chopped fresh cilantro
2 teaspoons chopped green onions
1/4 teaspoon ground coriander
1/4 teaspoon ground cumin
1/4 teaspoon garlic
If you want a quick fix for Basmati rice try Trader Joe's froze Basmati rice…..all of their frozen rice is AWESOME!!!  And so is their Naan 🙂
There are lots of variations to the vegetables you can do with this dish….just about any vegetable works.  Switch it up if you like and let us know what you used and how you liked it if you do something different – we love hearing from you.
Eating Indian Food takes me back to one of the best trips of my life!  It was life changing in so many ways and I hope I get to go back some day………until then I'll keep eating Indian food to bring back the memories <3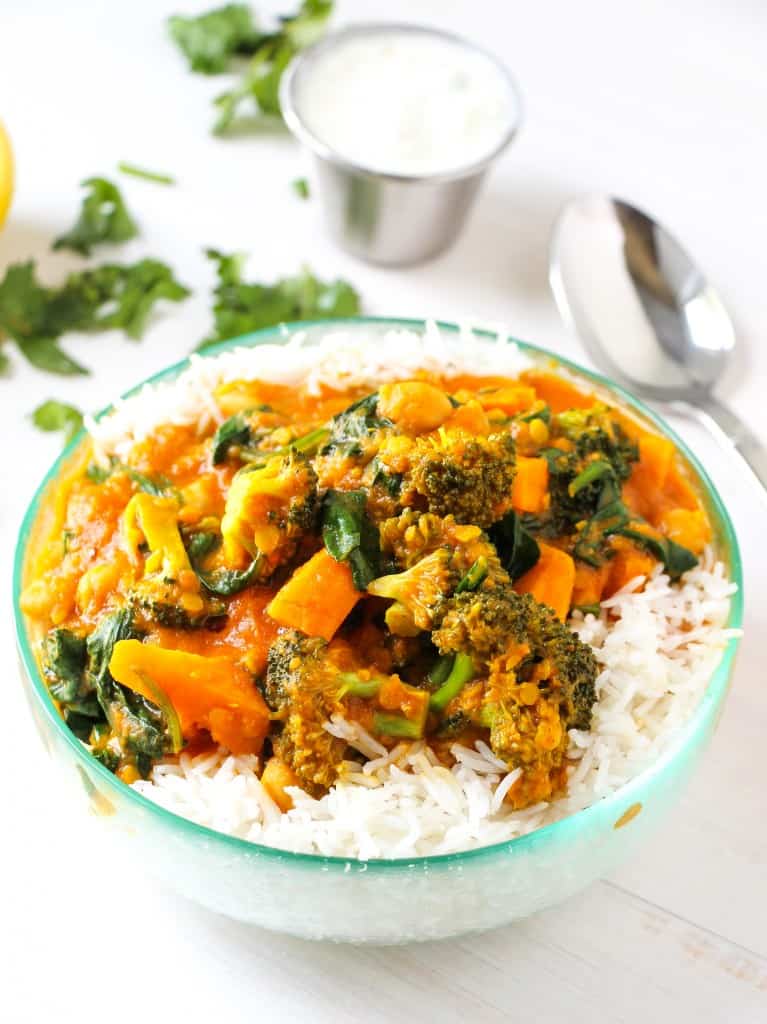 Bon Appetit and Enjoy!
The Best Vegetable Curry Ever
Vegetarian cooking in India is healthy, delicious, easy and so flavorful!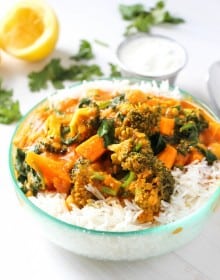 Ingredients:
2 Tablespoons olive oil
1 large yellow onion, finely diced
4 medium cloves garlic, minced
Spices:
1 Tablespoon fresh ginger, finger grated
1 Tablespoon. ground coriander
1-1/2 teaspoon. ground cumin
3/4 teaspoon ground turmeric
1/2 teaspoon. cayenne
1 Tablespoon. tomato paste
2 cups vegetable broth
1 cup light coconut milk
1 teaspoon cinnamon
Salt and Pepper
Vegetables:
1 cauliflower or broccoli head, chopped into florets
3 medium sweet potatoes, peeled and diced or 6 red potatoes,diced
2 medium tomatoes, cored, seeded, and coarsely chopped (about 1-1/2 cups)
1 cup frozen peas
4 cups (handfuls) spinach, light packed
1.whole lime, juiced and zested
2 Tablespoons fresh cilantro, chopped
Basmati rice for serving
Directions:
In a large pot, heat the oil over medium-high heat. Add the onion and stir/cook, until golden brown, about 2 minutes. Reduce heat to medium, add the garlic and ginger; cook, stirring, for 1 minute.. Add the coriander, cumin, turmeric, and cayenne; stir for 30 seconds. Add the tomato paste and stir until even distributed throughout the spices, about 1 minute.
Add the broth, coconut milk, cinnamon, 1 teaspoon salt, and 1/4 teaspoon pepper and bring to a boil. Reduce the heat to medium low or low and simmer for 10 minutes.
Add the cauliflower, potatoes, tomatoes, and peas. Raise the heat to medium high and return to a boil. Reduce the heat to medium low, cover, and simmer until the vegetables are tender, 20 to 25 minutes.
Stir in the lime juice, and zest; cook about 3 minutes more. Season to taste with salt.
Add 4 heaping handfuls of spinach and cook for 2 minutes until the spinach turns bright green. Serve over rice and garnish with cilantro.