October 29, 2023
One Pot Lasagna Soup
One Pot Lasagna Soup – lasagna without all the work! Made in one pot, comes together in 40 minutes, and tastes like lasagna!
Lasagna soup is easier than classic lasagna
This lasagna soup recipe is 100x easier than making classic lasagna.
Classic lasagna requires many dishes. You need one to make the sauce. Another pot to boil the lasagna noodles. And a bowl to mix together the ricotta cheese. Then you have to layer everything together. It's an all day process!
This easy lasagna soup is so quick you can make it on a weeknight! It's made in one pot and you don't have to do any layering! You don't need an extra pot for the noodles. Because you add the uncooked lasagna noodles in the soup.
Lasagna soup is also healthier than classic lasagna
Classic lasagna has layers of ricotta and shredded mozzarella cheese. It's more about the cheese than the sauce.
But lasagna soup is more about the sauce than the cheese. Lasagna soup is like a super saucy lasagna. Which is a bonus to me because the sauce is where the flavor is! So I don't miss the cheese layers at all.
I love to top my lasagna soup with a spoonful of ricotta to give it that classic lasagna taste. But it doesn't need anymore cheese or cream than that! It's so satisfying and has so much flavor.
I see a lot of people add heavy cream at the end when making lasagna soup. But it's not necessary because it's already rich enough!
Recipe tips
Don't skip the wine! It gives the soup so much flavor. I've tried to make the soup without wine. It's much more bland and tastes like drinking tomato juice.
Also don't skip the vegetables! The bell peppers and zucchini help bulk it up and taste more like a soup.
I make mine in a large dutch oven. But you can make this soup in any large pot!
You want to break up the noodles pretty small! It's nice in theory to have large pieces of lasagna noodles… but you won't be able to hold them on your spoon.
Don't put any more broken lasagna noodles than the recipe calls for! You will end up more lasagna instead of lasagna soup if you do!
Make sure to cover the pot when you simmer the soup. The noodles will release starch and thicken the soup as they cook. Leaving the soup uncovered will evaporate off too much water and leave the soup too thick.
Recipe modifications
I like hot Italian sausage because it gives great flavor. It doesn't make the soup too spicy. You can use mild Italian sausage if you prefer. Lean ground beef or ground chicken also work!
I use classic four cheese marinara sauce for this soup. The four cheese sauce has a little extra cheese in it. Add an extra 1/3 cup grated parmesan if you use plain marinara sauce!
Can you freeze lasagna soup?
I don't recommend freezing the finished lasagna soup. The noodles will get soggy when you try to defrost and reheat the soup.
Watch the recipe video here:
One Pot Lasagna Soup
Lasagna without all the work! Made in one pot, comes together in 40 minutes, and tastes like lasagna!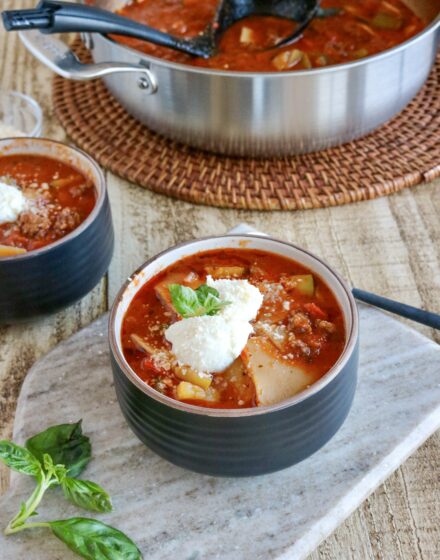 Ingredients:
1 Tablespoon olive oil
2 shallots, small diced (or 1 yellow onion)
1 red bell pepper, chopped
1 (18 oz) package hot Italian sausage, casings removed (mild sausage is good too)
2 zucchini, small diced
1/2 cup dry red wine (don't skip this! Rose works too!)
3 cups chicken broth
1 (24 oz) jar marinara sauce (I like Classico Four Cheese, add 1/3 cup parmesan if you use a different sauce)
1 (14 oz) can crushed tomatoes
1 Tablespoon garlic powder
1 Tablespoon Italian seasoning (or dried oregano)
7 lasagna sheets, broken into small pieces (about half of a 16 oz box of lasagna noodles)
ricotta, for serving
Directions:
In a large dutch oven, add the olive oil, shallot, and red bell pepper. Saute over medium heat.
Add the sausage and zucchini. Use a spatula to break up the sausage into crumbles until it is cooked through.
Add the red wine and let boil for a couple minutes to cook off the alcohol.
Add the chicken broth, marinara sauce, crushed tomatoes, garlic powder, and oregano. Stir and bring to a boil.
Once boiling, lower to a simmer and add the broken lasagna noodles. Cover and cook for 10-20 minutes, until the noodles are cooked through. Stir occasionally or the noodles will get stuck to the bottom! Add some more chicken broth if the soup gets too thick.
Let cool for 10-15 minutes so the soup thickens a little.
Serve with ricotta on top.