October 16, 2022
Mild Chili Recipe
Mild Chili Recipe – a chili loaded with flavor without the overwhelming spice! It's super easy, rich & thick. This is seriously the best chili recipe!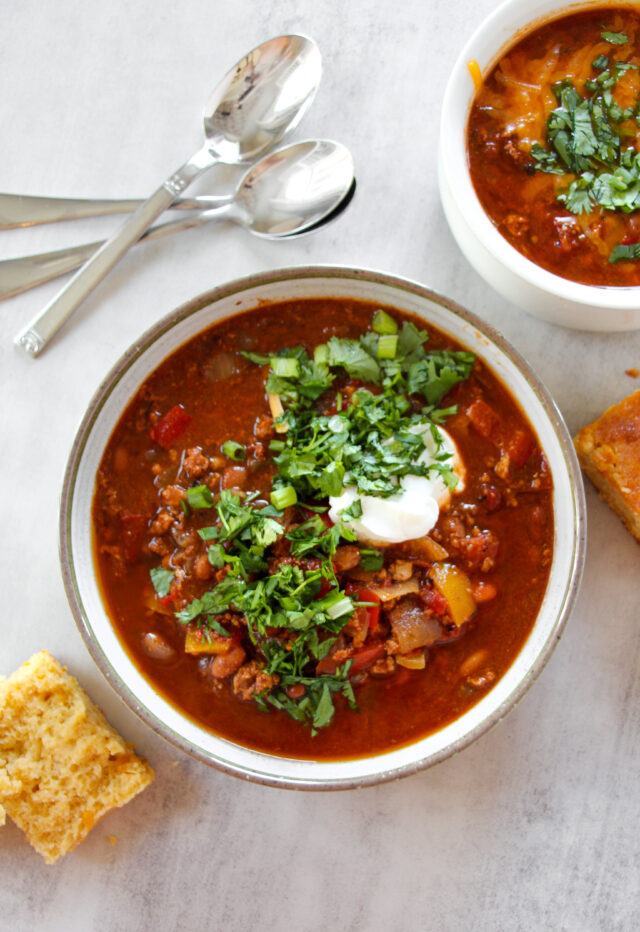 This mild chili recipe is for all my chili lovers who don't love ~spicy foods~
Chili is one of my favorite things to eat in the fall. My mom always made chili with the William's Sonoma chili starter. And it's amazing. But it's so spicy.
I used to drown my chili in sour cream to help take the spice level down.
Now that I make chili myself… I realized I can make it mild from the get go.
This recipe doesn't have a super long ingredient list
It proves all other chili recipes wrong that you need a million ingredients for deep, rich flavor.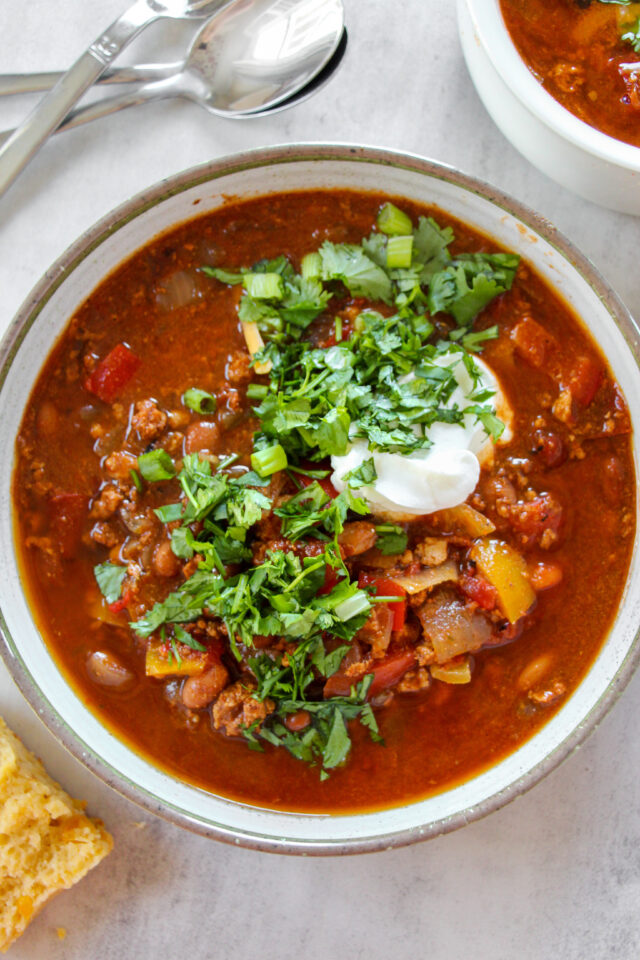 Can this mild chili recipe be made ahead of time?
Yes 100%. Chili is one of those recipes that gets better as it sits. You can make it a couple days ahead of time. Then reheat it on the stove or the microwave when you're ready to eat it.
I love taking it to football parties, family gatherings, or the river in the fall. I make it ahead of time. Then keep it warm in a crockpot.
Can you freeze it?
Yep! I almost always make a double batch and freeze the extra for a night when I don't feel like cooking.
What to serve with the chili?
This cornbread is my favorite!! I also love fritos, shredded cheese, sour cream, and/or rice in my chili!
Watch the recipe video here:
Mild Chili Recipe
It's super easy, not spicy, rich & thick. This is seriously the best chili recipe!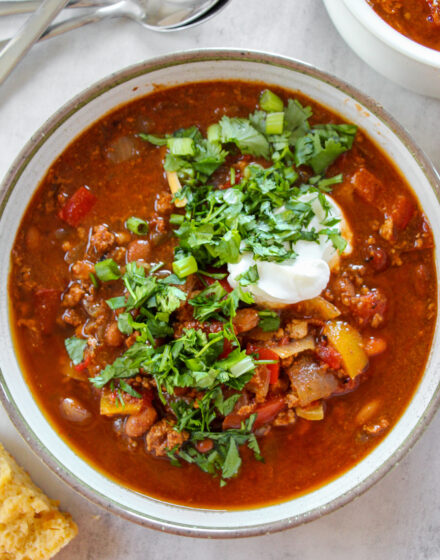 Ingredients:
2 white onions, small diced
3 bell peppers, small diced (any color works)
1/4 cup water
3/4 teaspoon salt
3/4 teaspoon pepper
2 pounds ground chicken (ground turkey or beef also work)
4 tablespoons chili powder
4 teaspoons smoked paprika
3 teaspoons garlic powder
2 teaspoon dried oregano
2 teaspoon cumin
2 (14 ounce) can fire roasted tomatoes
2 (15-ounce) can pinto beans, drained and rinsed
1 (14 oz) can chicken stock (~1 3/4 cup)
1/2 cup maple syrup
1 teaspoon cornstarch (plus enough water to make a slurry)
Desired toppings: crushed fritos, shredded cheese, sour cream, cornbread, and/or green onions
Directions:
Heat a dutch oven or large pot over medium high heat. Add the onions, peppers, water, salt, and pepper. Cook for about 3 minutes, or until peppers and onions have softened.
Add in the ground meat. Break it apart with a spatula or wooden spoon. Add the chili powder, paprika, oregano, and cumin. Stir and cook for 2-3 minutes.
Add in the tomatoes, beans, chicken stock and maple syrup. Bring the mixture to a boil.
Whisk together the cornstarch with 3 tablespoons of water. Pour into the chili.
Simmer uncovered for 20-30 minutes (or more if you prefer!), until thickened.
Turn heat off and let it cool for 5-10 minutes to thicken a little more. You can add a little water if it gets too thick for you.
Serve with crushed fritos, shredded cheese sour cream, cornbread, and/or green onions!
420 calories per serving (calculated with ground chicken)
[this isn't a sponsored post, there are a few affiliate links above based on things I purchase on my own and love]