December 4, 2022
Whipped Goat Cheese with Bacon and Dates
Whipped Goat Cheese with Bacon and Dates – a super easy, crowd pleasing holiday appetizer to make for holiday parties!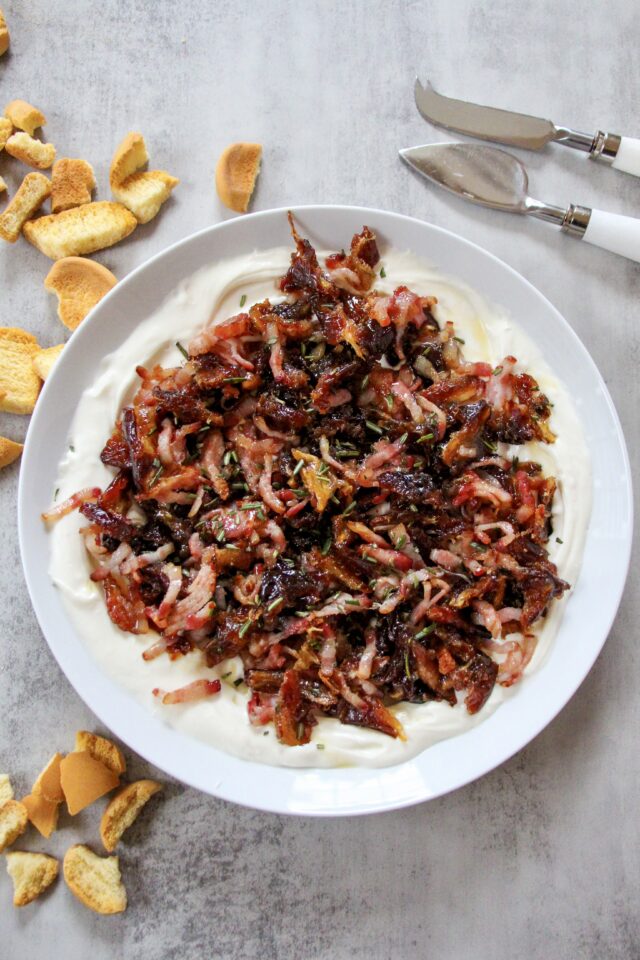 This is the best, most crowd pleasing holiday appetizer! It has all the flavors of a bacon wrapped date. But it's a layer dip so it's way easier than making all of those individual dates!
I use this dip plate for all my appetizers and I love it!
Why cream cheese in the whipped goat cheese?
I use cream cheese in the dip to cut some of the flavor of the goat cheese! So even goat cheese haters love this dip!
Can you prep this ahead of time?
Yes! You can make the goat cheese part ahead of time and store it in the fridge until you are ready to eat. Bring it to room temperature before spreading on the platter. Otherwise it will be very hard to spread!
I wouldn't make the dates and bacon topping until you are ready to serve.
How long does whipped goat cheese last in the fridge?
It will last 3-4 days!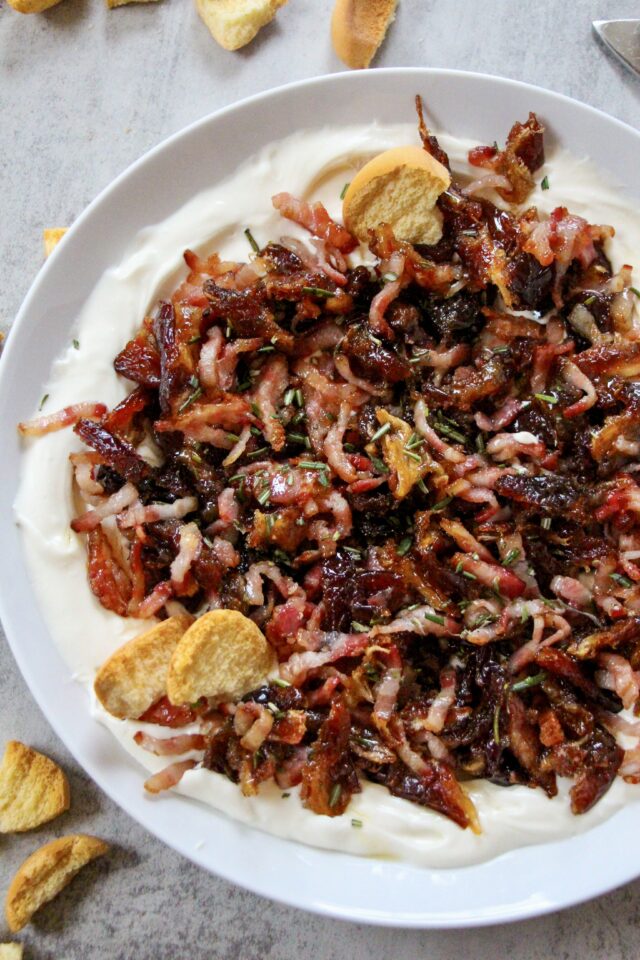 What to serve with this whipped goat cheese with dates and bacon?
This would be perfect at a holiday party!
Or a small dinner party. The menu I would do with would be a roast chicken or red wine pot roast, mashed potatoes (or cauliflower), roasted carrots, and a simple salad. Finished off with some chocolate chip cookies and apple pie for dessert!
Watch the recipe video here:
Whipped Goat Cheese with Bacon and Dates
A super easy, crowd pleasing holiday appetizer to make for holiday parties!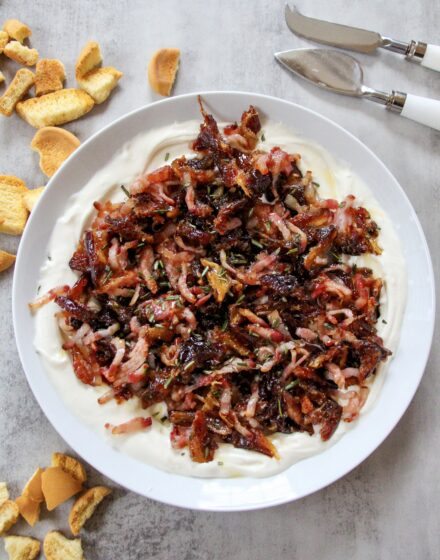 Ingredients:
WHIPPED GOAT CHEESE:
2 (4 oz) containers crumbled goat cheese (you can use a log of goat cheese)
1 (8 oz) package cream cheese
1/2 cup heavy cream
TOPPING:
1 1/2 lbs thick cut bacon, thin sliced or chopped (you can use more or less bacon – I've used up to 2 lbs bacon)
1 (12 oz) container Medjool dates, pitted & cut into pieces bigger than bacon (~20-22 dates)
2 Tablespoons brown sugar
2 Tablespoons honey
1 1/2 Tablespoons fresh rosemary
1 1/2 Tablespoons fresh thyme
A couple dashes of cayenne powder
Honey, for topping
Fresh rosemary, for topping
Fresh thyme, for topping
FOR SERVING:
Baguette, thinly sliced
Ritz/townhouse crackers
Directions:
WHIPPED GOAT CHEESE
Add the goat cheese, cream cheese, heavy cream, and a pinch of salt in a food processor or blender and blend on low until smooth and creamy, scraping down the sides as needed. Add a little more heavy cream if it's not blending. It should be consistency of greek yogurt. Set aside.
BACON TOPPING
Preheat the oven to 400 degrees. Line a baking sheet with parchment paper.
On the baking sheet, add the bacon in a single layer. Bake for 10-15 minutes, or until the bacon is 75% done cooking to your preference.
Remove from the oven and drain fat if desired.
Add the dates, brown sugar, honey, rosemary, thyme, and cayenne to the baking sheet. Toss together and arrange in an even single layer.
Bake for 10 more minutes, or until the brown sugar and honey has dissolved. You don't want to overbake the mixture or the dates will be rock hard.
Spoon the whipped goat cheese into a serving bowl and then top with the warm bacon and dates. Drizzle over extra honey, fresh rosemary, and sea salt. Serve with bread or crackers.
If the dip gets cold before serving, you can microwave for a little to warm the bacon and dates. It's okay if the cheese get's warmed.