August 9, 2016
How to make an Acai Bowl – Easy, Thick, Homemade Recipe
Easy Homemade Thick Acai Bowl Recipe! It's a frozen smoothie bowl recipe made in the blender. And it's vegan! Inspired by the Maui Sunrise acai bowl from Bonzai bowls.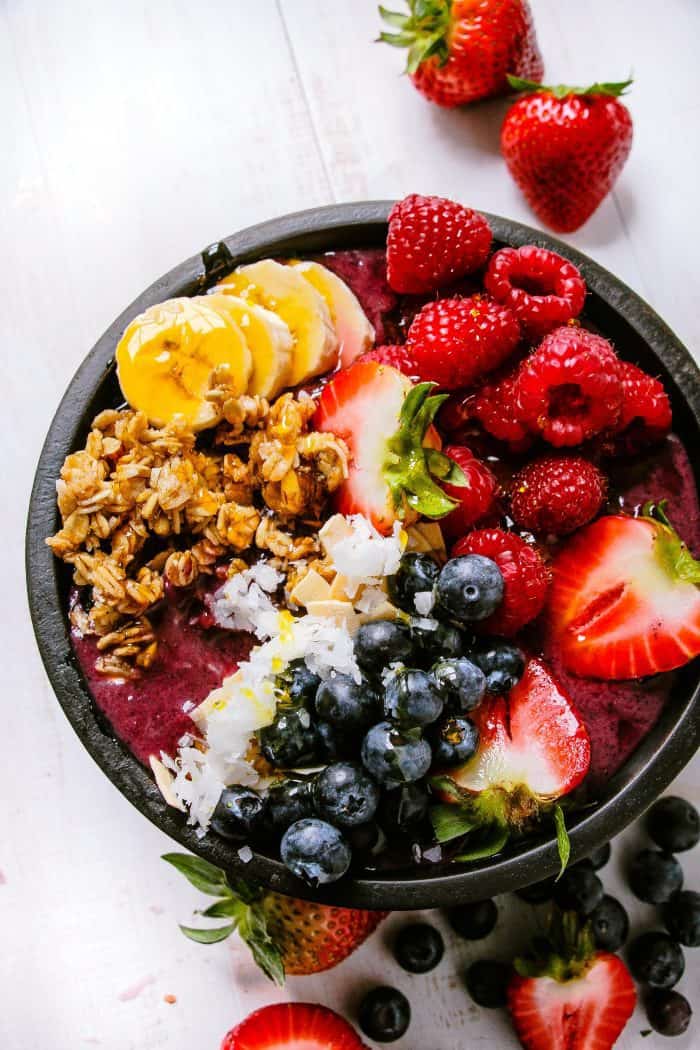 What to put in an acai bowl recipe?
You need frozen acai bowl packets. You can find them in the grocery store frozen section. They are normally near the frozen fruit.
You also need bananas for thick and creamy-ness. Blueberries and strawberries for more berry flavor. And pineapple and mango for tart-ness.
I used to work at an acai bowl shop. They only used acai, blueberries, and bananas in their's. So you could leave out the pineapple and mango from the acai bowl recipe. That would help keep the ingredient list smaller.
How to make an acai bowl thick?
Use a little liquid as possible. Just enough for your blender to run.
If you're blender keeps getting stuck – try adding the liquid + one or two of the frozen fruits. Blend until smooth. Then add the other frozen fruit. Blend until thick and smooth.
What are the best toppings?
We love berries, bananas, granola, coconut, and agave.
But you could also add peanut butter, chai seeds, or chai pudding!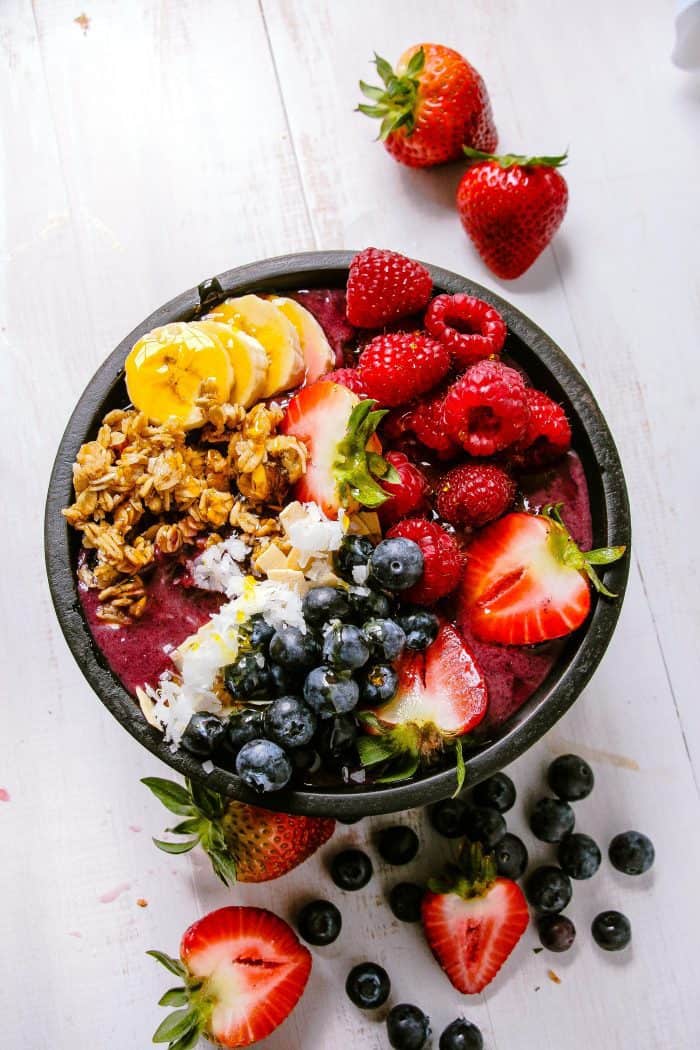 Homemade Acai Bowl
Easy Homemade Thick Acai Bowl Recipe!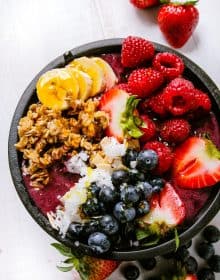 Ingredients:
1 cup Almond Milk
1 Sambazon Acai Smoothie Pack (or 6 oz of Samabazon Smoothie drink – if you use the smothie drink do not add Almond milk)
1 Tbsp agave syrup (or honey for non-vegan option)
1/2 Frozen Banana
1/2 cup fresh blueberries
1/2 cup frozen mango
1/2 cup frozn pineapple
1/4 cup frozen strawberries
Toppings:
Banana, sliced
Strawberries, sliced
Blueberries
Raspberries
Granola
Shredded coconut
Agave syrup (or honey for non-vegan option)
Directions:
Run Acai pack under warm water and break into chunk.
Add all ingredients, in the order listed, into a blender.
Blend on low at first. Then increase the speed until smooth. You have to play with consistency, it should be thicker than a smoothie, but thinner and ice cream.
Top with some or all of the toppings listed.
[this isn't a sponsored post, there are a few affiliate links above based on things I purchase on my own and love]