August 2, 2016
Chicken Quinoa Bowl with Pesto Vinaigrette
Chicken Quinoa Bowl – roasted chicken, broccoli, chickpeas, corn, cherry tomatoes, white cheddar cheese, and quinoa. Finished with Sweetgreen's pesto vinaigrette. Easy, flavorful, and nutrient dense.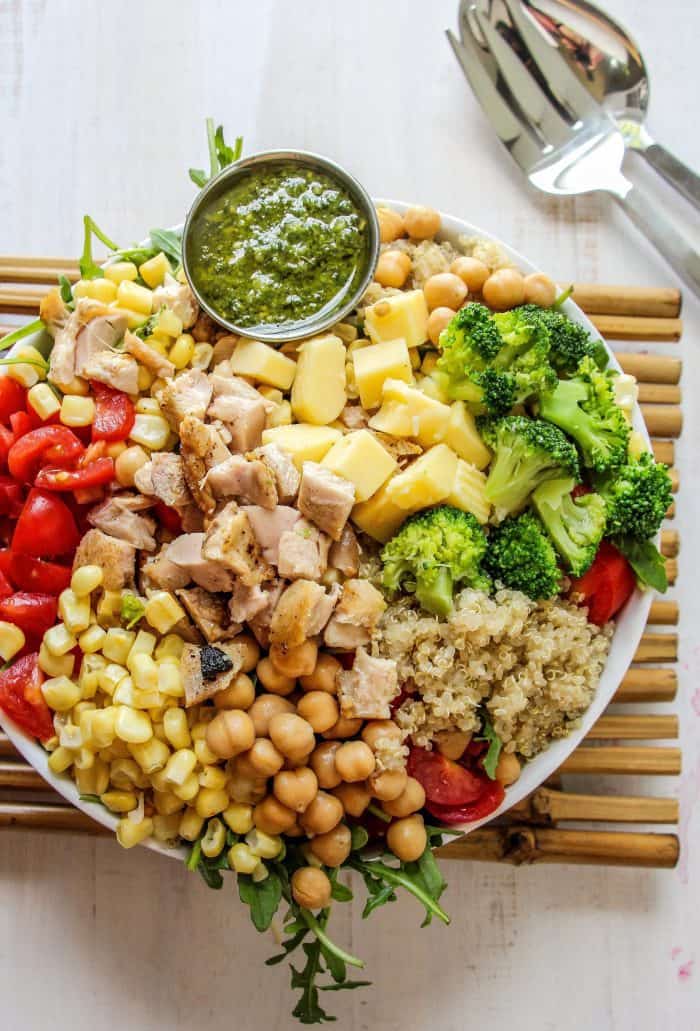 I love an easy dinner. Especially one that is served in a bowl. You could also make these ahead of time to grab out of the fridge for an easy dinner to-go.
Recipe inspiration:
Inspiration from this recipe comes from Earth Bowl from Sweetgreen. I love all of Sweetgreen's warm grain bowls. They always have so much flavor and texture.
But there was something special about the Earth bowl.
The pesto vinaigrette gives the bowl SO much flavor. I love the way the cheddar melts a little with all the warm ingredients. The chopped up broccoli gives the best texture. The chickpeas packs in some extra protein. And the arugula gives it the best peppery fresh kick.
Chicken Quinoa Bowl alterations…
Any type of protein would be great in this bowl. You could use any leftover grilled meat you have in your fridge. Grilled chicken, steak, tri tip, or salmon would be great. I love this frozen salmon from Costco. Or this sliced beef sirloin.
Leave out any of the bowl ingredients you don't like.
Add any leftover grilled or roasted vegetables you have.
You could also skip the quinoa and make this into a salad if you prefer.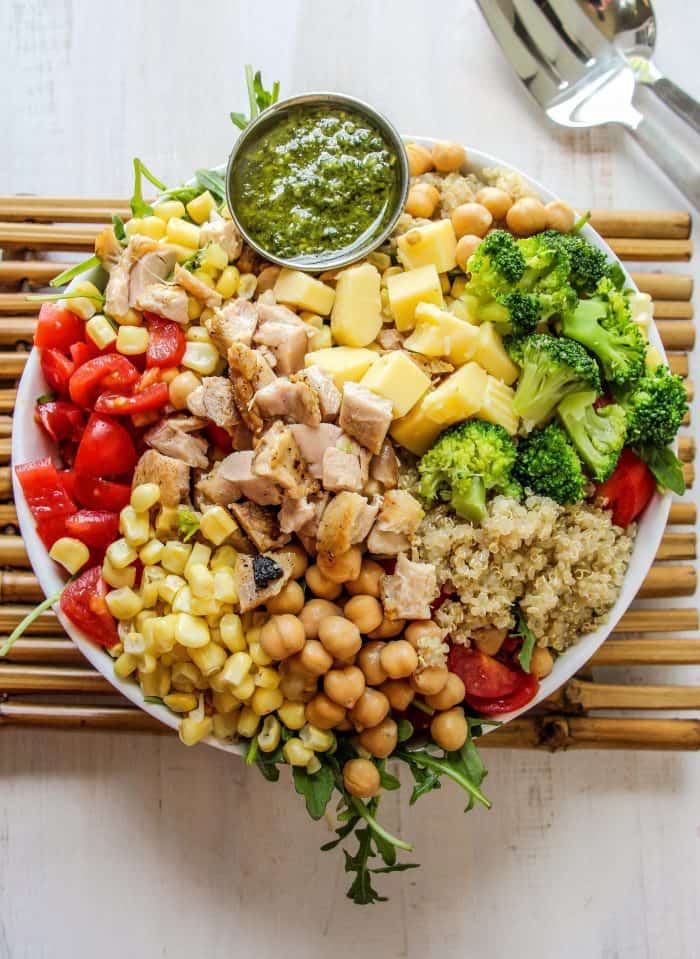 How to meal prep:
Use a tupperware like this!
To meal prep the bowls – make the recipe as directed. Portion the roasted chicken, broccoli, chickpeas, and corn into 2-3 tupperware containers. Add the quinoa.
I would put the cold ingredients in a separate compartment. So you can microwave the chicken, quinoa, and vegetables.
Chicken Quinoa Bowl with Pesto Vinaigrette
Easy, flavorful, and nutrient dense.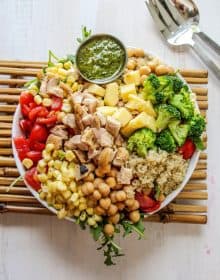 Ingredients:
2 chicken breasts
1 head broccoli, chopped
1 (15 oz) can chickpeas, drained and rinsed
1 cup frozen corn
olive oil
salt and black pepper
6 cups baby arugula
1 cup cherry tomatoes, cut in half
2 cups cooked quinoa
1/2 cup diced white cheddar cheese
Fresh chives for garnish
For the pesto vinaigrette:
2 cups tightly packed fresh basil leaves, stems removed
2 cloves garlic, minced
1/2 cup olive oil
2 Tablespoons red wine vinegar
1 Tablespoon dijon mustard
1 teaspoon salt
Directions:
For the vinaigrette:
Combine all the ingredients in a blender and blend until smooth.
Taste and adjust salt and pepper as needed.
For the salad:
Preheat oven to 425 degrees. On a large baking sheet, add the chicken, broccoli, chickpeas, and corn. Drizzle with olive oil. Season with salt and black pepper.
Bake for 25 minutes, or until chicken is cooked through.
In two medium bowls, add the arugula, tomatoes, quinoa and cheddar cheese. Top with the grilled chicken, broccoli, chickpeas, and corn and serve with the pesto vinaigrette drizzled on top and sprinkled with chives.
[this isn't a sponsored post, there are a few affiliate links above based on things I purchase on my own and love]