August 2, 2016
Copycat Sweetgreen Earth Bowls
Easy, flavorful, nutrient packed quinoa bowls that can be made in your very own home! So yummy and easy!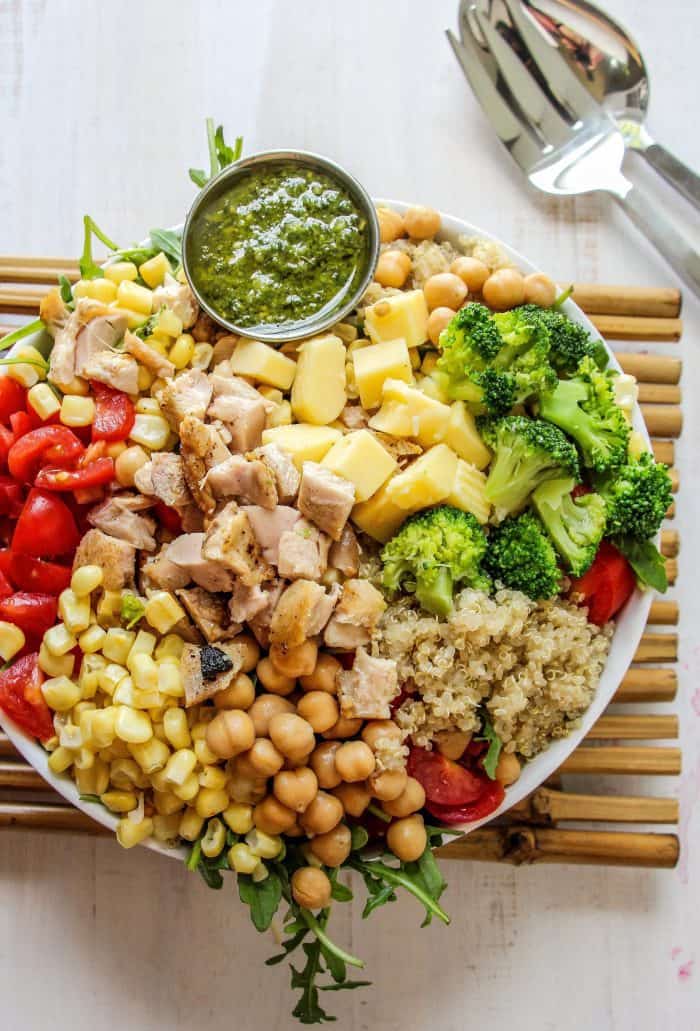 Last semester I interned for Sweetgreen. If you are unfamiliar with it, you should definitely make yourself familiar with them because they serve the most amazing, healthy food ever. It was seriously a dream to get to work with them for my first internship. They first opened in Washington, D.C. – and lucky for me they just opened in Berkeley. While I was working with them I got to live off of salads for a solid 2 weeks when opening day came around.
Of all the salads the serve, the Earth Bowls are one of my favorites, and also a customer favorite too. My favorite part of the bowl is the pesto vinaigrette – it brings all of the ingredients together and gives so much fresh herb flavor!
Of course I could not live long without them, so as soon as I got home for summer I gave a go at making a homemade version. The results? Success!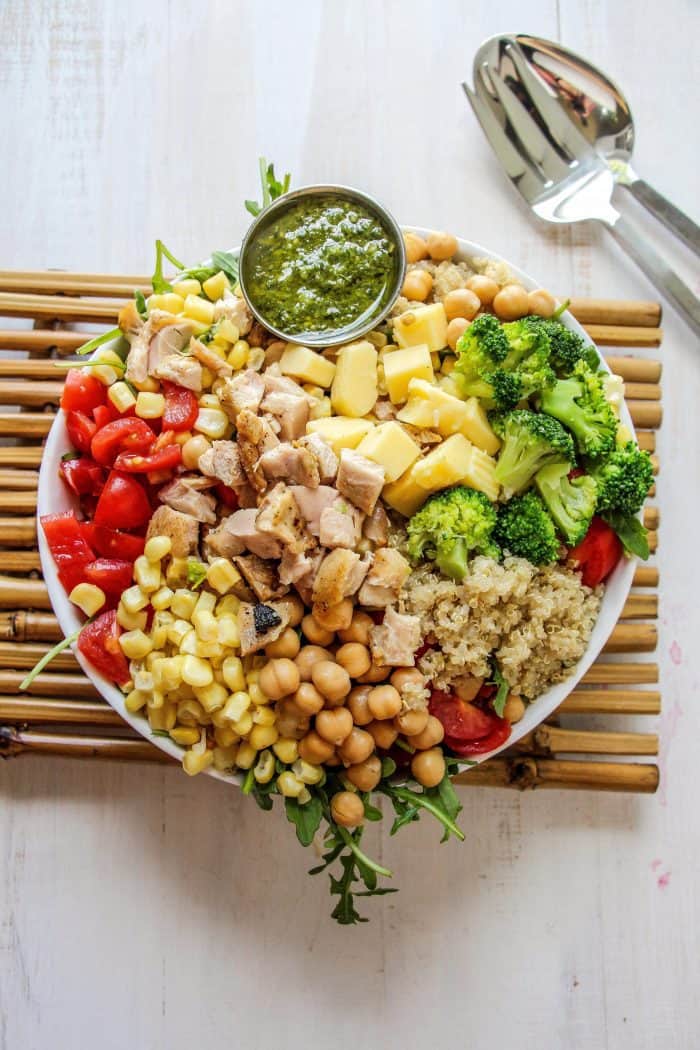 For the first two weeks of summer, this is what I had for lunch everyday. I would make/prep all of the ingredients on Sunday, store the prepped bowl components in separate containers and I was all set. When lunch time rolls around, heat up the quinoa, broccoli, corn, and chickpeas in a bowl and top with all the fresh ingredients.
Bam! Lunch is ready for a whole week. You know… unless you have to share with significant other/family members. 🙂
Copycat Sweetgreen Earth Bowls
Easy, flavorful, nutrient packed quinoa bowls that can be made in your very own home! So yummy and easy!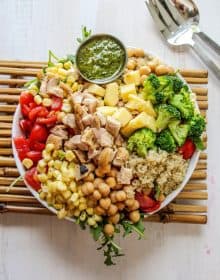 Ingredients:
2 chicken breasts
1 head broccoli, chopped
1 (15 oz) can chickpeas, drained and rinsed
1 cup frozen corn
olive oil
kosher salt and freshly cracked black pepper
red chili flakes
6 cups baby arugula
1 cup cherry tomatoes, cut in half
2 cups cooked quinoa
1/2 cup diced white cheddar cheese
Fresh chives for garnish
For the pesto vinaigrette:
2 cups tightly packed fresh basil leaves, stems removed
2 cloves garlic, minced
1/2 cup olive oil
2 Tablespoons red wine vinegar
1 Tablespoon dijon mustard
1 teaspoon salt
Directions:
For the salad:
Preheat oven to 425 degrees. On a large baking sheet, add the chicken in 1/4 of the baking sheet, the broccoli in another, the chickpeas in another, and the corn in another.
Drizzle chicken, broccoli, chickpeas, and corn with olive oil and season with salt, freshly cracked black pepper, and red chili flakes.
Bake for 25 minutes, or until chicken is cooked through.
In two medium bowls, add the arugula, tomatoes, quinoa and cheddar cheese. Top with the grilled chicken, broccoli, chickpeas, and corn and serve with the pesto vinaigrette drizzled on top and sprinkled with chives.
For the vinaigrette:
Combine all the ingredients for the basil vinaigrette in a high powered blender and blend for 60 seconds until very smooth.
Taste and adjust salt and pepper as needed. Use immediately or refrigerate the vinaigrette for up to 5 days.