January 20, 2017
Sweetgreen Pesto Vinaigrette Recipe
Sweetgreen pesto vinaigrette recipe – it's easy, quick, homemade, vegan, and made in a blender. Put it on salads, quinoa bowls, pasta, pasta salad, or roasted vegetables.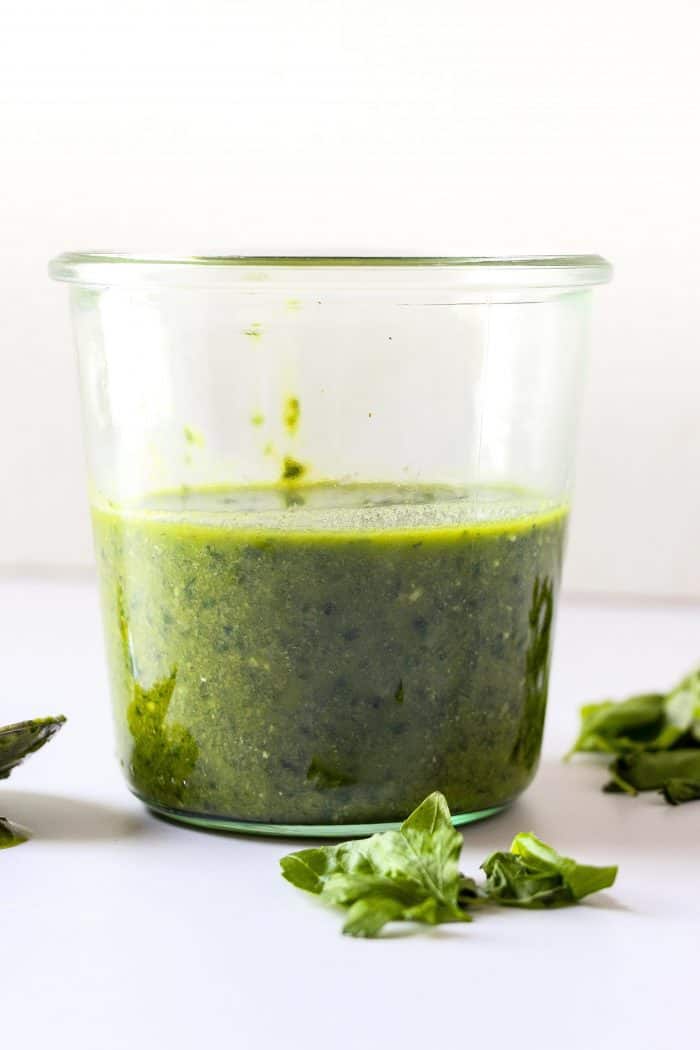 Sweetgreen pesto vinaigrette recipe ingredients:
The dressing made with basil, parsley, olive oil, red wine vinegar, dijon mustard, garlic, and salt.
How to make the dressing?
All it takes is a blender. I like to use this mini Nutribullet blender for sauces and dressings. Blenders like this one (while I love it for smoothies) is too big for dressings. The volume of liquid in a dressing is too low. So it all gets stuck at the below the actual blade.
Is this Sweetgreen pesto vinaigrette recipe vegan?
Yes! This recipe does not have parmesan in it despite the name being "pesto."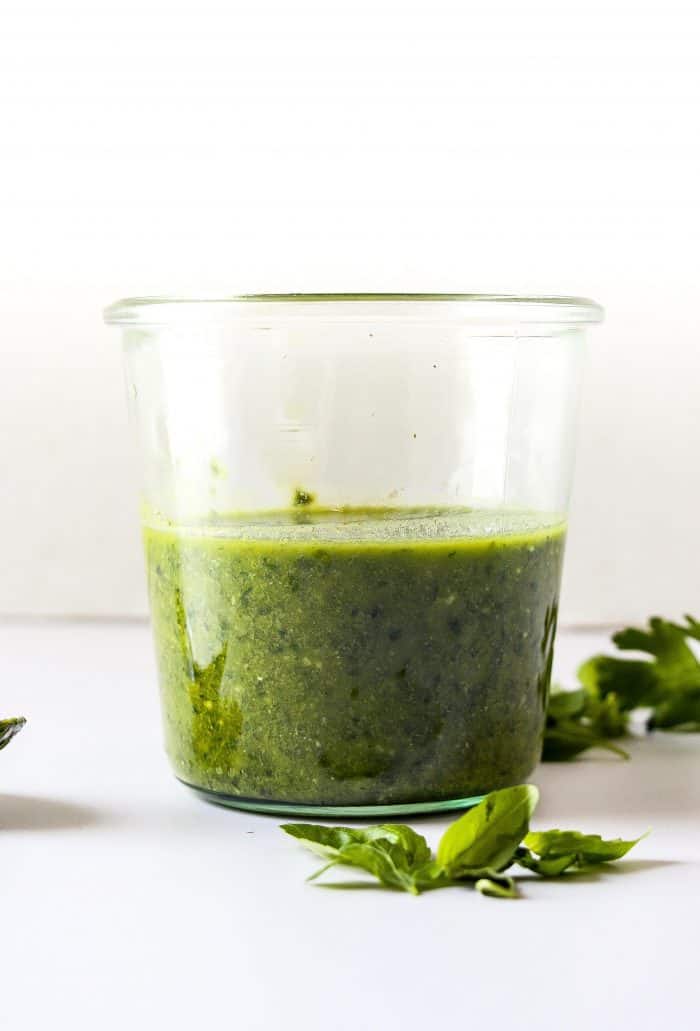 Recipe modifications:
I use basil and parsley in the recipe. But you could do all basil or all parsley. You could also add cilantro or oregano.
What to serve this dressing with?
Definitely make this Sweetgreen Earth Bowl recipe.
You could also mix it into a pasta salad. Like this one – sub out the italian dressing for the pesto vinaigrette.
Or toss with grilled vegetables to give them extra flavor!
But the vinaigrette can literally make anything taste good. One of my go to meals is brown rice, steamed vegetables, and this pesto vinaigrette. It may not seem like much, but it tastes amazing and it is so easy.
Sweetgreen Pesto Vinaigrette Recipe
An easy vinaigrette made in the blender – perfect to make ahead at the beginning of the week and have for the week. Put it on salads, quinoa bowls, pasta, roasted vegetables, and pretty much everything else.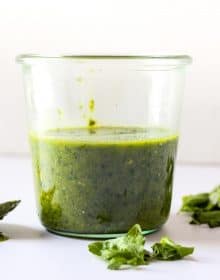 Ingredients:
1 cup tightly basil leaves
1 cup tightly chopped flat leaf parsley leaves
1/2 cup olive oil
2 Tablespoons red wine vinegar
1 Tablespoon dijon mustard
2 cloves garlic, minced
1 teaspoon salt
Directions:
Combine all the ingredients for the vinaigrette in a high powered blender and blend until smooth.
Taste and adjust salt and pepper as needed. Use immediately or refrigerate the vinaigrette for up to 5 days.
[this isn't a sponsored post, there are a few affiliate links above based on things I purchase on my own and love]